Lessons in Leadership: Why resilience is key to career survival
Police officers are human beings watching inhuman things – it takes resilience to cope with and overcome traumatic events
---
This article is part of a 10-part Lessons in Leadership series by Rich Emberlin. Click here to access all of Rich's leadership lessons.
Policing has historically been a job; today it is recognized as a genuine profession. Today's police force is comprised of highly trained, exceptionally smart individuals who possess specialized knowledge and skills. Whether it's a police chief overseeing a department or a patrol officer responding to 9-1-1 calls, law enforcement leaders exist in all ranks of our profession.
Lessons in Leadership is a 10-part series covering the most important principles I learned during my nearly 30-year career with the Dallas Police Department. From explosive confrontations to quiet defining moments, there's no shortage of wisdom to be earned in one of the world's most dangerous professions.
When I graduated from the police academy over 30 years ago, I didn't realize the full extent of what I was getting into. At a cognitive level, I understood I'd bear witness to situations involving conflict, crisis and violence. But few officers expect the emotional and psychological burden that comes with a badge. By the midpoint of my career, my Forrest Gump-like naiveté had been transformed into a head-on-a-swivel world view. Years of responding to homicides, hostage situations, shootings and other unimaginable crimes made me realize one thing: police officers are human beings watching inhuman things. You cannot survive in this career without resilience.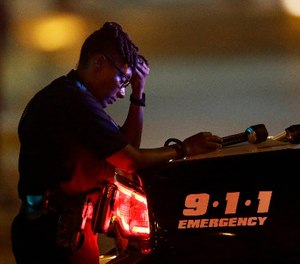 Resilience is defined as the ability to become strong, healthy, or successful again after something bad happens; in law enforcement, that can be a daily occurrence. The situation may vary from a nasty domestic dispute to the killing of an innocent person, but each incident exacts an emotional price. It's no surprise that so many police officers suffer from post-traumatic stress, much like our military counterparts. How do we cope, heal and overcome in the aftermath of unspeakable tragedy?
Finding the path to resilience
Last month marked the two-year anniversary of the July 7, 2016, ambush on Dallas police officers – the deadliest day for law enforcement since September 11, 2001. Gunfire erupted during a Black Lives Matter protest in downtown Dallas, sending hundreds of people scattering in a mass panic. Officers rushed to protect the crowd from an unseen shooter, but it quickly became apparent they were the ones being targeted. Five officers were murdered and 12 officers wounded during the ambush.
The gunman, Micah Xavier Johnson, was eventually tracked to El Centro College via a blood trail resulting from gunshot wounds inflicted by patrol officers during the initial attack. When he was located by SWAT officers, this killer engaged them in a close-quarters gunfight. Although Johnson had planned to kill many more officers, Dallas SWAT negotiator Larry Gordon did an exemplary job of talking Johnson down and temporarily halting the killing spree. After a prolonged standoff and the continued threat of violence, officers eventually deployed a bomb disposal robot to Johnson's location; he was under the impression he was having a cell phone delivered to him. Johnson had killed some of my friends and shot a dozen others in one night. I fully supported the decision to neutralize this savage killer. We couldn't afford to risk any more lives.
Johnson's targeted attack and all the other acts of anti-police violence we've witnessed in modern times are among the most morally abhorrent crimes in human history. To those who want to bring the policing profession to its knees, our answer is resilience. Tragedy can have the effect of strengthening your resolve or destroying your spirit. The Dallas Police Department, and the entire community, did not kneel and go quietly into the night. They came together, stood strong, and created something positive to honor those who lost their lives in service to others.
In the wake of the ambush, the outpouring of support from the nation was inspiring, humbling and a stunning reminder of human resolve. Police headquarters were filled with flowers and teddy bears, thousands of letters and donations were sent to families of the officers, and people stopped cops on the street simply to give thanks and hugs. Across the nation, stunned citizens and media outlets alike asked, "How do we stop this from happening again?
Develop a strong support system and recalibrate
As an officer, there will be times when you're ready to give up. You've seen enough, done enough and had enough. Losing peers, especially under the circumstances we witnessed in Dallas on July 7, 2016, is about the worst thing you can experience. Since I took the oath, I've attended the funerals of 31 fellow officers, and it feels like a punch to the gut every time. It's important to develop strong support systems in this profession. After the massacre in Dallas, the ability to share my grief with people I trusted – fellow officers, family and friends – was a big part of the healing process.  People who have gone through traumatic experiences together can provide valuable mutual support, but it's also helpful to lean on people outside your inner circle for perspective.
Officers should also develop cognitive ways to recalibrate. This includes finding healthy outlets for coping with stress, anxiety and other negative feelings. The anger and grief that follows a traumatic experience can be overwhelming. If you don't deal with it, the emotional torrent will eventually burst through the floodgates. Police officers need to pay attention to our emotional and psychological health. Otherwise, we can't be effective for those we serve, and mistakes made in our field are rarely reversible. As they say on every airplane, put on your oxygen mask before assisting others.
Fortunately, the resources for officer wellness are more abundant today than ever before. Counselors and psychiatrists are available, and special attention is paid to the reintegration of officers after a traumatic event. Our profession accepts that we are human beings – not machines. There is no need to rush back to work before we're ready, pretend we're blithely unaffected, or suffer another sleepless night.
This profession places a tremendous burden on the human psyche. Sometimes our bones are broken; sometimes it feels as if our spirits are broken. Having seen unspeakable tragedy, sorrow and suffering, I'm always amazed at what human beings can learn to cope with. By focusing on resilience, we honor our profession and stay in the fight, knowing that good will win the day.
In loving memory of Sgt. Michael Smith, Dallas Police Dept.; Sr. Corporal Lorne Ahrens, Dallas Police Dept.; Officer Michael Krol, Dallas Police Dept.; Officer Patrick Zamarripa, Dallas Police Dept.; and Officer Brent Thompson, Dallas Area Rapid Transit Police