10 police leadership best practices to follow in 2021
Add these pearls of wisdom to your leadership toolkit
---
By Police1 Staff
To be the most effective police leader possible requires a commitment to ongoing learning and embracing the knowledge of your peers. Here we offer 10 police leadership best practices submitted by some of the participants in the 21 on 2021: A police leadership playbook. 
What leadership best practices have worked in your police career? Email editor@police1.com.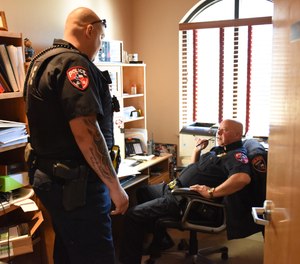 1. Police executives must be empathetic when dealing with their personnel. They are looking for guidance when things are most dire; showing apathy would only exacerbate any difficulties they may be facing on or off duty. 
— Assistant Chief Martine N. Materasso is the Commanding Officer of the NYPD Counterterrorism Bureau.
2. Break your own news whenever possible. Set the tone early and build trust by engaging authentically wherever the public discussion is happening. 
— Kate Kimble is the public relations manager for Fort Collins Police Services in Fort Collins, Colorado.
3. In the memorable words of Teddy Roosevelt, "Nobody cares how much you know until they know how much you care." There is no substitute for genuinely caring about the community and those in your charge. 
— Captain Toni Roach oversees the Pasco County Sheriff's Office Behavioral Health Intervention Team.
4. One thing that effective leaders can do to grow trust is to instantiate a habit of expressing gratitude into their daily leadership practice. Team members want to know that their contributions toward the mission are valuable, recognized and appreciated. 
— Major Charles "Chip" Huth has 29 years of law enforcement experience and currently serves as the Commander of the Kansas City (Missouri) Police Department's Traffic Division.
5. The leader should never be satisfied with today, rather keep moving forward no matter how slight. The future depends on forward motion! 
— Lieutenant Detective Patrick Glynn is a 35-year veteran of the Quincy Police Department. He is Commander of the special investigations and narcotics units and director of the Quincy Naloxone Program.
6. Always remember, our communities are watching us, and will hold us accountable not only for what we say and do but also for what we fail to say and do. We must always speak truth to power regardless of the pressures from all sides of the police and criminal justice reform debate. At the end of the day, we all must strive for integrity, justice and fairness within our profession, the criminal justice system and throughout society. 
—  Art Acevedo is Chief of Police for the Houston Police Department and currently the President of the Major Cities Chiefs Association.
7. Successful leaders use influence to guide direction or actions. They share their vision and influence others to follow in their footsteps. 
—  Michael N. Becar is the Executive Director, CEO of the International Association of Directors of Law Enforcement Standards and Training (IADLEST).
8. Excellence at every opportunity: Policing in 2021 requires all of us to take advantage of each and every opportunity to be at our best; our best as leaders and servants to the people we police and the people we protect. 
—  Chris Hsiung is the Police Chief of the Mountain View (California) Police Department and serves on IACP's Police Professional Standards, Ethics, and Image committee.
9. Try to show the human side of your officers when you can. The public often forgets that police departments are made of human beings with diverse stories, backgrounds and personalities. It's on us to show them.   
—  Yael Bar-tur is a social media consultant who previously served as the director of social media and digital strategy for the New York City Police Department.
10. The longer you are off the street the easier it is to forget the uncertainty, speed and imperfection of police decision-making. To lead police requires you to be police – competent, authentic and present. 
— Lewis "Von" Kliem, MCJ, JD, LL.M., has worked as a civilian police officer, attorney, educator and author. He is an Attorney II for Lexipol and editor of Force Science News.