Daughter of fallen LEO named Dallas' 1st female chief
Dallas' chief position had been vacant since October, when Chief David Brown retired from the department
---
By Naheed Rajwani
The Dallas Morning News
DALLAS — Dallas will have its first female police chief.
City Manager T.C. Broadnax has hired Detroit's Deputy Police Chief Ulysha Renee Hall, from a pool of seven finalists, three of them internal candidates.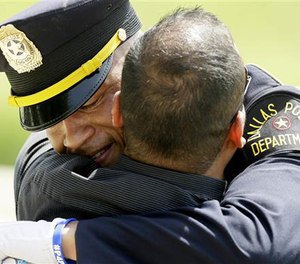 "Chief Hall is a proven leader with a stellar background and a passion for public service," Broadnax said in a written statement Wednesday. "These are qualities I believe are critical as we tackle crime to make our city safer while addressing organizational and policy issues within the department."
Dallas' chief position had been vacant since October, when Chief David Brown retired from the department. Assistant Chief of Police David Pughes ran the department as interim chief while officials searched for a permanent replacement. Pughes didn't apply for the job.
The city manager's office initially selected eight people as finalists for the job, but Grand Prairie Police Chief Steve Dye withdrew his application.
City officials haven't said when Hall will formally take over.
Three women — Hall, Dallas County Sheriff Lupe Valdez and Dallas County District Attorney Faith Johnson — now have some of the most powerful law enforcement jobs in the Dallas area.
Hall, who has been on the force in Detroit since 1999, has dealt with several issues paralleling crises in Dallas. These include the increasing homeless population and the loose-dogs issue that has affected low-income neighborhoods.
She now oversees officers on the east side of the city.
In her cover letter for the Dallas chief job, Hall said she was responsible for managing the patrol staff and training officers on how to respond to terrorism.
She seems to subscribe to the community policing approach that Brown advocated for while running the department. She noted in her cover letter that her team in Detroit worked to boost morale and "created a policing environment that is attractive to the millennial generation."
She touted double-digit reductions in Detroit's crime for three years as one of her department's accomplishments.
Policing, though, is personal to her.
She was 6 months old when her father, also an officer, was gunned down in 1971 while working a prostitution case that remains unsolved.
"Closure is very important for myself and my family," Hall said in an interview with Detroit's WXYZ-TV last year. "We would like to know what happened. I believe I'm finishing what my dad started."
Three people from within the Dallas Police Department were among the finalists for the top cop job. Deputy Chief Malik Aziz, who has been a finalist in several other cities, was a favorite among officers to become the chief. He had no comment Wednesday about the chief selection.
In a statement released by the city Wednesday, Hall said she looked forward to maintaining the trust of the community and ensuring the safety of officers and residents.
"I am honored to be chosen to lead the Dallas Police Department at this critical time in its history," she said in the statement.
Detroit Police Chief James Craig said last month that losing her would be a "blow, absolutely," but he was quick to point out that he encouraged her to apply for the job. If nothing else, he said, her hiring in Dallas would be a "testament" to the turnaround of the Detroit department in the years after the city's decision to file for bankruptcy.
"I know her temperament," he said, "and her commitment to the community and the rank and file. We have a saying here: Cops count, but leadership matters. ... Clearly, in my mind, she would be an outstanding chief."
©2017 The Dallas Morning News
McClatchy-Tribune News Service