Sheriff Joe responds to ruling critical of pink boxers
Court said pink underwear were 'punishment without legal justification'
---
By Jacques Billeaud
Associated Press

PHOENIX — An Arizona sheriff known for making prisoners wear pink underwear asked an appeals court Wednesday to reconsider its ruling that criticized jail officers' decision to force the colorful boxer shorts onto a mentally ill inmate who erroneously believed the officers were trying to rape him.
The 9th U.S. Circuit Court of Appeals had ruled in a case brought by the estate of inmate Eric Vogel against Maricopa County Sheriff Joe Arpaio that the mandatory pink undergarments were a form of "punishment without legal justification." The court also said it was fair to infer that the selection of pink as the color was meant to symbolize the loss of prisoners' masculinity.
An Arpaio lawyer who asked the court to reconsider its March 7 ruling had argued its statement about the underwear appearing to be punishment without justification was improper and that no one had an opportunity to present evidence on that issue.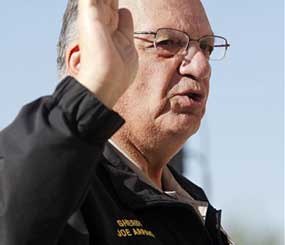 "It trivializes the constitution to make a federal case out of the color of jail garb," wrote Eileen Dennis GilBride, who is representing Arpaio at the appeals court.
Joel Robbins, the attorney representing Vogel's estate, said the court wasn't issuing a judgment on the constitutionality of mandatory pink underwear for all prisoners and instead was pointing out that the issue shouldn't be ignored in this case.
"It's just a comment they made as they ruled on the case," Robbins said.
The court noted that no attorney on either side of the case questioned whether the dressing of prisoners in Arpaio's jails is a due-process violation when applied to inmates who are not convicted of a crime.
The appeals court had thrown out a 2010 jury verdict in favor of Arpaio's office and ordered a new trial in a lawsuit brought by Vogel's estate.
Vogel refused to get out of his street clothes after he was arrested in November 2001 for assaulting an officer who was responding to a burglary call. A group of officers in Arpaio's jail stripped Vogel and put him in pink underwear and other prison clothing as he shouted that he was being raped. Robbins said the officers didn't sexually assault Vogel.
Vogel, who was determined by a counselor to be paranoid and psychotic, died less than a month later, after he and his mother got in a minor car accident. Vogel ran several miles from the scene back to his home. He died the next day, and medical examiners concluded the cause was cardiac arrhythmia.
The sheriff's office has said it started dyeing the jail-issued underwear in the 1990s as a way to discourage inmates from taking home the undergarments after they were released from custody.
Copyright 2012 Associated Press