Adam-12 celebrates 50 years on the beat
The TV series introduced the public to LAPD officers Jim Reed and Pete Malloy, inspiring thousands to seek a career in law enforcement
---
Last year, PoliceOne columnist Barbara Schwartz wrote about the 50th anniversary of Adam-12, which debuted on September 21, 1968. What impact did the show have on your police career? Share in the comments below.
Fifty years ago, on September 21, 1968, Adam-12 premiered on network television during a period of tension between the public and police that was inflamed by news reel images of riots at the Chicago Democratic National Convention one month earlier.
"Adam-12 debuted in an atmosphere very much like today," said Kent McCord, who portrayed LAPD officer Jim Reed, the rookie cop. Pete Malloy was portrayed by the late Martin Milner.
The Adam-12 episode guide reads like it is taken from today's headlines: Two men with a camera follow Malloy and Reed from call to call and post photos in a newspaper that are taken out of context, sparking a brutality investigation against the officers. In another episode, ambushed officers return fire and kill an 18-year-old black man. Militants stand in front of news cameras and state that the man was "shot in the back" and "executed by the pigs."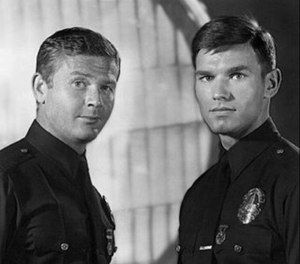 "We did not set out to cure the social ills of the day. The show was about the job, about two good guys in a black and white solving crimes and making people safe," said McCord.
Retired LAPD Chief Charles Beck notes that we have cycled back in history and that is why Adam-12 remains relevant. "Every episode showed a facet of policing that still exists today," said Beck.
Los Angeles Police Protective League President Craig Lally agrees: "The show has lasted through history because the scenarios are still the same – a lost child, traffic stops, domestic violence, family disputes and how things can go to crap really fast. This job basically comes down to people call police and police arrive on the call. That hasn't changed in 50 years."
Adam-12 changed the public's perception of police
"The charm of Adam-12 was that we became a window to the public on what two cops in a black and white actually did," McCord said.
During the first years of the show, officers told McCord and Milner that citizens had started treating them differently. People, especially kids, were no longer afraid to approach them.
"Both Marty and I were quite proud that the show had a positive influence on the profession," McCord said.
McCord is also proud that for half a century the show has inspired people to pursue a career in law enforcement.
Lally is one of them. He became not only an officer, but an LAPD officer because of Adam-12. A native of Cleveland, Ohio, Lally watched the show as a teen and journeyed 3,000 miles to be like Pete Malloy and Jim Reed.
What drew Lally in was the realism of the show. "It was almost like a training manual. Not just for policing, but also for LAPD policies and procedures," Lally said.
Bob Cinader, the genius behind the show's format and realism, mandated that the actors and writers go on ride-alongs.
Milner rode in Van Nuys and McCord rode in North Hollywood.
"Going on those ride-alongs, seeing what it was that officers did, and seeing how officers were treated by the public was one of the big revelations I had. That gave me the perspective I needed to do the show," McCord said.
LAPD provided sergeants as technical advisors who edited scripts and made suggestions during filming. McCord and Milner trained with academy instructors on defensive tactics and firearms handling.
For Lally and Beck, the most realistic aspect of the show was the relationship between the patrol partners.
McCord admits that wasn't acting. Their on-screen relationship reflected their off-screen friendship. "I was the luckiest guy in the world to have been associated with Martin Milner. He was not only a great actor, but also a great human being. We hit it off the first time we met."
Malloy and Reed were the first cops to be videotaped
"Jack Webb warned us when we started the show that we were reflecting on real situations and real professional men and women out there doing the job every day. We would be the public face of that profession. We were becoming part of a small fraternity and to never embarrass it," said McCord.
McCord believes officers today, under constant video scrutiny, need to heed Webb's warning. McCord offers acting advice to officers wearing body cameras: "You have to have the mindset that your training officer is always observing you. You have to act and react like the professional you've been trained to be. You have to be the example others look up to. Your training is what separates you from those you have sworn to protect and serve."
Officers can learn from Adam-12
Chief Beck points out that today's officers can learn from Malloy and Reed. They practiced law enforcement with great morality, treating everyone fairly and with respect regardless of what they had done, and without bias.
"Adam-12 was the ideal of the way you should act as a cop," said Beck. "They defined what it was to be a professional police officer. They put a human face on a profession that because of its very nature can be authoritative and distant." 
McCord relates a story about an officer who thanked him for what they did on Adam-12. "He said the show saved his life. When I asked him how, he said with the way he had been doing the job it was only a matter of time before he got blown away."
The officer explained that when he started emulating how Malloy and Reed did things on the show his life and career turned around.
Television needs another Adam-12
Over the years, McCord has proposed similar series to studio executives only to be shot down. Networks wanted flawed characters, with bad cops doing bad things, and McCord refuses to cave in to the pressure.
Most current cop shows fail to portray police in the positive light that Adam-12 did.
McCord believes the entertainment industry has a responsibility in what it presents because TV shows and movies affect what the audience perceives and presumes about cops.
Commitment to officers
Milner and McCord developed a deep understanding of patrol work. Both actors championed the cause of police officers long after the show ended. McCord wore the uniform in real life as a Los Angeles School Police reserve officer. He retired with the rank of lieutenant.
McCord continues to advocate for officers and supports many police charities.
The public expects the police to treat them fairly and be fair. McCord maintains this goes both ways. The public needs to treat the police fairly, too.
"The heroic nature of what these men and women do every time they put on the uniform and go out on the street can't be minimized. I wish everybody had the opportunity to do what Marty and I did with ride-alongs. That changes your perception very quickly," said McCord.
Not everyone has the opportunity to ride-along with officers. By watching Adam-12, riding with Malloy and Reed, the public can gain an understanding of what policing with integrity means and what cops throughout this nation stand for and do every day.      
"Law enforcement is the most noble of professions when done correctly," said Beck. "Adam-12 displayed that nobility. That is what made the show great."
Adam-12 currently airs on cable, satellite feeds and online streaming sources. All seven seasons are available on DVD.
Copyright©2018 Barbara A. Schwartz. All rights reserved. No part of this article may be reproduced in any manner without the expressed written consent of the author.