Kamala Harris: From California's top cop to applauding defunding the LAPD
Police leaders and those on the front lines should wonder what a Biden/Harris White House would mean for law enforcement
---
A recent poll of likely voters shows a majority believe Joe Biden would not finish out his first term if elected president in November. Although the choice of a running mate to become vice president has had relatively little influence on voters' choices for president, police leaders and those on the front lines should wonder what a Biden/Harris White House would mean for law enforcement.
A change of emphasis
At the 2016 Democratic National Convention, Harris boasted of her law enforcement credentials, telling a New York delegation breakfast,  "I now stand before you as the top cop of the biggest state in the country."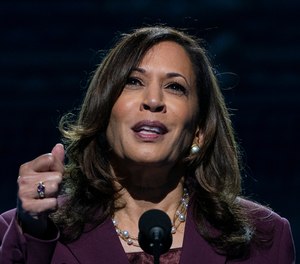 Before this year's DNC, in an interview on Good Morning America, Harris told George Stephanopoulos, "We really do have to get to a point where we agree that the status quo way of thinking about achieving safety is really wrong when it assumes that the best way to achieve more safety is to put more police on the streets, it's just wrong."
While not endorsing wholesale defunding of police she stated, "I applaud Eric Garcetti for what he's doing" in reference to the Los Angeles mayor cutting $150 million from the LAPD budget.
Those who have watched Harris' career in California rising from San Francisco's district attorney's office to election of California's Attorney General ‒ from which she appropriated the label of California's "top cop" ‒ to national office and into the race for president of the United States, will say her thoughts on criminal justice reform have evolved. Others say she has simply followed the winds of politics in contradiction to her past positions.
In 2010, Harris wrote "Smart on Crime: A Career Prosecutor's Plan to Make Us Safer," in which she stated, "If we take a show of hands of those who would like to see more police officers on the street, mine would shoot up. A more visible and strategic police presence is a deterrent to crime, and it has a positive impact on a community." She called police officers "a reassuring sign of a community's commitment to order, calm and safety. More beat cops means more rapid response to assaults, traffic crimes and robberies has and has a profound effect on reducing quality-of-life crimes by simple presence."
Relationship with California law enforcement
During the Obama/Biden era, the Department of Justice under U.S. Attorney General Eric Holder was pressing dozens of civil rights investigations of law enforcement agencies. Harris chose not to intervene in controversial local civil rights cases and district attorney decisions. She failed to support a 2015 bill requiring body-worn cameras on officers, and opposed a bill requiring her office to investigate officer-involved shootings. She historically opposed the death penalty in California, angering police when she refused to seek it in the 2004 murder of San Francisco police officer Isaac Espinoza.
Police relations were generally good with District Attorney Harris, as cited in a New York Times interview of Gary Delagnes, former head of a police union. He called her the city's most "pro-public safety D.A." of the last 20 years, but sees her current statements as "an extremely hard left turn. She is Jekyll and Hyde from what she was in 2004," he said. "That is not the Kamala Harris that I knew."
Biden's more moderate approach
Harris is not alone in facing doubts about past criminal justice ideology. Biden has been haunted and defensive about the 1994 Violent Crime Control and Law Enforcement Act, which many observers, including Harris during the primary campaign, cite in their claims of mass incarceration occurring as a result of more severe federal penalties and funding to states that resulted in a 20% growth in the number of prisons and 40% growth in the number of incarcerated persons with a disproportionate impact on people of color. President Clinton explicitly apologized for the bill, which House Speaker Nancy Pelosi, D-Calif., House Majority Whip James Clyburn, D-S.C., Senate Minority Leader Chuck Schumer, D, N.Y., and progressive icon Sen. Bernie Sanders, I-Vt., voted to pass.
Biden's position on police reform is more conservative than Harris'. Biden is still a true believer in community policing stating "I've long been a firm believer in the power of community policing ‒ getting cops out of their cruisers and building relationships with the people and the communities they are there to serve and protect."
In a recent appearance with Atlanta Mayor Kiesha Bottoms, Biden refuted claims that he agrees with defunding the police. "I don't want to defund police," Biden said. "I want to get police more money in order to deal with the things they badly need from making sure they have access to community policing, that they have also in the department's social workers, psychologists, people who in fact can handle those god awful problems that a cop has to have four degrees to handle."
In a June interview with late night host Trevor Noah, Biden responded to Noah's question about defunding police to divert funds to social services by saying "changes can happen without defunding police completely." When Noah glibly asserted that "we know from interactions between the police and American people that (policing)… is an institution that is fundamentally rotten in the core," Biden was quick to repudiate that claim saying "I don't think it's rotten in its core, I don't think all cops are bad cops."
Regardless of the rhetoric, the federal incentive for change will come from the stick of more civil rights investigations or the carrot of federal funding. The question facing police leaders trying to predict their future identity is whether Biden, if elected, will staff the White House and cabinet with persons who support more radical measures to fundamentally change how – or whether – laws are enforced.