That Christmas when my faith in humanity was restored
This good deed was done at the exact time I needed uplifting
---
By Suzie Ivy
Seeing the worst of humanity becomes a daily expectation when many officers put on their uniforms.
It wears on you, causing depression, a lack of motivation and discontent in our jobs. However, when those down-and-out times happen, something seems to inevitably happen to lift my spirits.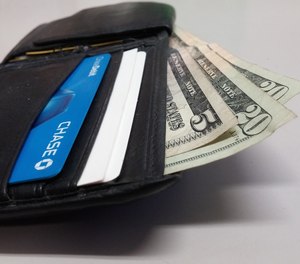 During one of my Christmas day shifts, I was trying to shake off a fatality from a car accident caused by a drunk driver. I wondered if this was really the job for me. I hadn't slept well the previous three days since the crash and feeling Christmas harmony was far from my mind. Though I enjoyed working the holidays, that particular day I wanted to be home with family to take my mind off the images that wouldn't go away.
I stopped at the local 24-hour convenience store to grab a cup of hot coffee and try to put a buzz in my dragging boot steps. A man dressed in weathered clothes walked up to me and handed over a plain black folded wallet. He said he found it on the ground in the parking lot. I asked for his name and information but he said he didn't want to give it. He turned and walked away. I thanked him but he never looked back.
I paid for my coffee and headed out to my patrol car. After getting myself situated, I opened the wallet looking for identification. Three very crisp one hundred dollar bills rested inside. The wallet also held an out-of-town driver's license, a debit card and a few business cards. I placed it on the seat beside me and continued my patrol. Approximately 30 minutes later, dispatch notified me there was a man looking for a lost wallet at the convenience store. I couldn't help my grin as I turned and headed in that direction.
When I pulled up, it was easy to identify the man with the missing wallet. His overwhelming dejection was evident. I grabbed the wallet and got out of the car. He began speaking before I could say anything.
"I think I left my wallet on the trunk of my car when I filled my gas tank, and I know it's long gone but, I had to report it."
I held up the wallet. "Is this yours? There's a lot of money inside."
The look on his face was priceless. "The money's still there?"
"Yes, as far as I know."
"I had three one hundred dollar bills for my three grandchildren who I haven't seen in several years."
I handed the wallet over, "A man gave it to me about 30 minutes ago. He found it in the parking lot."
With shaking hands, he took the wallet.
"I guess you have your own special Santa this year. Merry Christmas," I told him.
His glassy eyes spilled over and he kept thanking me while I reminded him it wasn't me who found his wallet.
I drove away with a lighter heart and my faith in humanity restored. Really it was such a small thing, but it came at just the right time. With all the negative press about police officers, I feel it's important to remember why we do our jobs. We need to look for those small things that put smiles on our faces and soothe our souls. I don't think the man who found the wallet was someone else's Santa, I think he was my guardian angel.
Merry Christmas and happy holidays to all of our EMTs, firefighters, police officers and military personnel. May your guardian angels answer your prayers and lift your spirits high this holiday season.
This article, originally published 12/20/2016, has been updated.