Fla. police officer, 27, dies of COVID-19
Officer Jennifer Sepot leaves behind her husband, who's also a police officer, and their 2-year-old daughter
---
By Chris Perkins
South Florida Sun-Sentinel
FORT LAUDERDALE, Fla. — Fort Lauderdale police officer Jennifer Sepot, a four-year veteran in the road patrol division, died Saturday morning at Northwest Medical Center in Margate of COVID-19, the department said.
She was 27.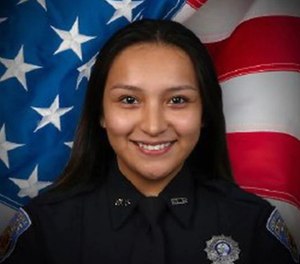 Sepot is survived by her husband, an officer with the Margate police department, and their 2-year-old daughter, according to Detective Brandon Diaz, the union president.
"It is with a heavy heart and great sadness that the Fort Lauderdale Police Department announces the passing of Officer Jennifer Sepot," the department wrote in a release.
Sepot joined the Fort Lauderdale police on April 18, 2017.
According to Diaz, Sepot contracted COVID-19 on the job.
Diaz said Sepot began feeling badly Friday night, which prompted the trip to the hospital.
"She was exposed at work and had tested positive," Diaz said. "And then obviously was sick with it and out since, I want to say it was like maybe the sixth or the eighth, and apparently was having some complications last night, went to the hospital and passed away this morning."
Diaz said he's not sure whether Sepot was vaccinated.
Sepot is the first Fort Lauderdale police officer to die from COVID-19, according to Diaz. He's not sure how many officers have tested positive.
"I know we've had a lot of exposures, a lot of positives," Diaz said, "but I don't know the number off the top of my head."
Diaz said the union doesn't require its members to get vaccinated.
"We obviously encourage our members to get vaccinated," he said, "but it's their own personal decision."
Plantation recently issued a mandate requiring employees to be vaccinated, including police officers, and some officers are upset.
Diaz said such a mandate is unlikely to be issued in Fort Lauderdale.
"If it were, we'd obviously seek legal counsel in regard to the matter, see if that's even something they can legally require," he said.
Diaz said any such mandate would have to be collectively bargained with a union because it would be a change to terms and conditions of employment.
"I've chosen to get vaccinated because I think it's something we should do to keep ourselves safe," Diaz said, "but people have their reasons for not doing so, so we like to respect their individual rights."
Diaz said donations for Sepot's family can be made here.
©2021 South Florida Sun-Sentinel. Visit sun-sentinel.com. Distributed by Tribune Content Agency, LLC.
McClatchy-Tribune News Service