DJ fined for playing 'F--- tha Police' while cops cleared rowdy crowd
One officer wrote in her police report she believed the DJ was attempting to incite the crowd
---
By Police1 Staff
WESTFIELD, Mass. — A DJ who played N.W.A.'s 'F--- tha Police' as cops were trying to clear out a rowdy, over-capacity crowd at a pub has been fined for the incident.
Mass Live reports cops arrived at the pub last October after a fire marshal declared it was over-capacity.  Around 350 people were participating in a college alumni homecoming event at the 160-capacity bar.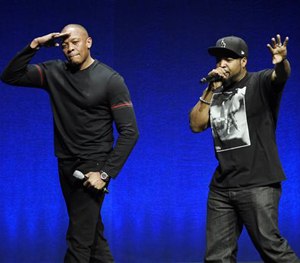 As police began asking patrons to leave, an officer attempted to shut off the music. That's when 25-year-old Kashawn Harris — who goes by the alias DJ Boogy — put on the hip-hop song. Officer Juanita Mejias then cited Harris for disorderly conduct.
"I believed at that time the combination of alcohol, the excessive amount of people in the bar and the song that the DJ chose to play at that time was an intentional act by the DJ to incite the crowd which showed a reckless disregard for public safety," Officer Juanita Mejias wrote in a police report obtained by the publication.
Harris told Mass Live he had no intention of starting a riot and the song had already been cued up prior to the arrival of police.
Harris has been ordered to pay a $50 fine.