3 strategies to get grant money for narcotics detection tools
Consider federal, state and local programs for equipment purchase or to fund a specific program or collaborative effort
---
Sponsored by Smiths Detection
By Therese Matthews, PoliceGrantsHelp Contributor, for Police1 BrandFocus
Whether you are a police officer, sheriff's deputy, investigator, corrections officer, parole or probation agent, you know the dangers of narcotics exposure to yourself, your fellow officers and the community you protect every day.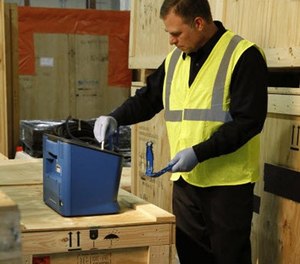 Given the current opioid epidemic and the danger of exposure to fentanyl and other potentially lethal narcotics on the job, it's especially important to follow proper protocols and have the right gear on scene to protect against inadvertent exposure.
In addition to wearing gloves and face masks, trace detection devices can be a first line of defense used before entering a scene where fentanyl is suspected. For example, the portable IONSCAN 600 from Smiths Detection brings the technology used in airport screening into the field for law enforcement use. In addition, tools like the handheld Target-ID and ACE-ID from Smiths Detection can help you rapidly identify unknown substances like fentanyl and many of its analogues.
Below are three winning strategies you can use to secure funding to cover the purchase of this important safety equipment through state and federal grant programs. Employing one, two or all three approaches will position you to find the dollars you need to purchase narcotics testing equipment while easing the burden on your department's budget.
Seek Equipment Purchase Grants
Justice Assistance Grants (JAG) are one of the largest sources of grant funding to support law enforcement equipment purchases. Officer safety and wellness, collaborative prosecution and drug/violence reduction are among the priorities for the use of JAG funds.
Many local municipalities across the country receive a local allocation directly from the federal government based on their share of their state's three-year violent crime average. If your county or city is a local JAG recipient, encourage your grant administrators to earmark a portion of the funding for narcotics testing equipment.
Each state and U.S. territory also receives a JAG award each year for competitive funding available to local and state agencies that don't qualify for the local allocations. Most states hold annual open application periods to solicit proposals that fit into their state criminal justice plan. Reach out to your State Administering Agency (SAA) representative to discuss your needs and inquire about the next application period.
Apply for Funding to Support a Specific Program
Equipment funding can be built into grant budgets developed around a comprehensive narcotics interdiction strategy. Many state and federal grant opportunities require that you incorporate a programmatic and evidence-based approach to your funding request.
Rather than just describing your need and planned use for a single piece of equipment, you must identify a target area or target problem to be addressed. Your proposal must include statistics that both document the problem and estimate the impact that the equipment you plan to purchase will have on addressing the problem.
You will be at a competitive advantage if you identify a research partner who can conduct an evaluation of your project to report on its challenges and successes.
Examples of federal grants using this approach include:
Partner with Other Agencies in a Collaborative Approach
A final strategy to consider is working with your local law enforcement partners and other community stakeholders on a collaborative application. Many federal funders encourage this approach and require that a regional drug task force or a federal or state agency take the lead.
The lead agency would apply for funding to purchase multiple narcotics detection and testing units for all partners. Several law enforcement agencies across a state or jurisdiction could benefit from this approach and receive much-needed equipment to support interdiction efforts.
Examples of federal grant opportunities to consider for this approach include:
Reach out to your drug task force partners, your local state police or U.S. Attorney's Office and encourage them to apply on behalf of the local departments in your area.
Get Started Now
Now is the time to start working on these recommended approaches in order to secure funding for your narcotics detection and testing tools. Federal grant application periods open in early spring, so begin your planning now. The Department of Justice Program Plan is a great source of information on which grants are available for criminal justice agencies this fiscal year.
The team at PoliceGrantsHelp is ready to help. Our grant assistance program includes a number of options for departments seeking assistance in securing grant funding to support narcotics investigations and all the work police agencies do for our communities every day.
About the Author
Therese Matthews has more than 25 years of experience in grant writing, grants management and program development. Prior to her retirement in 2015, she was the grants manager for the New Jersey Department of Corrections and successfully obtained over $140 million in federal, state and private grant funding for the agency.

Request information from Smiths Detection
Thank You!