Calif. patrol officers prepare for rise in cannabis-related DUIs
Marijuana impairment is on the rise and it likely will bloom on the roads after recreational cannabis business licensing starts Jan. 1
---
By Michael Todd
Santa Cruz Sentinel, Calif.
SANTA CRUZ, Calif. — The driver was so high on marijuana, he passed out with his foot on the brakes of his 2012 Hyundai Sonata in the turning lane of 17th Avenue at Portola Drive about two weeks ago, a California Highway Patrol spokeswoman said.
"It's not uncommon for us to find somebody passed out in their car," officer Trista Drake said. "It happens all the time."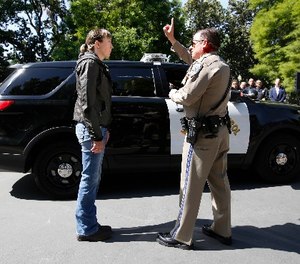 Officers arrested the 23-year-old Santa Cruz man who passed out in his Hyundai shortly after 10 p.m. Dec. 15, Drake said. He was charged with driving under the influence.
Marijuana impairment is on the rise and it likely will bloom on the roads after recreational cannabis business licensing starts Jan. 1, Drake said. As a result, the Santa Cruz County CHP office will increase training for drug-recognition experts after the new year.
The plan: Have at least 65 percent of its staff undergo the 40-hour expert course that teaches officers to identify many types of drug impairment.
Marijuana, unlike alcohol, has no legal limit for drivers, but all forms of impaired driving can result in arrest, according to state law.
There are three sections of DUI laws in California that usually apply to cases of drunken or drug-infused driving. The first section makes it illegal for drivers to be impaired by drugs or alcohol — a ruling based on an officer's discretion. The second section of law makes it illegal to drive with a blood-alcohol level of more than 0.08 percent while driving.
"Let's say the driver is weaving badly and hits the center divide, for example. That person could be arrested with a lower blood-alcohol level," Drake said.
The third section specifies drug impairment is an arrestable offense. But there are no levels someone must exceed to break the law. Drugs only require the impairment standard. Alcohol can result in either form of DUI arrest.
Marijuana impairment may be charged for multiple factors: the smell of marijuana, the presence of the drug and impaired behavior such as slow speech.
"Marijuana can make you behave the same as alcohol. It's a central nervous system depressant like alcohol," Drake said. "It slows down the system. It takes longer to react to things. It can be very scary."
She said marijuana impairment is not something highway patrol is ignoring.
Officers ask drivers how much they have smoked.
"A lot of times, they will admit it to us," Drake said. "We check their pulse, their eyes."
And officers check the driver's tongue. Drake said someone who is on marijuana might have a thick greenish-white coating on his or her tongue.
"It's gross," Drake said. "But, to be arrested, you have to show signs of impairment."
Drunken driving is the most common form of DUI, but drug impairment is on the rise among Santa Cruz County drivers, Drake said.
The highway patrol hosted a holiday crackdown of impaired driving Dec. 22 to Dec. 25. During that time, Santa Cruz County CHP made 18 DUI arrests, Drake said. Of those arrests, 11 were alcohol-related. Three arrests were combinations of drugs and alcohol. One involved a driver who appeared to be high on marijuana only, Drake said.
"That's a good amount," Drake said.
The highway patrol monitors all roads and has an agreement with Santa Cruz County Sheriff's Office for CHP to investigate DUIs in unincorporated areas.
"We are seeing an increase of drugs and we expect it to continue, especially with (recreational) marijuana sales being legal the first of the new year," Drake said.
©2017 the Santa Cruz Sentinel (Scotts Valley, Calif.)
McClatchy-Tribune News Service