DUI checkpoints fall from favor over manpower, legal concerns
Cumberland County's police departments are focusing on other means of deterring drunk driving, such as roving patrols
---
By Daniel Walmer
The Sentinel, Carlisle, Pa.
CARLISLE, Pa. — When drivers traveled York Road in Carlisle late in the evening on Aug. 23, more than a dozen people in uniform waited to surprise them.
They were mostly state troopers hosting a DUI checkpoint at Family Ford of PA in South Middleton Township, just south of Carlisle. They hoped to catch Friday night drunk drivers who otherwise would make it home undetected — or, worse, cause a crash that could jeopardize the life of another driver on the road.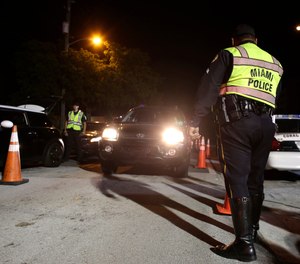 But the fish weren't biting. It took nearly an hour for the checkpoint to make its first arrest, and some officers were soon reassigned to roving patrols in the area.
State Police Cpl. Reese Matthews said unexpectedly low volumes of traffic were partially to blame. However, statistics show it isn't uncommon for expensive, time-consuming and controversial checkpoints to result in a paltry number of arrests.
As a result, Cumberland County District Attorney Skip Ebert said his office and the county's police departments are conducting fewer checkpoints, preferring to focus on other, more efficient means of deterring drunk driving, such as roving patrols.
Not every law enforcement agency is ready to give up on checkpoints, however, and some anti-drunk driving groups say trashing them would mean abandoning an important tool to combat one of the roadway's most dangerous hazards.
One-stop shop
Impaired driving is one of the most common illegal activities in Cumberland County and elsewhere.
There were more than 1,250 DUI criminal cases filed in Cumberland County in 2018, according to Sentinel records. Statewide, state police said they investigated 80 crashes that caused 33 fatalities during the Labor Day weekend in 2018.
Checkpoints are an attempt to combat that trend, often held on holiday weekends like Labor Day weekend. Police can't typically conduct a traffic stop on a driver unless they have a reasonable suspicion of a legal violation, such as speeding or weaving in and out of lanes. Checkpoints allow officers to question drivers even if they haven't committed a traffic violation in order to establish the reasonable suspicion needed to test the driver for impairment. The U.S. Supreme Court upheld the procedure over constitutional objections in 1990.
They're also a team effort. The 15 state troopers involved in the Aug. 23 checkpoint were joined by two Cumberland County Sheriff's Office deputies, two Cumberland County Prison correctional officers, an assistant district attorney, a state police drug recognition expert, and a phlebotomist to draw blood.
As a result, the checkpoint served as a one-stop shop for DUI enforcement. Troopers stopped and questioned every car driving by the dealership — a court ruling limits officers to 45 seconds for initial questioning — and occasionally pulled over a driver for field testing. Suspected impaired drivers could then be taken to a van on site for a blood draw or further testing by a drug recognition expert, and then transported directly to central booking.
"It takes a large commitment"
Checkpoints have long been a common tool for fighting impaired driving. However, they've come under criticism from both civil liberties advocates and, more recently, law enforcement personnel who wonder if they are worth the trouble.
The Aug. 23 state police checkpoint involved about 20 people, while Ebert said an average checkpoint organized by his office and local police departments includes about 30 people. That number can't be easily reduced because checkpoints must be conducted on every car (or every fifth car or a similar interval) in order to avoid being considered discriminatory and therefore illegal. They cost an average of $7,000, money that comes from state and federal grant funds, Ebert said.
He also referred to the large number of DUI arrests already occurring in the county as evidence that law enforcement is clamping down on impaired driving.
"You really don't need an extra (effort) of just concentrating on that when we're obviously making a lot of arrests for DUI," he said.
It can also be a challenge to find a venue that is large enough to pull over large numbers of cars, safe, and willing to permit police to use the property, he said.
Compared to the amount of manpower required, the number of impaired drivers caught at checkpoints is relatively low. The Aug. 23 state police checkpoint on York Road yielded nine DUI arrests. One recent state police checkpoint in the region yielded six arrests, while another checkpoint yielded seven, according to Sentinel records based on state police news releases.
Legal scrutiny
A recent Pennsylvania Supreme Court case created an additional snag for DUI checkpoints. The court ruled in May that officers did not have authority to stop vehicles at checkpoints outside of their local jurisdictions unless the municipal government had signed an intermunicipal agreement. Since most checkpoints are collaborations among multiple jurisdictions, the ruling jeopardized the validity of future checkpoints, although not those conducted by state police, which have statewide jurisdiction.
The state Legislature quickly passed, and Gov. Tom Wolf signed, a bill that mitigated the impact of that decision. The bill, though, still requires police departments to formally agree to participate in intermunicipal checkpoints before being involved.
Checkpoint arrests are also frequently challenged in court on the basis that they were held in a discriminatory fashion, said Barbara Zortman, director of the Center for Traffic Safety, with coordinates federally funded impaired driving initiatives in York, Adams and Lancaster counties.
"Defense attorneys are chomping at the bit to tear checkpoints apart," Zortman said.
Patrick Lauer, a DUI defense attorney with offices in Camp Hill and Carlisle, wouldn't see that as a bad thing. Lauer said he would like to see checkpoints completely eliminated.
"It traps so many people that aren't drinking and it just wastes their time," he said.
Checkpoints have also been accused of targeting minority communities. A 2015 Chicago Tribune analysis found that Chicago-area checkpoints were mostly held in areas primarily populated by minorities.
Roving DUI patrols
Ebert now prefers to use Cumberland County's federal anti-impaired-driving grant funding to create roving DUI patrols, which allow for 3-5 additional officers on the roads in Cumberland County for a period of time. Like other officers on highway patrols, these officers can only stop a vehicle when they observe a traffic violation.
"It's really just adding more police on the street," Ebert said.
The American Beverage Institute also advocates for roving DUI patrols, arguing that they are more cost-effective and more likely to catch dangerously impaired drivers.
Officers are always on the lookout for impaired drivers when they are doing highway patrol, Zortman said. The difference with federally funded DUI patrols is that the officer is dedicated to highway patrols and won't be pulled away from the DUI detail unless another officer urgently needs assistance.
Lauer believes roving DUI patrols are more reasonable than checkpoints, although, roving patrol or not, he thinks most officers stopping someone for a broken taillight late at night already have impaired driving in mind.
"Is (a roving patrol) any different from any other day?" he asked. "They're just looking for DUIs."
In defense of checkpoints
Some checkpoints still occur on a regular basis in Cumberland County. These are operated by state police, which see a value in both checkpoints and roving DUI patrols, according to Trooper Brent Miller, director of communications for state police.
The Center for Traffic Safety also still plans checkpoints in York, Adams, and Lancaster counties. Zortman said they actually get more DUI arrests at checkpoints than through roving DUI patrols. That's secondary, though, to what she views as the main goal of checkpoints: to serve as a deterrent.
"Sobriety checkpoints are in-your-face," said Zortman, who routinely asks media outlets to publicize upcoming checkpoints (although she doesn't reveal the exact location). "We would rather see less DUI arrests because then we know that we got the message out."
She has at least anecdotal evidence that goal is being achieved: officers are telling her lately they are seeing more Uber drivers and vehicles in which people are sharing rides come through the checkpoints, she said. The point of advertising checkpoints ahead of time is that it helps incentivize people to plan ahead for their ride home before they become intoxicated and their judgment is impaired.
Mothers Against Drunk Driving also argues that the deterrent impact of checkpoints means they are an important and effective complement to roving patrols, which yield more arrests. While the deterrent impact is difficult to measure, MADD cites a survey of research by the Centers for Disease Control and Prevention that concluded checkpoints can reduce drunk driving fatalities and other crashes by 20 percent.
"Sobriety checkpoints are similar to a security checkpoint at the airport — they are done for the safety of everyone and they don't take much time," MADD said in a 2018 position paper.
Not everyone believes there needs to be a debate between checkpoints and roving patrols. Lancaster County District Attorney Craig Stedman said they can complement each other: the roving patrols lead to more arrests, but checkpoints have a greater deterrent effect, he said.
"We see the value of both roving patrols and checkpoints, and will continue to prioritize them in efforts to keep impaired drivers from harming or killing innocent individuals on our roads," he said in an email.
©2019 The Sentinel (Carlisle, Pa.)
McClatchy-Tribune News Service