Wis. university removes mural of cop killer
The mural of Assata Shakur has been on display since at least March
---
By David Paulsen
Milwaukee Journal Sentinel
MILWAUKEE, Wis. — Marquette University quickly removed a mural on campus that had generated outcry over the weekend because of its subject: a woman on the FBI's most wanted list who was convicted in a New Jersey state trooper's 1973 murder, escaped prison and fled to Cuba.
The mural of Assata Shakur, formerly known as Joanne Chesimard, has been on display at the Marquette Gender and Sexuality Resource Center at least since March.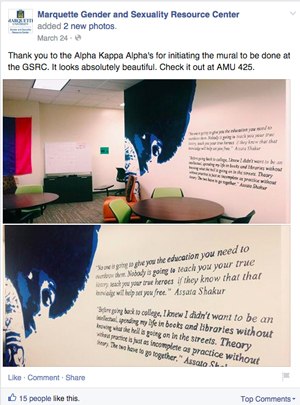 The center posted photos of the mural on its Facebook page on March 24, saying, "Thank you to the Alpha Kappa Alpha's for initiating the mural to be done at the GSRC. It looks absolutely beautiful. Check it out at AMU 425."
The mural features a grainy black-and-white photo of Shakur, with two quotes, one that starts, "No one is going to give you the education you need to overthrow them."
The mural caught the attention of one of Marquette's most vocal critics, John McAdams. McAdams was an associate professor of political science until he was suspended for publicly criticizing a teaching assistant last year on his blog for how she handled a discussion of gay marriage in her class.
McAdams, who now faces a possible termination, took to his blog again Saturday to condemn the Gender and Sexuality Resource Center for "glorifying a black militant cop killer."
"Now we have yet another case of the extreme leftist agenda of the organization," McAdams writes.
On Sunday evening, Marquette's communications department tweeted out a link to a brief statement that said the mural "in a remote area of campus" was coming down. The mural is inside the Gender and Sexuality Resource Center on an upper floor of the Alumni Memorial Union.
"Our university's senior leadership just became aware of a mural that was created and displayed in a remote area of campus. This is extremely disappointing as the mural does not reflect the Guiding Values of Marquette University. It is being removed immediately," the statement reads. "We are reviewing the circumstances surrounding the mural and will take appropriate action."
The university didn't say Sunday when the mural would be removed, but a visit Monday morning to the Gender and Sexuality Resource Center revealed it had been covered up, apparently with a fresh coat of white paint.
Photos of the mural remained on the Gender and Sexuality Resource Center's Facebook page Monday morning, then disappeared before 9 a.m.
Critics already had begun over the weekend speaking out against the mural in comments on the center's Facebook post.
"Reprehensible! Disgusting that you would glorify a convicted murder, a killer of human life!?!!" reads one comment posted by Gay Anne Birkholz, the mother of Fond du Lac Police Officer Craig Birkholz, who was killed by a suspect in 2011.
For fugitive, condemnation and some support
Chesimard was 25 and a member of the Black Panther Party and Black Liberation Army when she and two others were stopped May 2, 1973, by two New Jersey state troopers for a traffic violation.
The group opened fire, wounding one trooper and killing the other, execution-style, according to the FBI's description on her most-wanted poster. Chesimard fled, was captured and was convicted of first-degree murder in 1977 but escaped prison in 1979.
She was located in Cuba in 1984 and is thought to still be living there. The FBI has offered a $1 million reward for information leading to her arrest.
She now is known as Assata Shakur and, despite her conviction and fugitive status, has drawn some support from those who see her as a black activist fighting oppression. Something called the "Hands Off Assata Campaign" casts her as an example of an "obsessive and barbaric attempt to malign, imprison and/or assassinate important and legitimate Black ... activists."
Supporters argue she didn't shoot the trooper herself, and they question the evidence used to convict her as an accomplice.
Such support has been fueled at least partly by Shakur's autobiography, which was published in 1987 and includes a foreword by noted black activist Angela Davis.
The two quotes that had been posted on the mural at Marquette were taken from the autobiography.
Copyright 2015 the Milwaukee Journal Sentinel
McClatchy-Tribune News Service