Miss. officials preparing for gang violence after recent prison outbreaks
Law enforcement officers are preparing for gang violence to spill over into local communities
---
Sabrina Simms Robertson
Natchez Democrat
NATCHEZ — Local law officials said they are preparing for the possibility that violent outbreaks in state prisons could spill over into the community after the recent death of inmate from Adams County.
Adams County Sheriff Travis Patten responded to reports of violent outbreaks and deaths in state prisons during Monday's meeting of the Adams County Board of Supervisors, and advised the public that it could become a local issue.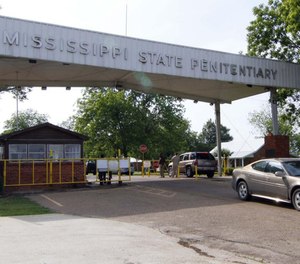 "The reason behind those riots brings it right to our doorstep," Patten said during Monday's meeting.
Patten referenced the death of Terrandance Dobbins, 40, who was serving a life sentence for a 1998 homicide conviction in Adams County at the South Mississippi Correctional Institution in Greene County.
Dobbins died Dec. 29 in prison and two others were injured during a "major disturbance" at the facility, the Associated Press reported.
A system-wide lockdown was initiated at state prisons that would continue indefinitely as authorities investigate Dobbins' death, the report stated.
"One of the main guys that got killed is from Adams County," Patten said. "What most people don't realize is what happens in prison normally bleeds out onto the streets. When you see us putting bodies out, running detail and spending overtime, just know that we have a lot of intel that the public is not privy to and we're taking progressive actions to make sure that what happens there does not happen on our streets."
Patten said Thursday investigators believe there is a conflict between opposing gangs in the area.
"One side of this is reaching out to their members … and their action is to stand down," Patten said. "We're hoping that the action is the same with the other side so that blood doesn't shed in our streets. … Whether they do or not, we in law enforcement are ready."
Dobbins is scheduled to be buried Saturday in Natchez, Patten said, adding deputies of the sheriff's office and patrol officers of the Natchez Police Department would be standing by during the funeral service to prevent any disruptions and to protect family members.
Patten asked the community and local leaders to contact their legislators and pressure them to put much-needed funds into state prisons to curtail inmate violence.
McClatchy-Tribune News Service