An introduction to COMPASS: A new health and wellness resource from the Office of Community Oriented Policing Services
Unlike common approaches to wellness, COMPASS is designed to tailor program implementation to the conditions that are unique to each agency
---
By Travis A. Taniguchi, Ph.D., Jennifer R. Rineer, Ph.D., Lieutenant Erin Bloch, Commander Gary Richgels, Chief Rachel Tolber and Brian Aagaard
Law enforcement officers experience extreme stress, which is in many ways different from stressors experienced in other professions. Officers are regularly exposed to violence, human suffering and death. They must deal with these challenging situations in unpredictable and uncontrollable circumstances. [1] In addition, everyday organizational stressors, such as dealing with bureaucracy and inconsistent leadership, can have as much of a negative impact on officer health and wellness as traumatic events. [2]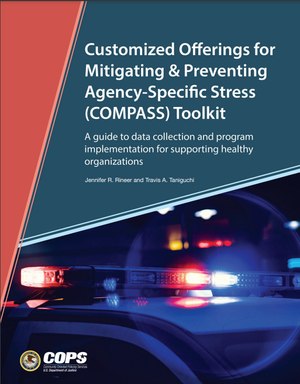 In combination, these stressors can lead to negative mental and physical health for officers, which can influence not only those individuals, but their families and the communities they serve. Broad, one-size-fits-all interventions designed to mitigate these stressors tend to have limited effectiveness. Instead, health and wellness interventions must take the local context and diversity of staff needs into account to protect officers from the stressors they encounter.
With funding from the Office of Community Oriented Policing Services (COPS Office), RTI International worked with the Green Bay Police Department (GBPD) and the Redlands Police Department (RPD) to develop and assess a process for identifying and addressing stress while being sensitive to agency characteristics.
This work resulted in the Customized Offerings for Mitigating & Preventing Agency-Specific Stress (COMPASS) Toolkit. [3] Unlike other approaches, COMPASS is designed to tailor program implementation to unique agency conditions.
COMPASS is a process that provides guidance on:
Listening to the needs and experiences of officers and staff in different roles;
Understanding the causes of the stressors;
Identifying areas for improvement;
Implementing meaningful changes; and
Assessing the effectiveness of your agency's efforts.
COMPASS is freely available from the COPS Office and can be accessed here. It has been designed with step-by-step instructions to facilitate implementation. Although the use of external consultants may be helpful, it has been written in a way that agencies can implement it with only internal staff and resources.  
The COMPASS process
There are six steps to help agencies to define the problem, identify trainings, programs, or other interventions that can address the issue, and assess if the efforts were effective. 
Step 1: Identify champions. Effective implementation of COMPASS requires agency champions to lead data collection and implementation efforts. Having two or more champions improves workload sharing and project management. Champions should be well supported throughout the organization including among sworn, professional, and executive staff. If necessary, consider engaging external consultants to assist with this process to facilitate honest and open feedback. This can be important if internal relationships (especially between officers and executive staff) are strained.
Step 2: Baseline assessment. The next step is to administer the baseline survey to measure stress across 10 domains. The assessment also includes questions about staff health and health behaviors to understand what staff are already doing to manage their health and wellness. COMPASS explains how to carry out your survey and how to interpret the resulting data. In addition to the survey, COMPASS provides guidance on conducting interviews and focus groups that can better define the scope and nature of the problem. Once the survey, interviews and focus groups are completed, you will have a clearly defined challenge area that will fall into the following categories:
Perceived favoritism and leadership issues
Internal pressures
Interpersonal issues
Limited resources
Negative or anti-police sentiment
Physical health and safety issues
Administrative challenges
Staff fatigue from overwork
Traumatic events
Work/life balance
COMPASS will walk you through the process of identifying problems that require short- and long-term responses.
Step 3: Select a strategy. COMPASS provides information about intervention options for addressing each focus area; these are described in the COMPASS Resource Guide. A range of resources have been identified – from short, 15-minute podcasts to all-day trainings. The items in the COMPASS Resource Guide have been developed by researchers and experienced law enforcement practitioners. The programs and strategies identified in the toolkit are free. Information about the program (such as source, type and estimated length) has been placed in the Resource Guide to facilitate selection.
Step 4: Implement. Action planning is essential. The strategies, trainings and programs described in the COMPASS Resource Guide come in many formats but can broadly be grouped into (1) non-training strategies, (2) in-person or facilitated strategies, or (3) online or self-directed strategies. Regardless of the strategy implemented, attention should be paid to the following issues:
People and timing – Be thoughtful about the people and timing of the program implementation.
Communication – Program efforts should be communicated to staff. Highlight the fact that the program was a result of their survey, interview, and focus group participation. Efforts should also be made to facilitate transparency in the process. Where possible, program goals, objectives and timelines should be documented and described to staff.
Follow through – Be sure to follow through on intended changes. If adjustments to the plan are necessary, make sure to communicate those to staff.
Sustain change – Research in behavioral health has demonstrated that even small changes can create meaningful changes. Develop a plan to ensure that change is sustained over time. 
Step 5: Follow-up assessment. The follow-up assessment will allow you to determine if the program was effective and if additional work is needed to address the issue. Comparing baseline and follow-up survey data will help determine if the strategy had a positive impact.
Step 6: Sustainability planning. The goal of implementing COMPASS is to develop long-term sustained changes within the organization. Strategies and programs implemented should not be thought of as temporary or one-time. A sustainability plan describes additional training or resources that may be needed, changes that must be made over longer periods, and changes that may require more extensive coordination with outside stakeholders. The sustainability plan will also outline periodic reassessments that are helpful to track progress on improving staff health and wellness. Remember to celebrate the successes of champions, participating supervisors and staff, and agency initiatives.
Case studies
COMPASS was piloted in two law enforcement agencies: the Green Bay (Wisconsin) Police Department and the Redlands (California) Police Department. After conducting the staff survey and collecting additional data from staff, both agencies determined that the most pressing issue affecting staff health and wellness was associated with perceived favoritism and inconsistent leadership. The selection of a common issue between agencies was coincidental. Both agencies identified other challenges but considered those issues to be outside their immediate control.
Both GBPD and RPD implemented training designed to focus on internal procedural justice and supervisory skills (this training is available from RTI here. The implementation of the training varied somewhat between the agencies but shared a common set of activities.
First, supervisors attended a training session that focused on identifying and applying elements of procedural justice in the context of employee supervision. Supervisors were challenged to describe how their behaviors may have contributed to perceptions of inconsistent leadership. Responses to this question varied, but as an example, one supervisor noted that they may connect less with younger officers due to age/stage in life, time on the job, and generational differences.
Second, supervisors were asked to develop at least two behavioral goals related to the people they supervise. Goals were generally low burden; examples included checking in with all direct reports at least once a week and having lunch with each direct report monthly. Resources for implementing and tracking these small behavioral changes were provided. The project team sent out periodic email reminders to supervisors to act as behavioral nudges and increase adherence to self-selected goals. In the example described above, the supervisor who found it harder to connect with their younger staff indicated that he would make sure to have coffee with their younger officers at least monthly to connect on a more personal basis and learn about their career goals.

Finally, supervisors performed ideation on longer-term strategies to address underlying issues related to perceived inconsistencies in staff management. For longer-term agency changes, GBPD and RPD differed based on their unique circumstances and historical challenges. GBPD focused on efforts designed to improve the career development process (e.g., revising the sergeant exam questions) and build trust throughout the organization (e.g., ensuring that command staff brief sergeants on personnel decisions)​. RPD focused on expanding the role of professional staff to address workload issues and improving the career development process. To do so, RPD worked with RTI to develop a career development discussion guide and a career resource guide.
Evaluation of program impact in GBPD and RPD found that the intervention was more effective in GBPD. In GPBD, survey results indicated a significant reduction in stress related to perceived favoritism and inconsistent leadership following strategy implementation. Results suggested limited impacts in RPD. Both agencies continue to work on implementing the longer-term strategies identified throughout the COMPASS process.
Lessons learned
Implementing COMPASS in GBPD and RPD led to several important lessons for agencies that are looking to address staff stress and wellness.
Engage sworn and professional staff. Professional staff are often overlooked when it comes to health and wellness initiatives. Given that a great deal of employee stress originates from problems internal to organizations, it is advantageous to identify challenges and stressors that may impact both sworn and professional staff.
Get outside assistance when needed. Depending on the nature of the issue and organizational climate, it may be difficult to have constructive discussions about the challenges that staff are facing. It may be advantageous to have an external party assist in facilitating these discussions.
Multiple champions are necessary. Multiple champions are necessary to keep the process moving and ensure coordinated agency activity.​ Champions may change over time, and having multiple staff associated with the project can help facilitate project continuity.
Executive leadership buy-in is essential. Executive leadership should demonstrate consistent engagement with the process, the strategy that is implemented, and the evaluation. ​This is essential to program buy-in.
Communicate progress and changes. It is essential to communicate effectively across the organization. Staff at all levels must understand what and why changes are being made. ​ Throughout the implementation of COMPASS at GBPD and RPD, we heard that participants appreciated that the information they provided were reflected in later stages of the project.
Facilitate open discussion. There was considerable value in creating a space where feedback could be shared that minimized fear of repercussions. Participants from both GBPD and RPD shared that one of the greatest benefits of the program was the ability to speak freely about long-standing issues. ​
COMPASS is a powerful resource that will allow law enforcement agencies to use an evidence-based approach to identifying stressors that are negatively impacting staff health and wellness. The COMPASS Resource Guide will help agencies select strategies that address the specific challenges they are facing. Throughout the process, data collection and analyses determine if the program was effective. Healthy officers are an essential precursor to healthy police-community relations and effective law enforcement organizations.
References
1. Finn P, Talucci V, Wood J. (2000.) On-the-job-stress in policing: Reducing it and preventing it. National Institute of Justice Journal, 242, 18-24.

2. Shane JM. (2010.) Organizational stressors and police performance. Journal of Criminal Justice, 38, 807-818.

3. Rineer JR, Taniguchi TA. (2022.) Customized Offerings for Mitigating & Preventing Agency-Specific Stress (COMPASS) Toolkit: A guide to data collection and program implementation for supporting healthy organizations. Washington, DC: Office of Community Oriented Policing Services. 
---
About the authors
Travis Taniguchi, Ph.D, is a Senior Researcher in the Public Service Recruitment Research group at Fors Marsh. His research focuses on program and policy evaluation in areas such as crime prevention, the health and wellness of law enforcement officers, and recruiting and retention in public service careers.
Jenn Rineer, Ph.D., is an expert in the health, well-being, and performance of employees and organizations. As director of the Workforce Wellbeing and Effectiveness Program in RTI International's Justice Practice Area, she applies her expertise in organizational psychology and occupational health to workplace surveys, interview and focus group research, employee trainings, evaluations, and experimental studies in policing. Her research focuses on recruitment and retention, worker health, job-related stress, and diversity and inclusion, and she leads multiple DOJ-funded projects to understand and improve police experiences in these areas.
Erin Bloch is a police lieutenant at the Green Bay Police Department. She has been working in law enforcement for 10 years. She holds an associate degree in criminal justice – law enforcement from Lakeshore Technical College and a bachelor's degree from UW-Superior in health and wellness management. During her 10 years of service at GBPD, she has focused on improving the health and wellness of the department's employees through the evolution of their peer support team and the creation of wellness programming.
Gary Richgels is a commander of the investigations division at the Green Bay Police Department. He oversees all functions of investigations including crime analysis, computer forensics, and school resource officers. Commander Richgels has been with GBPD for over 24 years and is a Certified Public Manager through the Wisconsin Command College.
Rachel Tolber was appointed Chief of Police of the Redlands Police Department on June 12, 2023. Chief Tolber began her law enforcement journey in 1997 when she was hired by the Redlands Police Department as an undergraduate student intern as a research assistant. In 1998, she became a police officer, and since then has served the department in a variety of positions and operational, tactical, investigative, and training assignments. Chief Tolber possesses a bachelor's degree in psychology and sociology from the University of Redlands, and she holds a master's degree in criminology, law and society from the University of California, Irvine. She also earned a master's degree in applied criminology from the University of Cambridge in the United Kingdom.
Brian Aagaard is a Research Associate in RTI International's Justice Practice Area. He uses his research and applied experience with law enforcement agencies to identify new opportunities to address current policing challenges through innovation and partnership. Mr. Aagaard's areas of focus and expertise are geographic information systems, advanced crime analysis techniques, intelligence analysis, analytical investigative techniques, and the dynamics of law enforcement–community relations and related social issues.