Officer wellness: An ounce of prevention may be worth a pound of staffing
Constructive strategies are needed, including industry standards for physical and mental health and supervisor training to detect and respond to signs of distress
---
This article is based on research conducted as a part of the CA POST Command College. It is a futures study of a particular emerging issue of relevance to law enforcement. Its purpose is not to predict the future; rather, to project a variety of possible scenarios useful for planning and action in anticipation of the emerging landscape facing policing organizations.
The article was created using the futures forecasting process of Command College and its outcomes. Managing the future means influencing it – creating, constraining and adapting to emerging trends and events in a way that optimizes the opportunities and minimizes the threats of relevance to the profession.
Article highlights
Officer wellness issues in law enforcement pose significant challenges, including physical and mental health concerns, due to the high-stress environment and traumatic events experienced in the line of duty.
Current fitness standards for law enforcement are crucial during recruitment and training phases, but there's a lack of continuous re-evaluation of physical and mental health after officers graduate from the academy.  
Stigma around mental health issues and seeking help is a major barrier, with many officers fearing the perceived weakness or impact on their career progression if they were to seek help.
For the wellness of officers, constructive strategies are needed, including the development of industry standards for physical and mental health, enhanced supervisor training to detect and respond to signs of distress, and resiliency training to help officers cope with traumatic events.
Various recommendations for supporting officer wellness include the use of mobile health applications, enforcement of a "right to disconnect" from work-related technology during off-hours, providing wellness incentives, and promoting regular mental health evaluations.
---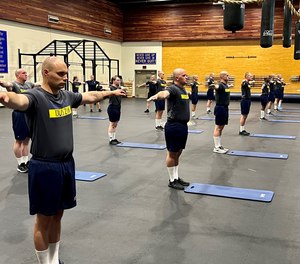 By Captain Eric McQuoid
Officer wellness issues present a unique challenge to police leaders, who have a moral and professional obligation to ensure their employees are physically and mentally prepared to protect the community.
Murder, rape, domestic violence, child abuse and car crashes are a few examples of traumatic events police officers may encounter throughout their careers. Repeated exposure to trauma of this nature may increase chronic stress and anxiety. If left untreated, this could manifest into more serious mental health issues such as depression, post-traumatic stress disorder, or suicide. A 2020 survey of 1,355 active-duty law enforcement providers revealed 47% screened positive for PTSD. [1]
Mental health issues are not the only wellness concerns in law enforcement. An FBI study reported 8 out of 10 police officers are overweight. [2] In 2017, the Centers for Disease Control and Prevention reported nearly 40% of adult Americans were obese. [3] 
When officers suffer from physical or mental health issues, their ability to protect and serve is negatively affected. To protect their officers and communities, law enforcement leaders must explore the value of enacting mental and physical health standards, eliminate the stigma of asking for help, and develop comprehensive strategies at the state and organizational levels to improve physical and psychological health.
Implement fitness standards
Law enforcement candidates undergo a thorough physical and mental health evaluation as part of the hiring process. Police agencies must hire and train employees who demonstrate they are physically and mentally capable of doing the job. Law enforcement recruits must complete a physical fitness test before graduating from the police academy. Unfortunately, after graduating a police officer may never be physically or mentally re-evaluated for fitness for duty.
Employees do not transition from being physically and mentally fit to obese and suffering from mental health issues overnight. Did their supervisors, peers or coworkers miss or ignore signs of these transitions? Over time police officers may develop self-destructive behaviors or harmful coping mechanisms to deal with the stress and anxiety of their jobs. Alcohol and drug use, binge eating, compulsive gaming, self-injury, tobacco use and chronic avoidance are behaviors that may provide short-term pleasure but be ultimately damaging. [4] 
Not addressing mental and physical health issues with employees in the beginning presents significant risks to law enforcement organizations and the citizens they serve. Even with programs in place, a necessary first step is for those who need help to ask.
Eliminate the stigma
Stigma remains a considerable roadblock for wellness programs. Six hundred officers responded to survey questions in 2018 regarding job-related stress. Nine in 10 admitted stigma inhibited their willingness to seek behavioral or emotional help. [5} The data suggests many officers do not seek treatment on their own, sometimes with tragic results. In 2017, 140 officers committed suicide, and 129 died in the line of duty. [6] More recently, in 2020, 113 police officers were killed in the line of duty, while suicide claimed 116. [7] Police suicide and line-of-duty deaths may fluctuate yearly, but even one suicide a year is cause for concern. Officers are not seeking the help they need; instead, they are taking their own lives.
A gap exists between identifying a mental health issue and seeking treatment. Knowing that some law enforcement professionals are suffering from physical and mental issues, leaders cannot sit back and wait for the problems to fix themselves. Although individuals have many reasons for not asking for help, common concerns include appearing weak, the perception of being unfit for duty and worrying about not getting promoted. [8]
Policing is experiencing negative public perception, calls for reform and defunding, and difficulties recruiting and retaining qualified officers. Despite those issues, law enforcement leaders can take proactive steps to improve the physical and mental health of police officers.
Constructive strategies to improve health
Policing can succeed with early detection and response to self-destructive behaviors. Although programs to improve employee physical and mental health exist, the policing industry and individual agencies must undertake a more comprehensive approach. A case study from the Justice Department's Office of Community Oriented Policing Services and the Police Executive Research Forum identified increased agency costs, impaired decision-making and decreased job performance as adverse outcomes when officers suffer from mental and physical health issues. [9] Therefore, prioritizing lifetime physical and psychological wellness makes sense for existing employees and future generations. 
The law enforcement industry must develop a long-term strategy to make incremental changes in physical and mental health wellness, providing a framework for individual agencies to customize an approach. State agencies responsible for police officer standards, training and certifications, such as California's Commission on Peace Officer Standards and Training (POST), should establish the following:
Industry standards: No physical or mental health standards exist for most law enforcement outside of fitness-for-duty evaluations. Convene a committee of experts to develop and implement career-long physical and psychological fitness standards for law enforcement professionals. The committee should include various stakeholders, including police agency employees, medical and psychological professionals, community members and labor representatives. California's Senate Bill 2, enacted in 2021, allows the Commission on POST to suspend or revoke peace officer eligibility for specific misconduct and criminal acts. Therefore, it would not be a stretch to enact and regulate wellness eligibility for peace officers. In Texas, a section on physical fitness programs and standards mandates each police agency adopt a physical fitness program officers must participate in and physical fitness standards officers must meet. [10] Labor unions might challenge the implementation of new physical or mental health fitness standards. However, organizations should not be held hostage by labor unions. In 2019, the Texas Department of Public Safety Officers Association filed a lawsuit that challenged new fitness guidelines. The suit was dismissed because no punitive action was taken against troopers who didn't meet the standards.
Enhanced supervisor training: A first-line supervisor interacts most frequently with their direct reports. Over time they become familiar with each employee's personality, performance, report writing style, commendations and complaints. Commissions must provide enhanced training, so supervisors can identify negative changes within an employee and decide the most appropriate avenue for intervention. "Intervention programs involving physical fitness, nutrition counseling, general wellness, stress management and drug and alcohol education have shown promise with combating the health maladies common to law enforcement," [11] a 2017 review concluded. In a 2020 study, other authors found proactive supervisors who checked in with staff and normalized reactions to major incidents were more successful in developing direct reports who established similar models for responding to traumatic events. [8]
Resiliency training: Law enforcement agencies spend considerable time and money identifying the best candidates and training them for careers in law enforcement. Physical and psychological changes can occur after years of exposure to critical incidents and traumatic events. Law enforcement employees need formal training to deal with those changes. Training should include education on self-destructive behaviors and positive coping mechanisms. Using evidence-based techniques to train police recruits to manage traumatic and routine stressors is paramount. [12]
Even with enhanced standards and training, a one-size-fits-all model for officer wellness will not work. California has approximately 500 law enforcement agencies, all with different numbers of employees and different budgets. Each law enforcement agency must dedicate time and effort to developing programs best suited for their employees. The recommendations found below can assist agencies' support of overall officer wellness. 
Mobile health applications: As law enforcement agencies continue hiring candidates familiar with technology, application-based health and wellness solutions can be practical components of a comprehensive program. Mobile apps can provide effective mental health interventions. [13] In addition, mental health applications can combat the stigma of asking for help. Agencies could offer access through partnerships with application developers, risk management or government benefits providers. 
Forced technology disconnect: For decades, police agencies offered services to their communities 24/7 without using cellular telephones and email. However, technology keeps employees electronically connected to work, whether on duty or off. As a result, agency leaders must develop and enforce a culture that supports an employee's right to disconnect. France, Italy, Belgium, Slovakia, Spain and Ireland allow off-duty employees to switch off with "right to disconnect" laws. [14] An improved work-life balance can prevent employees from becoming burned out. The Belgian public administration minister concluded that civil servants' right to disconnect helps relieve excessive stress and burnout. [15]
Wellness incentives: Organizations can provide financial incentives for employees who meet predetermined physical and mental health thresholds. Well-thought-out incentive programs can help organizations establish wellness cultures, increasing employees' likelihood of developing and maintaining healthy habits even if incentives are removed. [16] Although initial costs seem like a substantial hurdle to implementation, a healthier workforce could result in higher productivity and less time missed.
Mental health evaluations: Law enforcement agencies should promote employee mental health evaluations at predefined intervals or after critical incidents. Leaders should work to reduce the stigma surrounding mental health treatment. Although most agencies have some peer support, crisis intervention, or employee assistance program, they must evaluate whether the programs are utilized and effective. Law enforcement leaders must prioritize efforts to normalize mental health evaluations and treatments. It is equally important to improve access. Embedding clinicians trained to work with first responders within station houses would improve access to mental health support.
Police executives are tasked with constantly reassigning organizational resources to maximize their ability to provide high-quality service. A well-designed officer wellness program that emphasizes the importance of physical and mental wellness will improve individual officer performance, increase the potential of positive interactions in the community and decrease officer suicides. More research and further assessments of emerging programs and technologies are still warranted to ensure agencies are doing all they can. Examples from the field, though, are promising. The San Diego Police Department's wellness unit has reported success. In a 2013 survey it conducted, 240 respondents cited more discussion on mental health issues, decreased stigma when asking for help and a substantial increase in knowing they can seek and receive support for issues. [9]
Imagine if that were the case for each of the 18,000 law enforcement agencies in the nation. The police could save more lives, while also saving their own.
NEXT: How the Stanislaus County Sheriff's Office built an award-winning officer wellness program
References
1. Lilly M, Curry S. (September 2020.) Survey: What is the state of officer mental health in 2020? Police1.
2. Loux M. (April 2017.) Tackling the obesity epidemic in law enforcement. Police1.
3. Gussone F. (October 2017.) America's obesity epidemic reaches record high, new report says. NBC News.
4. Wupperman P. (December 2015.) Understanding self-destructive (dysregulated) behaviors. Psychology Today.
5. Lopez L, Drechsler P. (December 2018.) When life unravels, where do police officers turn for help? NBC Los Angeles.
6. Heyman M, Dill J, Douglas R. (April 2018.) Ruderman White Paper on Mental Health and Suicide of First Responders. Ruderman Family Foundation.
7. Stanton C. (June 2022.) Police, firefighters die by suicide more often than in line of duty. Why rates remain high. USA Today.
8. Burns C, Buchanan M. (September 2020.) Factors that influence the decision to seek help in a police population. International Journal of Environmental Research and Public Health.
9. Building and sustaining an officer wellness program: Lessons from the San Diego Police Department. Department of Justice Office of Community Oriented Policing Services, Police Executive Research Forum. 2018.
10. Government Code. Title 6. Public Officers and Employees. Subtitle A. Provisions Generally Applicable to Public Officers and Employees. Chapter 614. Peace Officers and Fire Fighters. Subchapter A. Legislative Leave for Peace Officer or Fire Fighter. Texas Statutes.
11. Williams J, Ramsey V. (2017.) The need for law enforcement wellness interventions: A critical review. The Sports Journal.
12. Blumberg DM, Schlosser MD, Papazoglou K, Creighton S, Kaye C. (December 2019.) New directions in police academy training: A call to action. International Journal of Environmental Research and Public Health.
13. Chandrashekar P. (March 2018.) Do mental health apps work: Evidence and recommendations for designing high-efficacy mental health mobile apps. mHealth.
14. Pelter J. (July 2021.) Preventing digital burnout: Is your organisation ready for the 'right to disconnect'? HR Zone.
15. Kelly J. (February 2022.) Belgium, Portugal and other European countries prohibit managers from contacting employees outside of working hours. Forbes.
16. Schweyer A. (February 2023.) Academic research in action: The role of incentives and rewards in promoting workplace wellness, well-being, and employee physical and mental health. Incentive Research Foundation.
---
About the author
Captain Eric McQuoid joined the Contra Costa County Office of the Sheriff in 2004 after graduating from Cal State University Hayward with a Bachelor of Science in Business Administration. He has worked in several divisions within the Office of the Sheriff, including assignments in patrol, detention, administration and investigations. He is currently assigned to the Emergency Services Division. He graduated from the Sherman Block Leadership Institute and POST Command College class #70.