What's on your wish list? A gift guide for LEOs
A roundup of gifts from companies who support the thin blue line, or who provide products with law enforcement in mind
---
It's December, which means it's time to get shopping for that special person in your life. Most of us will be happy to get 2020 in the books and move on, but the holiday season is a special time, so I have picked out some great gifts for officers.
I'm always telling everyone to shop selectively, meaning vote with your wallet. It's always a safe bet to go to the Concerns of Police Survivors (C.O.P.S.) website and buy gifts from the C.O.P.S. shop or the brands that give back page. There are businesses nationwide that support law enforcement, so be sure to buy from them.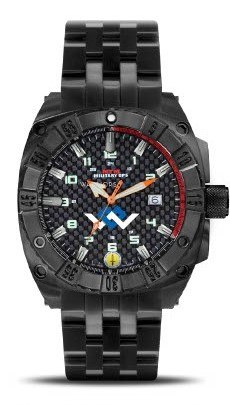 This year, I looked at companies that support the thin blue line, or providing products with law enforcement in mind. Here are my choices:
MTM and the Warriors Heart Foundation
MTM has produced a collection of timepieces featuring the warriors heart logo. Forty percent of the proceeds of sales of this model will go to the Warriors Heart Foundation, where they will be used to subsidize the cost of treatment for a warrior or first responder in need.
The Warriors Heart Foundation is a private, accredited treatment program for military personnel, veterans and first responders faced with the self-medicating struggles of alcohol addiction, prescription and drug addiction, PTSD (post-traumatic stress disorder), mild traumatic brain injury and other recurring issues.
If you're familiar with MTM, you'll know the incredible attention to detail that goes into these watches. They have sapphire glass crystals, tritium tubes, 316L solid stainless steel or titanium cases, and screw-down crowns. Each version has the Warriors Heart logo, which connects the wearer with other warriors in their community. The watches are beautiful, and the cause is noble.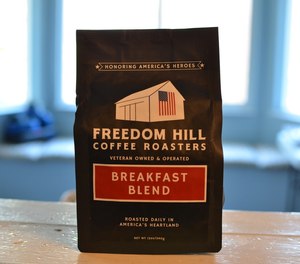 Freedom Hill Coffee
I have a subscription to Freedom Hill Coffee, and I recommend the Breakfast Blend. I also regularly get their single-origin offerings. Freedom Hill Coffee is a veteran-owned, veteran-employed coffee company that honors warriors on its site. My favorite profile is Selfless Service: The Brian Murphy Story about the officer who responded to the August 2012 Sikh Temple shooting in Wisconsin. Read it.
Freedom Hill partners with Mission 22 to put veterans to work, striving for the goal of bringing the veteran suicide rate to zero. Mission 22 provides treatment programs to veterans for post-traumatic stress, traumatic brain injury and other issues they might be facing. MSRP $14 a bag.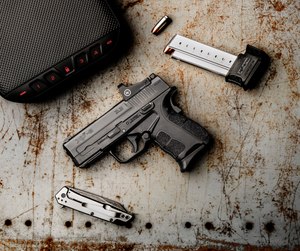 Springfield Armory XD-S Mod 2 OSP
You all knew that I was going to recommend a gun for Christmas, right? Springfield Armory's XD-S Mod 2 OSP is less than 1" wide, has a 9+1 capacity and weighs 21.5 oz. It comes with a low-mounted Crimson Trace micro red dot that is co-witnessed low enough to make the iron quite usable for a quick transition. This gun has a very intuitive operation and will be promoted to "constant companion" status quickly.
I have had a chance to shoot the XD-S, but not with the optic. It conceals well and handles like a much bigger gun. MSRP $549.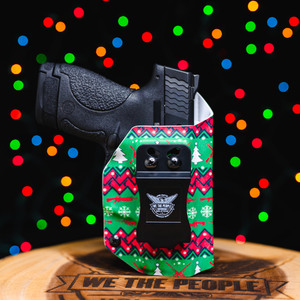 We the People Holsters Ugly Christmas Holster
I think the photo will tell you everything you need to know here. We The People holsters are a true bargain, and they have great retention and draw. They are serious holsters, with a not-so-serious print. If you're wondering, they also have a thin blue line model.
Hearing Protection
I've had a chance to test several new hearing protection products over the past year, and I share here the two best products I tested.
Champion Vanquish Pro Hearing Protection uses an ultra-fast (<1ms) Impulse Mode circuit that reduces to 38db Peak Impulse Reduction + 13db Continuous Reduction. Translated: One can hear normal conversation until it responds to a powerful sound impulse.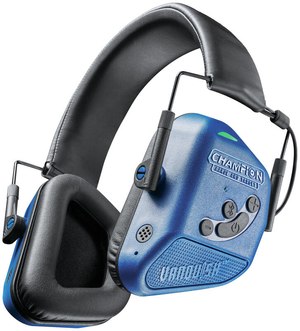 I know that every electronic hearing muff seems to work in a similar fashion but this product distinguishes itself. First, it uses three omnidirectional microphones, which really helps the user orient to the direction of the sound. Second, it uses full-dynamic range HD speakers and 5X sound amplification. I found I can adjust these earphones to really duplicate my own hearing.
The things that are different are astounding. Most hearing protection shuts down when shots are fired. If you are having a conversation next to the gun range, you'll only get part of the conversation. That doesn't happen with the Vanquish.
The ear cushions are like my living room furniture. You kind of sink into them.
Most importantly, the Bluetooth connection is better than the ones I have for my phone. My wife tells me that the microphone sounds better too. You can listen to your favorite jam while training on the range. They give 150 hours of service on 3 AAA batteries. I have used them all year, and haven't changed the batteries yet. MSRP $124.95.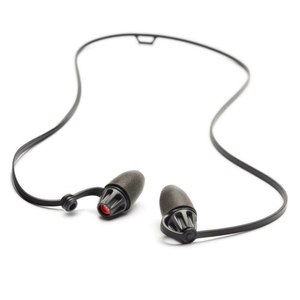 The Safariland Foam Impulse Hearing Protection uses acoustic engineering to reduce loud sound impulses. These earplugs are about the same size and weight of foam earplugs, except they have superior engineering. One can hear a normal conversation with them also. A loud sound gets baffled inside the system, preventing hearing damage. For environments that have constant loud noise, there are little plug caps on the hearing valves, which are undetectable until used.
They are comfortable and provide 38db Peak Impulse Reduction + 13db Continuous Reduction.
I found that the Safariland Foam Impulse Hearing Protection product is so efficient it can be used at an indoor range, which is not typical of many hearing protection products. They don't require batteries, storage space, or maintenance. MSRP $14.99.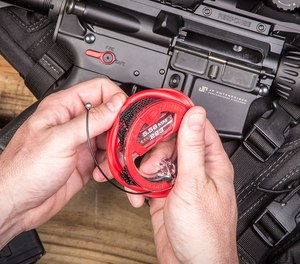 Handgun Cleaning Products
Gun cleaning kits are inexpensive gifts for officers.
While at SHOT Show 2020, someone handed me the Bore Boss by Real Avid. I've had plenty of time to run it through a few barrels.
The Bore Boss is a pull-through bore cleaner that has a cable connected to a phosphor bronze bore brush connected to a bore mop. Users thread the cable through the barrel and attach it to the carrying case, which doubles as a handle for the cleaning system. The handle has a recess that stores and protects the bore brush. The rest of the setup wraps around the storage case. It's the quickest way to clean a barrel, and the handiest way to keep the kit close. I hang my Bore Boss off my backpack with a carabiner. MSRP is $9.99.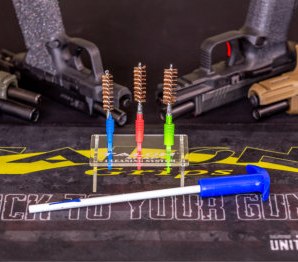 The TALON Snap Cleaning System uses a glass-reinforced nylon pistol cleaning rod, which will never cause damage to the barrel of your gun. If you're familiar with TALON, the company makes the extra tacky stick-on gun grip decals. They work. TALON Grips has stepped into the gun cleaning business, with interchangeable bore brushes and cleaning jags that snap in and out of the cleaning rod.
This system is lightweight, simple and the jags design doesn't let the cleaning patch fall off in the barrel of the gun. I tested this system, and it works well, especially the quick caliber change and the non-marring cleaning rod. 
CRKT XAN knife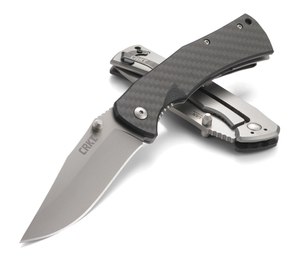 Everyone knows I cannot talk about gifts without talking about knives. This year it's CRKT's XAN, designed by Darrin William Sirois. With an MSRP of $89.99, it is a little less expensive than some of my previous recommendations.
Sirois draws on 25 years of special ops and combat experience to inspire his designs. The Xan has a 3.67" blade of 1.4116. This steel is what CRKT has used in its Homefront models, whose toughness has been proven.
The XAN is a frame lock, with outburst assist, and has G10 scales. It can be configured for tip-up or tip-down carry.
Pelican 7600 Combo
Many LEOs are familiar with the Pelican 7600 flashlight. This is a perfect-sized, multi-fuel, multi-LED, light with strobe, medium and low modes. It can fire over 900 lumens for over 3 hours, giving a full shift of light and a moderately fast recharge rate.
I beat one up, just to check its capabilities. It is beyond robust.
The 7600 combo comes with a sheath and a wand. The light fits in the wand, which fits in the sheath. This is a lightweight setup that stays securely on the duty belt, yet still allows a quick draw. Slip the wand over the lamp and it is a traffic wand or a lantern that can be a work light. This is one of the most useful tactical lights on the market today.

What I really want for Christmas
I am retired, but I would jump back into a patrol car in a second if it would make one moment of one day safer for my brothers and sisters in blue. The things on this list are just things. I would trade all of this for an end to the war on cops. Stay safe my brothers and sisters.