A day in the life of a crisis intervention deputy
Meet Deputy Gregory Plett, a seven-year veteran of the Santa Barbara County Sheriff's Office in California
---
What's it like serving as a crisis intervention deputy on a mental health co-response program? This was the question among several posed to Deputy Gregory Plett.
Plett is a seven-year veteran of the Santa Barbara County Sheriff's Office (SBSO), which pairs a CIT-trained deputy with a county clinician to respond as partners to mental health calls. I sat down with Plett to better understand what he experiences on a typical day.
When did you start at SBSO? I started my career at SBSO in 2016.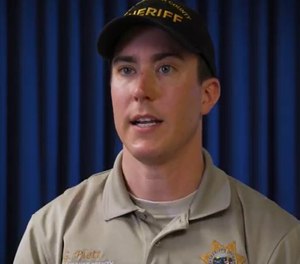 Why did you choose SBSO? Santa Barbara County is a beautiful place to live and the Sheriff's Office has a variety of specialties and collateral assignments so I can get involved in different units over my career.
Why did you want a career in law enforcement? When I enlisted in the Air Force, the career counselor recommended I look into the Air Force Office of Special Investigations (AFOSI) as a potential career track. I did and was accepted and enjoyed the law enforcement work I did with that agency. So, when I left active duty with the Air Force, I was looking to continue an LE career with a local LE agency.
What is your job title? Deputy Sheriff assigned to our crisis intervention, co-response program.
What is a typical shift like? A typical shift involves responding to any incident at the intersection of mental illness and public safety including suicidal subjects, psychotic breaks and any other mental health crises. I start my day at approximately 0800. I connect with my co-response partner, a licensed MFT from Santa Barbara County Mental Health. We discuss if there are any follow-up or other pre-scheduled tasks we need to accomplish that day. For example, following up on a crisis intervention card/referral from patrol. Patrol may contact someone when I'm off duty and refer them to be contacted the next day we are working.
I'll check my email and be ready to respond to any calls for service where we may be useful in safely resolving the crisis. I monitor the radio, similar to how a patrol deputy does. Sometimes dispatch will specifically dispatch me to a particular incident, sometimes a patrol deputy will request I respond with them and sometimes, based on the circumstances of the call, I will self-assign to the call with my partner.
I am not always with my partner – sometimes we are already together when a call is dispatched, or we are at our separate offices two blocks apart. If we are not physically together at the time of dispatch, I will call her and advise I am on my way to pick her up. Once we are en route I will brief her on the circumstances of the call. Once she has been briefed, we will begin discussing possible solutions we might be able to deploy to resolve the incident.
Like any other LE officer, there is always paperwork to complete after a call for service. This can range from formal police reports to documentation in our CIT database or coordinating with other agencies to ensure the person is connected with appropriate services.
One of the most common calls for service we receive is for someone experiencing a psychotic episode or a suicidal subject. Someone experiencing a psychotic episode, they are typically experiencing paranoia, delusions, or other false beliefs and we assist patrol in finding a safe resolution for the incident. That may involve a voluntary or involuntary admission to the hospital, a safety plan, and in some cases, the person may be arrested if that is the most appropriate choice. Typically, when an arrest needs to happen our patrol deputies will affect the arrest and I will stand by to ensure it happens safely.
Another common call for service is the suicidal subject. On these calls, the primary goal is to determine if they need to be involuntarily admitted to the hospital for a psychiatric evaluation. If we do an involuntary admission, we coordinate with the local ambulance service to transport them to a local hospital prior to admission to a psychiatric hospital. If they do not meet the criteria for an involuntary hold, we assist the patient and their support system to implement a plan to ensure they can keep themselves safe
What does a "not typical" shift look like? Like any LEO position, I'll respond to critical incidents if I am nearby when they occur. Since I've been with the CIT program some of these incidents have included multiple fatal collisions on the freeway, murder-suicide, stabbings and assisting with the arrest of a murder suspect from the 90s out of San Francisco.
What do you like most about your assignment? What I like best about my job is to be able to help our deputies solve the growing problem of balancing the need to maintain public safety with the need to assist mentally ill people with getting treatment. Mental health calls are often very frustrating as the resources to assist severe and persistent mentally ill persons are very limited and frequently those patients have been underserved for many years prior to LE becoming involved and solutions are not always obvious or easy to implement.
What I can do as a co-response deputy is act as a translator between LE and mental health professionals. Working with my co-response partner has helped me learn what mental health professionals are looking for, what tools they have to assist LE, and how to communicate effectively the safety concerns of LE to mental health professionals.
What training did you receive for this assignment? In addition to the basic LE academy training on responding to mentally ill subjects, I was required to attend a 40-hour CIT academy hosted by the SBSO department psychologist. During the course, we learned the difference between certain mental illnesses, which are more likely to become violent as well as strategies to de-escalate and intervene in those crises.
Additionally, a local veterans organization presented on assisting military veterans who are experiencing mental health crises and some of the specific challenges and strategies that may be effective in those cases.
How might other LEOs prepare themselves for such a role? Most patrol officers are already experts at de-escalating crises. Learning more about severe and persistent mental illness, how to recognize the symptoms and what specific challenges they may present is useful. Having conversations with mental health professionals to understand their perspective regarding what they are trying to accomplish when assisting a patient is important, as is realizing that CIT calls may take more time than patrol calls.
Early on, one of the biggest challenges for me was learning to take more time on many of the crisis calls I responded to. One of the other challenges I dealt with early on and overcame was as soon as I was assigned to this position, I was expected to be the subject matter expert on scene. More experienced deputies often looked to me to come up with a solution. I overcame it by leaning into the role and taking the responsibility of coming up with a solution to the call. With more practice, I became more comfortable acting in that role.
Tell me about a call you are particularly proud of: SBSO received a call from San Luis Obispo Police Department regarding a suicidal student from California University CAL POLY. The student sent a text to a friend where he said he was sitting on a branch with a noose around his neck. We pinged his cellphone and found where he was, in the Los Padres National Forest, and based on the low accuracy of the ping, it told us he was in a several square mile area of densely forested rugged mountainous terrain.
Fortunately, we know that the Cold Springs Canyon Arch bridge is a frequent location for suicidal subjects, so we started our search in that area. We quickly located the student's vehicle.
While I worked with the San Luis Obispo Police Department and attempted to coordinate additional resources to search the area, two of our patrol deputies searched the area on foot and located the student up in a tree with a noose around his neck. He was 15 feet off the ground in a tree near the bottom of a ravine and when deputies attempted to approach and speak to him he demanded we stay back or he was going to jump.
The student was less apprehensive when my clinical partner tried to approach and speak to him. She was able to develop some rapport with the student and gradually move a little bit closer so she could speak in a lower tone to diffuse the situation.
While the student was very resistant to her requests to remove the rope and come out of the tree, what she did accomplish was she kept him interacting with her for approximately two hours while we coordinated additional emergency response resources including the fire department and an ambulance. Eventually, the student sent a text to the original reporting party that he had made up his mind and was about to jump.
This information was relayed to me by the San Luis Obispo police officer and the student ultimately did jump from the tree with the intent to end his life by hanging. The other deputies and I rushed down the hill from where we were waiting, cut the rope, lowered the student safety to the ground and checked to ensure he didn't have any weapons on his person while holding his spine in a neutral inline position.
The firefighters cleared several obstacles between the student and the waiting ambulance including a barb wire fence and several small trees. Medics quickly took over providing medical care for the student and we assisted the fire department and medics in loading the student onto a stretcher so we could carry him back up the hill.
Sheriff's deputies, medics and fire personnel carried the student approximately a quarter mile back to the waiting ambulance up steep slippery hills and loaded him into the ambulance where he was transferred to an area hospital where he was treated. He was later released to his parents with no ongoing life-threatening injuries. An unanticipated benefit of having a CIT unit on scene was that my clinical partner was able to delay the suicide attempt which deputies may not have been able to. This allowed us to stage additional emergency resources to save his life.
What is next for you in your career? I haven't made any specific decisions but there are things I want to accomplish in my LE career. At some point, I would like to spend time in criminal investigations, obtain a collateral assignment to our SWAT team and eventually work my way into some type of leadership role in the department.
Do you have any hobbies? Surfing (poorly), blacksmithing and anything outdoors.
NEXT: Learn more about the Santa Barbara County Sheriff's Office co-response team