How a mental health co-response term maintains community safety
The Santa Barbara Sheriff's Office Behavioral Sciences Unit launched a successful program that has support from law enforcement, public officials and the community
---
The American Rivera (also known as Santa Barbara County, California) is an incredible place to live, work and play. Santa Barbara County is known for its beautiful beaches, top-notch wineries, golden sunsets, ranches, rodeos and did I mention the wineries? We are home to Oprah, Ellen, Prince Harry and Meghan Markle, Pink, Katy Perry…the list goes on. However, if you've lived in Santa Barbara or have worked in local government in some capacity over the past decade, you've noticed another side to our region. An issue that many communities across America are trying to figure out how to address: Our mentally ill, substance-addicted and homeless population.
The impact of deinstitutionalization
In the 1960s there was a national movement called "deinstitutionalization." At the time, persons with severe mental illnesses like schizophrenia and bipolar disorder were placed in large facilities that were underfunded, inhumane and ineffective in terms of treatment. This movement aimed to shut down these institutions while at the same time opening community-based treatment clinics where persons with these illnesses could go and get help.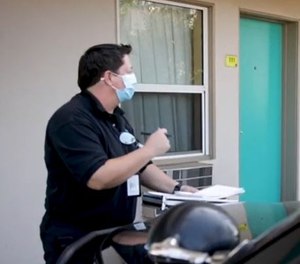 It's probably no surprise to anyone reading this article that the clinics were never opened and so what was inhumane and ineffective treatment in facilities became inhumane and ineffective treatment on the streets.
Behavioral Sciences Unit launched
In 2015, the Santa Barbara County Sheriff's Office (SBSO) recognized that not only were there more persons living with mental illness in the community, but they were generating a very high number of calls for service. The problem was getting worse, yet the tools law enforcement had at their disposal to effectively manage the problem – such as inpatient and outpatient treatment beds, sobering centers, shelters, housing and drop-off behavioral health clinics – were dwindling and in short supply. Deputies needed more training and tools, as well as better relationships with behavioral health partners because no one entity could solve this problem alone.
In 2016, SBSO hired a full-time psychologist to start the Behavioral Sciences Unit (BSU), a unit poised to tackle this issue head-on and has been doing so ever since.
The BSU consists of a licensed psychologist, three full-time deputies and 19 collaterally assigned peer support members. The Unit is responsible for many things including CIT training, wellness and peer support, behavioral assessment and threat management, consultation and crisis negotiations.
Identifying the problem
Santa Barbara County has had a woefully underfunded mobile crisis team for years whose job it is to meet law enforcement in the field and assess for and write psychiatric detentions. The calls outgrew the capacity of the clinical team. Some days our deputies would wait for up to three hours for a clinician response. Once on scene, the clinician might take another hour to complete their assessment. Jail became the quicker, more reliable and often safer option. We knew we were putting a Band-Aid over a tourniquet situation, but this was the way we had always done it.
Anecdotally deputies were saying on some days that 80% of their calls for service involved some element of a mental health crisis. We developed a process to capture mental health calls in our CAD system that produced a monthly report, and we were able to quantify the problem.
On average SBSO deputies were responding to 350 mental health crisis calls per month. These calls take twice as long to disposition as other non-mental health calls and require an average of three units on scene. Our jail has been the largest mental health care facility in the county for decades. Over half of our inmates have a documented mental illness. Houston, our data supported our anecdotes, we identified the problem. Data drives funding, funding drives change.
Mental health co-response piLot launched
The BSU psychologist met with county mental health, and they agreed to staff a pilot program one day every other week – where we would have a CIT-trained deputy pair with a county clinician, and they would ride together as partners responding to mental health calls. Our mental health co-response pilot program was born.
This program is supported by every major entity in our county including the CEO's office, county supervisors, district attorney's office, public defenders office, probation, public health and county risk management, and every grassroots and non-profit organization with a vested interest in solving this problem. When public safety, politicians and the community can agree on and champion the same program, we know we've got something good. When patrol deputies became aware they no longer had to wait up to three hours in the field for a county clinician, and that they could be released from the call when the team showed up, the sergeants agreed to go short on patrol to staff the co-response position. We had our boots on the ground buy-in.
Many of our high-volume callers consistently call 911 to report perceived suspicious activity and are in fear of things that aren't based in reality. We had several high utilizers of 911 with mental illness who stopped calling after our co-response teams actively engaged them, sometimes multiple times a week, and helped transition them from calling 911 to calling the mental health hotline. We took guns out of the hands of suicidal persons, 16 guns on one call alone. The National Alliance of Mental Illness (NAMI) was receiving positive feedback from the families we were serving and sharing the feedback with our elected officials. The public defender spoke publicly about her support for the team, as did our district attorney, probation and other county department heads. Local media, both print and television, picked up the story and informed the public about our innovative program. Just a few months after we started the pilot, it was announced it would expand full-time to 40 hours a week so that we could collect data to obtain grant funding. And we did.
Pilot expands to a full-time program
Since February 2020, SBSO has had three full-time mental health co-response teams. SBSO obtained a federal grant that funded two teams for three years and the public defender's office obtained a separate grant to fund a third. Yes, the public defender's office gave money to the sheriff's office for operational expenses.
We sent out our internal job posting for the three positions and conducted an oral panel in conjunction with NAMI and some of our partner organizations. We required the deputies to have successfully completed the 40-hour CIT course and be in good standing with their supervisors. They needed to be a good fit for working with a civilian partner and the mentally ill population.
Once we identified our staffing, the county mental health department identified the clinicians. We held a joint two-day training, and the teams were in the field responding to calls the very next day. We scheduled the teams based on the data we collected. We knew what day of the week, what time of day and what part of the county had the majority of these call types.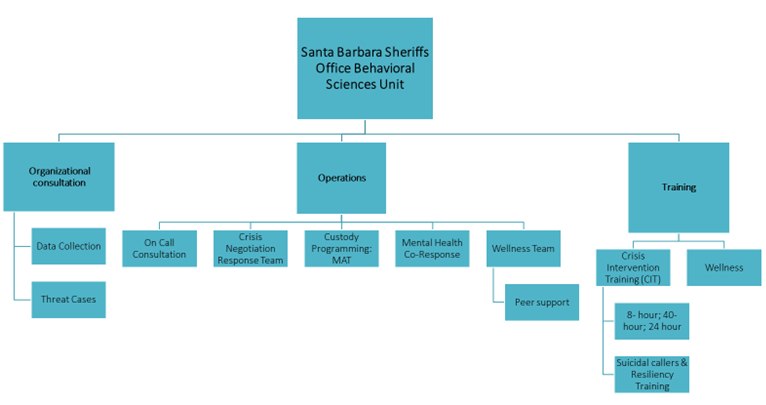 Defining success
When we talk about how to define our program's successes, we can use any number of indicators. Success is often in the eye of the beholder.
In 2020, our teams responded to a total of 1,609 calls for service, which equates to 54% of all of our mental health crisis calls that year. Out of those calls, only 11 persons were arrested and taken to jail. The rest of the cohort was dispositioned to a psychiatric hospital, de-escalated and remained home, or were taken to a local clinic or sobering center.
We were diverting persons with mental illness and co-occurring disorders from the criminal justice system (when safe and appropriate). To our community of mental health advocates and consumers, this is success. When our co-response teams respond to a mental health call the average time to disposition the call is 66 minutes and the average number of units on scene is 1.4, which is about half the time and half the personnel compared to when patrol handles the same call type. To our deputies and command staff, this is success.
The grant money that is funding our three teams is due to expire in November 2022. When we approached our board of supervisors in the summer of 2021 to continue and expand the program using general funds, we had families, law enforcement, advocates and almost every other public safety department in the county speak publicly about the benefits of maintaining and expanding the program. We are currently negotiating not if the county will continue the teams with general fund dollars, but how many teams they will fund. We are asking for eight, which would give us 20/7 coverage county-wide. In addition, two of our municipal police departments have initiated co-response programs and we train together, share resources and cross jurisdictions to provide backup when appropriate.
In the recent past (or currently, depending on where you live), there has been a movement to disengage law enforcement from responding to mental health calls. Although this sounds good in theory, the fact is it is just not possible. With the volume and acuity of mental health calls getting worse, our drug problems increasing and floundering mental health resources, law enforcement needs to remain engaged for public safety reasons. In Santa Barbara County, our residents can find comfort in the fact that the responding deputies and officers have CIT training and that we have a specialized team with the time and resources to disposition the call appropriately and go the extra mile for our community.
No one entity can solve the mental health crisis alone. Together, we can, and will do better.
Police1 resources: Learn more about mental health outreach programs