IACP Quick Take: How cops can safeguard children of arrested parents
For children, seeing a parent get cuffed and put into the back of a squad can can have a lifelong impact
---
Here's a quick summary of today's 2014 IACP education session on safeguarding children before, during, and after the arrest of a parent or family member.
Quick Summary:
If officers could take five minutes of their time after an arrest to express concern for a child's wellbeing, law enforcement could improve the affect that arrest has on the child or children.
Officers have a moral obligation to ensure the child will be cared for in the event that a single parent or both parents are incarcerated. There are groups including churches, day cares, YMCA, and BJA.gov who can offer assistance.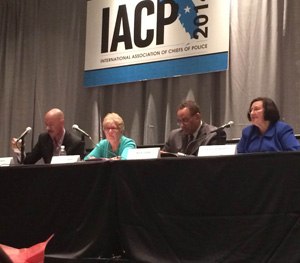 Memorable Quotes:
"Our goal is to prevent crime from occurring, if we are simply showing up after the fact then we are failing in our mission" – Salt Lake City Police Chief Chris Burbank
"It's very, very difficult to measure how much crime we are preventing, which is probably why we don't measure it" – Chief Burbank
4 Key Takeaways
When you are arresting a person or person, look for signs that they have children, such a car seat in the back seat of the vehicle, ask if they have children, where they are, and who can care for them. Even if the person is being arrested for a minor offense and will likely be held for only hours, that time could overlap with a child coming home from school or day care.
Studies show that children are most often better off being taken care of by their parent. Avoid developing an "us against them" attitude or assuming the child is better off in someone else's care because of the crime the parent has committed.
Pre-planning when a SWAT unit is serving a warrant is crucial – part of the SWAT leader's checklist should include information about if the home has children. The investigator who sought the warrant should communicate with the SWAT leader information about the family.
Follow up after the arrest, whether it is to check if the child or children are doing okay or to update the child on the status of the arrested parent. This is especially effective if the child is older. Knowing that their mother or father is okay and when they are expected to be released can mean the world to the child.
Other Observations:
Children of parents who have committed a crime begin to be thought about as potential criminals, and that perception can affect their behavior.  For children, seeing a parent get cuffed and put into the back of a squad can be equal to seeing a parent assaulted, and can have lifelong implications for the child.
911 operators in areas of New York are being retrained to automatically ask if children are present during calls; this protocol lets police plan for interaction with children.
For More Info:
The Model Policy for safeguarding children of arrested parents is available at www.bja.gov/Publications/IACP-SafeguardingChildren.pdf and www.theiacp.org/ChildrenofArrestedParents.