Santa Cruz cop killer attempted killing before
An Ore. man wrestled a gun from the suspect's hands after spotting him peeping through his apartment windows
---
By Jeff Barnard
Associated Press
GRANTS PASS, Ore. — An Oregon man who wrestled over a gun with the barista who killed two police officers in Santa Cruz, Calif., said Thursday he is not surprised the gunman's life came to such a violent end.
Danny Thomas said Jeremy Goulet also pulled a gun about six years ago in Portland, Ore., when Thomas confronted him after catching him peeping on Thomas' girlfriend while she took a shower.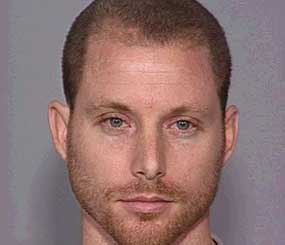 Authorities in California say Goulet, who worked in a harborside espresso shop, was shot dead by police Tuesday after shooting two detectives who went to his home to question him about making unwanted advances on a co-worker.
Thomas said when he learned from Portland police what Goulet had done in Santa Cruz, he was shocked, but not really surprised.
"He did seem crazy," Thomas said. "There was just a lot of stuff along the line where it seemed like people had the opportunity to lock him up."
While Goulet was flying helicopters for the Army in Hawaii in his late 20s, he faced court-martial on charges of raping two women, Honolulu attorney Don Wilkerson told the Honolulu Advertiser. Wilkerson, who represented Goulet, said the Army dropped the charges when Goulet agreed to a less-than-honorable discharge.
Thomas, 31, the owner of a women's clothing boutique, said the November 2007 confrontation occurred after he and his girlfriend had driven up to their apartment late at night and saw Goulet pacing outside. Thomas had run Goulet off before.
"I got out of the car and said, `What are you doing back? I told you not to come back,'" Thomas said. "He reached in his pocket, and before he pulled anything out, I jumped him. The gun came out of his pocket. He shot at me a couple times, point blank, while we were on the ground wrestling.
"We're wrestling and I'm trying to unload the gun," Thomas said. "I told him, `Unload it!' And he corrected me. He said it was a magazine. That whole scene was crazy."
Thomas said he managed to get control of the gun and toss it aside when he bit the top off Goulet's left ear. When police arrived, someone had taken the gun.
Goulet was convicted in 2008 of carrying a gun without a concealed weapon permit and invasion of personal privacy. After violating his probation, Goulet was sentenced to two years in jail. Thomas said Goulet claimed during the trial that Thomas had fired the gun.
Thomas said ever since Goulet got out of prison, he has checked on the Internet for his whereabouts, afraid that he might seek revenge.
"I always had in the back of my mind he would be the type of person to have a vendetta," Thomas said.
Copyright 2013 Associated Press