Man convicted in fatal shooting of Alaska K-9
K-9 Helo was the first Alaska State Troopers dog to die in the line of duty
---
By Zaz Hollander
Alaska Dispatch News, Anchorage
PALMER, Alaska — A Wasilla man accused of killing the first Alaska State Troopers dog to die in the line of duty was convicted by a Palmer jury on Wednesday.
The jury found 27-year-old Almando Abarca guilty of harming a police dog, as well as attempted murder for firing shots at her handler and another officer during a September 2016 foot chase.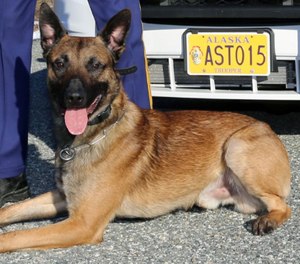 Abarca was pulled over around 5:30 a.m by Palmer police for not having tail lights, fleeing at high speeds and crashing his car into a tree near the Glenn-Parks interchange, charging documents said. He got out with a pistol in his hand and ran with a Palmer officer and the trooper, with Helo, behind him on foot.
Abarca "fired all of the rounds in his pistol in the direction of the officers and the K-9," according to a sworn affidavit filed with charges. The dog was shot several times and died from his injuries.
Abarca was shot once in the shoulder.
Helo was named in honor of trooper Tage Toll and pilot Mel Nading, who died in a helicopter crash on a 2013 search-and-rescue near Talkeetna.
The trial lasted five days. The jury deliberated for roughly six or seven hours, assistant district attorney Shawn Traini said.
Abarca was also found guilty of third-degree assault and failure to stop at the direction of a police officer, according to a press release from the Alaska Department of Law.
He is scheduled for sentencing May 29 and faces a range of five to 99 years for attempted murder and one to four years for the other counts.
©2018 the Alaska Dispatch News (Anchorage, Alaska)
McClatchy-Tribune News Service