Mo. assistant chief's lawsuit claims he was passed over for chief because of race
The lawsuit alleges a department official said that a former police officer's trial precluded the lieutenant from getting the promotion
---
Taylor Tiamoyo Harris
St. Louis Post-Dispatch
ST. LOUIS — The assistant police chief for the St. Louis Metropolitan Police Department is suing the city and police department, claiming he was passed over for the position of chief of police because of his race.
In the suit, filed May 1, Lt. Col. Lawrence O' Toole, who is white, claims that Public Safety Director Jimmie Edwards told him "if Stockley didn't happen you would be the police chief."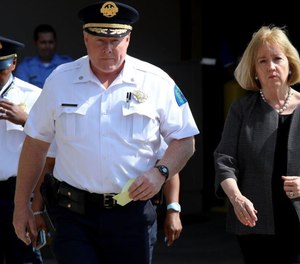 Former police officer Jason Stockley was found not guilty of murder in 2017 while O'Toole was acting police commissioner, setting off protests in the city. O'Toole claims in the suit that Edwards' statement is proof that he did not receive the job because of his race, a violation of the Missouri Human Rights Act.
Edwards could not immediately be reached for comment Monday night.
This is not the first time O'Toole has formally complained about not getting the police chief job, as he filed a complaint alleging racism over the chief selection process in 2018.
In the suit, O'Toole claims ongoing retaliation against him has caused lost wages, non-diagnosed emotional pain, suffering, humiliation, embarrassment, mental anguish, inconvenience and loss of enjoyment of life.
He is asking for compensatory damages in excess of $25,000, prejudgment interest.
McClatchy-Tribune News Service