'The city is gone': Miss. police department destroyed in catastrophic tornado
Rolling Fork community devastated after 170-mph tornado hits small town of 2,000 people
---
By Bill Carey 
Police1  
ROLLING FORK, Miss. — An E-4 tornado devasted most of Rolling Fork, Miss., killing at least two dozen people and causing widespread damage.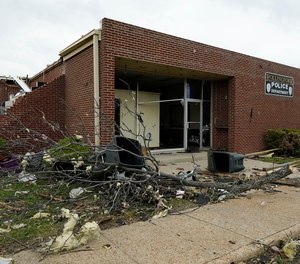 The storm on Friday night had maximum wind gusts of 170 mph, CNN reported. The "city is gone," Rolling Fork Mayor Eldridge Walker said. 
Congressman Bernie Thompson (D-MS) surveyed the storm damage: "The police department is destroyed. City hall is destroyed. The county courthouse is damaged. The fire department is devastated. There's no grocery store that's operable in the community." 
As search and rescue efforts continued during the weekend, Rolling Fork's only hospital was offline. Those injured were taken to the nearest hospital over 50 miles away
"We have been finding several casualties," said Sharkey County supervisor Jessie Mason. "It's just an ongoing process and it's gonna be a long road ahead." 
[RELATED: Mass casualty incident preparation resources for police officers]
Mayor Walker faces double the sadness caused by the tornado: "I'm not only just the mayor of this community, but I've lost personal friends. I'm also the local funeral director. Now, I'm having to meet my families, those who have lost loved ones and help them make it through this traumatic time." 
The storm hit so quickly that the sheriff's department in Rolling Fork barely had time to set off sirens to warn the community of 2,000 residents, said Mayor Walker. 
"And by the time they initiated the siren, the storm had hit and it tore down the siren that's located right over here," Walker said, referring to an area just blocks from downtown. 
EARLIER: Mississippi tornadoes kill 23, injure dozens overnight