Video details the moments before Parkland school shooting
A campus security monitor told detectives he saw Nikolas Cruz get out of an Uber with a large bag and make "a beeline" toward the freshman building
---
Associated Press
FORT LAUDERDALE, Fla. — A newly released video interview with a campus security monitor at Marjory Stoneman Douglas High School provides new details that may prompt another round of what-if questions about the Valentine's Day shooting that killed 17 people.
The video released by Broward County prosecutors Tuesday was recorded shortly after the shooting. In it, Andrew Medina told detectives he saw Nikolas Cruz get out of an Uber with a large bag and make "a beeline" toward the freshman building, moments before it became a killing scene.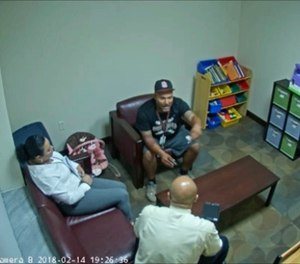 Medina told prosecutors he recognized Cruz as a troubled former student and immediately radioed another unarmed security monitor to "keep your eyes open." That monitor entered the other side of the building, and then hid in a janitor's closet when shots rang out.
Medina said he heard 15 loud bangs shortly after the suspect went into the building, and drove his golf cart to pick up Scot Peterson, the armed school resource officer.
"You could kind of feel the percussion coming out of that building, the echo coming out of doors of the building," he told detectives. He said Cruz turned to look at him as he approached the building, and he immediately recognized him as a troubled former student who had raised concerns.
"I'm telling you, I knew who the kid was," Medina told detectives. "Because we had a meeting about him last year, and we said, "If there's gonna be anybody who's gonna come to this school and shoot this school up, it's gonna be that kid."
Some parents say Medina should have called in a "Code Red."
Medina told the detectives he didn't know Cruz was carrying guns in the bag, and while driving the cart toward Peterson, Medina said he radioed others on campus about "suspicious noises."
He said he and Peterson then heard more shots as they approached the freshman building, and the deputy told the unarmed Medina to "get out of here."
Medina said he then drove to the front of the school. Surveillance video showed Peterson taking up a position outside the building, which he never entered.
Vilified by the Broward County sheriff, Peterson resigned and retired. He was branded a coward and remained silent, until a recent interview for NBC's "Today Show." Peterson said he didn't know where the shots were coming from and thought it might have been a sniper shooting out from the building.
As for the "Code Red" school emergency warning that would have prompted a lockdown, Medina said he followed his training as a school security monitor, which is "don't yell it unless you actually get a good visual."
Part of Medina's job as a monitor at the school with more than 3,200 students was to unlock multiple gates before each school day ends. That's what he was doing when he saw Cruz emerge from the Uber.
Medina, who also coaches baseball at the school, said he didn't call a "code red" the moment he spotted Cruz because he didn't want to have police descending on the school "for nothing." He was already second-guessing himself when he was interviewed later that day, telling detectives: "I really wish I would have stopped him before, and we would have saved all this, but it really wasn't nothing I could do about that."
Andrew Pollack, whose daughter was killed, called The Associated Press on Wednesday to say Medina should be fired.
"All he had to do was say 'Code Red.' He was trained to say those words and he didn't do it. That's the incompetency of the Broward School District," Pollack said.
Cruz now faces 17 counts of first-degree murder. Lawyers said he'll plead guilty in exchange for a life sentence, but prosecutors are pursuing the death penalty.