Deputy shot and killed in Ariz.
The suspect was shot and killed by other deputies
Duty Death: William Coleman - [Phoenix, Arizona]
---
Associated Press
PHOENIX — A sheriff's deputy was shot and killed while answering a burglary call in the north Phoenix community of Anthem early Sunday, and other deputies shot the suspect, Maricopa County Sheriff Joe Arpaio said.
Deputy William Coleman, 50, and his partner found a suspect in a van with a pit bull dog at a medical building at about 4 a.m., Arpaio said.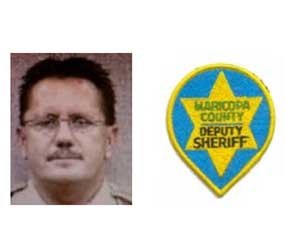 The man got out of the van and opened fire with a rifle, striking Coleman under his bulletproof vest. The deputy was taken to a hospital but doctors could not save him.
It isn't clear if Coleman was able to return fire, but other deputies eventually shot and killed the suspect, Arpaio said. The dog was calm and was taken to a sheriff's animal shelter.
Arpaio said investigators were trying to figure out why the 40-year-old man opened fire.
"We're trying to determine his identity, his background, to see if he has warrants or was involved in other criminal activity," Arpaio said. "I want to see who and what his background is, what caused him to come out shooting."
Coleman was a 20-year veteran. He is survived by a wife and two young children, ages 4 and 7, Arpaio said. He also has grown children in another state.
Coleman was assigned as a patrol deputy but had previously worked the sheriff's lake patrol unit.
Last year was one of the deadliest in recent history for law enforcement officers, with 173 killed in the line of duty as of Dec. 28, a 13 percent increase from 2010, according to the National Law Enforcement Officers Memorial Fund. Of those, 68 federal, state and local officers were killed by gunfire in 2011, a 15 percent jump from the year before.
"There seems to be a war on cops across the nation, and here in Arizona," Arpaio said Sunday.
Copyright 2012 Associated Press