Kan. officer killed in shootout with suspect
Officer Mike Mosher, a 14-year veteran, was remembered for his passion and initiative
Duty Death: Officer Mike Mosher - [Overland Park, Kansas]
End of Service: 05/03/2020
---
Luke Nozicka
The Kansas City Star
OVERLAND PARK, Kan. —Overland Park police have identified the officer killed in a shootout with a suspect Sunday afternoon as Mike Mosher, a 14.5-year veteran of the department.
During a news conference outside the Overland Park Police Department, Police Chief Frank Donchez said all Mosher ever wanted to do was be an officer. He became a decorated one who had been recognized for his work on the force at the state level, Donchez said.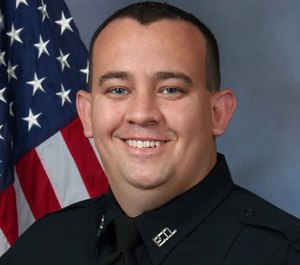 "He loved what he did and he was damn good at it," Donchez told reporters Sunday night. "He died doing what he loved."
Mosher was also was the current president of the Overland Park Fraternal Order of Police.
In a statement, Kansas Attorney General Derek Schmidt called Mosher a "respected law enforcement leader."
"The senseless death of Officer Mike Mosher is a tragic reminder of the enormous debt of gratitude we owe the men and women in law enforcement for protecting our communities," Schmidt said.
Mosher was the first officer killed in the city in more than three decades. He left behind a wife and a young daughter.
Officers responded to the call of shots fired about 5:53 p.m. in the area of West 123rd and Mackey streets, where Mosher and the suspect exchanged gunfire, according to Officer John Lacy, a police department spokesman.
Prior to the shootout, Mosher radioed to dispatch about a hit-and-run crash at West 143rd Street and Antioch Road. He was on his way into work when he came across the crash, Donchez said.
"That was Mike," Donchez said. "He wasn't going to go around and call it in. He was going to get involved, and that's what he did."
Mosher followed the suspect, who has not been identified, north on Antioch Road before stopping near West 123rd Street.
He approached the suspect's vehicle and an altercation occurred. The two exchanged gunfire, Lacy said.
The suspect died at the scene.
Mosher died at a hospital, where 50 to 75 officers gathered Sunday night.
"It was heartbreaking but also encouraging to see how our officers responded to this," Donchez said. "I'm proud of this department for the way they rallied tonight during this."
McClatchy-Tribune News Service