Utah deputy struck, killed by cement truck while driving to work
The truck crashed into Deputy Joel Baker's car after being unable to stop in time for a red light
Duty Death: Joel Baker - [Salt Lake County, Utah]
End of Service: 11/12/2022
---
By Ashley Silver
Police1
LEHI, Utah — Family, friends and colleagues are mourning the loss of a Salt Lake County Sheriff's deputy who died in a crash while on his way to work Saturday.
According to KSL News, Deputy Joel Baker was killed when a cement truck hit his car after being unable to stop in time for a red light.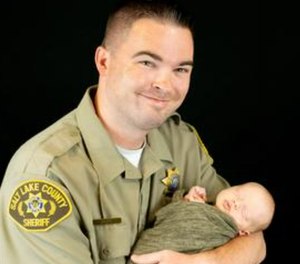 "He was kind and he loved my sister and their son more than anything," Cami Beacham, Baker's sister-in-law, told KSL. "This is a big change for them. They now have a funeral to pay for that they didn't expect to pay for and life she needs to adjust to."
The cement truck driver is cooperating with the investigation and impairment does not appear to be a contributing factor, according to the report.
Baker is survived by his wife and their 1-year-old son.