5 NYPD cops suffer smoke inhalation after deadly Bronx building collapse
First responders rushed to the scene after a fiery gas explosion leveled a three-story residence
---
By Brittany Kriegstein, Thomas Tracy, Ellen Moynihan and Larry McShane
New York Daily News
NEW YORK — A 77-year-old woman was killed and two other senior citizens injured in a fiery Bronx gas explosion that leveled their three-story residence Tuesday morning as one lucky survivor fled barefoot through the flames with her little boy, authorities said.
The blast and subsequent raging blaze decimated the building in the Longwood neighborhood, with an eyewitness recounting how the residence collapsed like a flaming house of cards after the 10:50 a.m. explosion.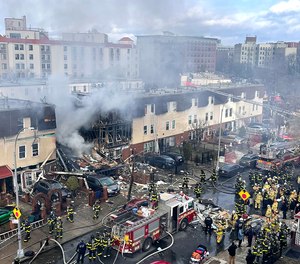 "I just looked out the window as soon as I heard it," said lifelong neighborhood resident Alex Catalan, 22, who lives a block away. "And I saw a bunch of smoke and fire coming from the house that's collapsed ... The pieces just went everywhere, the debris."
The woman died at Lincoln Hospital, while an 82-year-old woman and a 68-year-old woman were in stable condition at the Bronx medical facility, officials said. Their identities were not released, though police said two of the women were sisters found lying outside the building. Only one of the elderly siblings survived her traumatic injuries from the explosion.
"That whole building collapsed," recalled Catalan. "I've never seen anything like it."
The third woman was removed from the building by NYPD officers, said FDNY Chief John Hodges. Five police officers were also taken to Lincoln Hospital with smoke inhalation after working to rescue residents, authorities said.
"Our hearts go out to the family members," said Mayor Eric Adams, speaking just nine days after a Bronx high-rise fire killed 17 people.
A building resident who miraculously escaped from the second-floor flames with her 2-year-old son was FaceTiming with her mother when she mentioned smelling something odd in the building Tuesday morning.
[RELATED: 'This is what we do': 5 police officers rush into burning building, carry out man in wheelchair]
"We were trying to figure out what it was, and I told her she just heated up her soup, so maybe it was that," said mom Ellen Homan, who lives in New Jersey. "And then the line went dead ... She called me (back) screaming that the house exploded. I said, 'Are you OK?' She said, 'Yeah, my feet are bleeding a little.'"
The shoeless Felicia Homan and her son, Nico, escaped with their lives from the burning wreckage.
Authorities said the buildings on each side of the blast will be demolished due to damage from the explosion and fire, with police sources and local elected officials declaring the incident was apparently triggered by a gas explosion.
Adams said the investigation was ongoing and there was a preliminary report of someone smelling gas before the blast. Consolidated Edison shut off the gas to the block as a precaution.
As firefighters began pumping water on the fire, the building started to collapse, with the front facade falling onto a gray SUV parked outside.
"It sounded like a car crash," said Lisa Carrasco, who lived in the adjoining building. "But then we see all the smoke coming out, and then I saw what was going on. Everybody was in shock. We didn't know what to do in the moment."
Firefighters were ordered to back out of the building to douse the fire down from outside as more than 100 firefighters, EMTs and paramedics responded to the scene.
A woman who lives across the street said everything happened in an instant: "A big boom and everything was moved all over. We came out the door and the house was on fire."
The witness said neighbors took to the chilly streets with hoses to keep the wind-whipped flames from spreading, although the two adjoining buildings were damaged as well.
"Currently at the scene of a massive fire due to a gas explosion in my district," wrote Councilman Rafael Salamanca Jr. on Twitter. "All emergency first responders are on the scene and currently battling the fire."
The horror comes just nine days after lethal smoke from a Bronx apartment building fire killed 17 people, the deadliest city fire in decades.
The Tuesday fire was reminiscent of a 2014 natural gas blast in Harlem that killed eight people, injured another 48 and destroyed a pair of buildings.
"We're continuing to investigate, to drill down into finding out exactly what caused this," said Hodges. "And we will be on scene operating as we sift through the rubble, just to look for any type of evidence."
©2022 New York Daily News. Visit at nydailynews.com. Distributed by Tribune Content Agency, LLC.
McClatchy-Tribune News Service