Council member proposes unarming LAPD officers at council meetings
The union that represents LAPD officers blasted it as "irresponsible," warning it will invite harm toward public officials and those attending City Council meetings
---
By David Zahniser
Los Angeles Times
LOS ANGELES — Los Angeles Councilmember Eunisses Hernandez called Wednesday for the city's policy analysts to determine whether the council has the power to require that every police officer assigned to the council chamber show up unarmed.
Hernandez, in a written proposal, wants to create a "mediation based model" for restoring order during council meetings, which have been upended by noisy demonstrations from audience members, many of whom have demanded the resignation of Councilmember Kevin de León over his participation in a recorded conversation featuring racist remarks.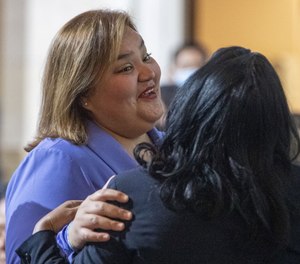 For months, protesters have been yelling from the audience, banging on benches, clanging cowbells and shining mirrors into the eyes of council members. Los Angeles Police Department officers have responded by ejecting audience members for engaging in such activities, slowly walking them out of the chamber and ultimately out of the building.
Chelsea Lucktenberg, a spokesperson for Hernandez, said her boss wants input from community groups, de-escalation experts and others on ways of preserving order that do not involve police.
"The end goal is that council chambers is an environment in which people are unarmed, and the focus is de-escalation and mediation," she said.
LAPD officials did not immediately offer comment on Hernandez's motion, which will be forwarded to the council's rules committee for consideration. However, the union that represents LAPD officers blasted it as "irresponsible," warning it will "invite harm toward public officials and those that attend City Council meetings."
In a statement, the Los Angeles Police Protective League board of directors pointed to shootings that have taken place at council meetings in other parts of the country, including one in Kirkwood, Mo., in 2008 and another in New Hope, Minn., in 2015.
"There are serious issues Los Angeles is confronted with and we need serious people with credible solutions, not this type of dangerous nonsense," the union said.
Hernandez was the first abolitionist elected to the City Council, unseating Gil Cedillo in June. Throughout the campaign, she was an outspoken critic of the LAPD, saying in one candidate questionnaire that the department should not play a role in her community.
Hernandez represents an Eastside district that takes in all or part of such neighborhoods as Highland Park, Cypress Park, Mt. Washington, Chinatown and Westlake.
Councilmember Hugo Soto-Martínez, who won his seat in November and also describes himself as an abolitionist, also signed Hernandez's motion.
This story originally appeared in Los Angeles Times.
©2023 Los Angeles Times. Visit latimes.com. Distributed by Tribune Content Agency, LLC.
McClatchy-Tribune News Service