Fallen Mo. officer laid to rest
Bagpipes played mournful music outside the St. Louis Family Church while thousands paid their final respects to St. Louis County Officer Blake Snyder
---
By Christine Byers
St. Louis Post-Dispatch

ST. LOUIS — Malachi Snyder's eyes widened with wonder Thursday as the 2-year-old, protected by the innocence of his age, pointed at hundreds of police officers standing at attention as his mother carried him behind the flag-draped casket of his father.
Bagpipes played mournful music and flags flapped in a cool breeze outside the St. Louis Family Church in Chesterfield while thousands waited to pay their final respects to St. Louis County Police Officer Blake Snyder.
He was shot to death in the line of duty just over a week ago.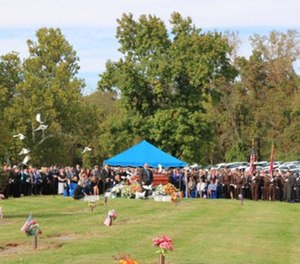 There already had been uncounted tears and salutes and hands held over hearts as a golden hearse carried Snyder's body from a funeral home to the church, along the way passing the Affton precinct station, where he was based for four years. There, his patrol car sat buried beneath stuffed animals, cards, flowers, candles and other remembrances.
Officers from Snyder's precinct marched first into the sanctuary, filled to its capacity of 2,000. News media and the public watched from a packed overflow room of perhaps 600 people, with others watching on a large screen outside.
Images from Snyder's life flashed across TVs, including the moment his older brother first saw his newborn sibling through a hospital nursery window, the fallen officer's wedding day and the first time he held Malachi.
Pastor Jeff Perry opened the ceremony about 11:30 a.m., reading a list of Snyder's survivors before the playing of the song "Tell Your Heart to Beat Again," selected by Snyder's widow.
Perry described Snyder's devotion to his faith, noting that Malachi was named after the last book of the Old Testament.
Eulogies were delivered by St. Louis County Executive Steve Stenger, county police Chief Jon Belmar, Pastor Duane Vancil of the River of Life Community Church in Godfrey, Snyder's brother, Adam, and his brother-in-law and fellow county police officer, Justin Sparks.
Belmar called Snyder "our newest American hero" and then directed a message to Malachi and his mother, Elizabeth Snyder: "You are now and forever part of the St. Louis County police family, and more than that, part of the law enforcement family nationwide."
The chief also acknowledged the backup officer who shot and wounded the man who killed Snyder: "You did all you could to protect Blake and because of you, Blake did not die alone."
In their hearts forever
Stenger cried as he told Snyder's family: "No words can fill the empty place in your hearts or relieve your pain, but please know that St. Louis County, the entire metro area and, from what I saw yesterday at the visitation, the entire nation stands behind you ready to offer our support." He added, "Not just for today, or for tomorrow, but whenever you need it."
That visitation had drawn thousands on Wednesday to Kutis Funeral Home in the Affton area. Govs. Jay Nixon of Missouri and Bruce Rauner of Illinois were among them.
Rep. Ann Wagner, R-Mo., and Missouri Attorney General Chris Koster attended the funeral, along with hundreds of officers from outside the region, including Canada, New York and Fort Worth.
Mourners there included Julie Lueck, the widow of Rick Weinhold, the last county officer killed in the line of duty, in 2000; and their son, David Weinhold, himself now on the county force.
Blake Snyder's death was the 10th since the department's inception in 1955.
Vancil wept as he said Snyder had inspired his teenage son to become a police officer, and said the young man felt the calling "now more than ever."
"We have a choice to make here today," he said. "Will we be bitter? Angry at a life taken from us too soon? I'll be honest with you today, I was, and maybe I still am.
"But you know what? Elizabeth, with love in her eyes, said, 'Don't be angry. Blake and God wouldn't want you to be angry.'"
Adam Snyder and Sparks stood together with hands on each other's shoulders.
"Our lives were perfect because they were filled with love," Adam Snyder said, pausing as tears rolled down his face. "That's all we needed. On the morning of Oct. 6, our perfect world was taken from us.
"But while we mourn the loss of such a bright young man, we couldn't be more proud. Proud to have you as a son and a brother and even more proud of the husband and loving father you had become. And most importantly, proud of the way you followed your calling from God in every aspect of your life."
Adam Snyder recalled that after his brother's police academy graduation in December 2012, he and his parents, Dick and Peggy Snyder, privately spoke of their fears.
"But not once did we ever say anything, never once did we discourage him, because we knew it was his calling to serve and protect others," Adam Snyder said.
He found his calling
Sparks said he had given his brother-in-law the same advice that his late "old-school cop dad," Michael Sparks of the Granite City police, had given him.
"He told me, 'Try everything else first, and especially try being a fireman,'?" Justin Sparks said through tears, as the crowd laughed at his dig at the rival profession. "But if you find your soul still drawn to the job, you go and you do it and you don't hold anything back because you will know you found your calling.
"That is what this man did. It was for this reason I was hard on him. I knew the pain and tragedy he would see, I knew the toxic environment he would immerse himself in every day, I knew he would witness the depths men go to hurt each other, I knew strength would have to bring peace where there was no peace because that is what we do. And I knew he would have to do it while being an outstanding father and husband."
Sparks recalled standing over his dead brother-in-law at the hospital last week.
"Buddy, Blake, while I wept over you in the hospital room, I was struck with a sensation of unbearable loss accompanied by unbelievable pride. Allow me now, brother, to make you proud. I will live out, I will be your arms holding up Elizabeth and hands blessing and guiding your son into honorable manhood. That is my promise."
Sparks then read "Blue Hymn for the Fallen," which he had written and shared with Blake Snyder. "We both dreaded the day it would be used for the first time," he said. "Today, I honor him as the first."
It reads, in part:
"For his fellow man he fought,
"And for his fellow man he's fallen,
"Joyful hearts in chorus answer,
"For this was his calling."
The service concluded with the songs "Thy Will" and "Amazing Grace."
Roland Corvington, chairman of the St. Louis County Board of Police Commissioners, called the ceremony "profoundly moving."
"There is a real strong understanding and appreciation for the importance of policing in a democratic society, and the bottom line is we need them, we want them and I couldn't imagine a life without them," said Corvington, once the FBI special agent in charge in St. Louis.
County officers in dress uniforms escorted Snyder's widow and his son to a limousine for a procession of about 50 miles to Valhalla Memorial Park Cemetery in Godfrey. The line of police and other vehicles stretched an estimated 5 miles, with dozens of motorcycles leading the way.
Throngs of people lined the route with signs, flags and ribbons. Firefighters displayed flags from overpasses.
Shannon Sondker, of Grafton, stood along Highway 67 in Alton wearing a white T-shirt adorned with a blue ribbon and police badge with Snyder's name. She remembered him as a youth leader for her three children at his former church there.
"It's a grave loss. Our heart breaks for the entire family and police community, and this is our way of showing our appreciation," she said.
'10-42'
It took about 90 minutes for the hearse to reach the cemetery, and perhaps 45 minutes more before family emerged from the limo after waiting for hundreds of cars to file in behind.
Malachi couldn't wait to wriggle out of his mother's arms and again marvel at the officers who formed a square around him and saluted behind the tent where his mother, grandparents, uncles and others wept at the grave.
One officer broke formation and blew him a kiss; some extended hands for him to touch.
He waved at them. Giggled. And ran with the energy only a child knows.
Officers folded the flag from the casket, and Belmar presented it to Elizabeth Snyder.
The silence was broken by the crack of a 21-gun salute, a flyover by three police helicopters and a ceremonial "last call" for Snyder over the police radio. A dispatcher read his badge number, 4153, and announced: "Officer Blake Snyder is 10-42 at 3:19 p.m. Oct. 13, 2016," using the code for going off duty.
Finally, 33 white doves, one for each of his years, were released.
They circled together overhead.
And Malachi watched with his wide eyes.
McClatchy-Tribune News Service