Accused Penn. cop-killer had a 'hit list'
Richard Poplawski made a list of people he wanted to kill
---
By Bobby Kerlik
Pittsburgh Tribune Review
Richard Poplawski discussed a "hit list" on an Internet radio show in the weeks before he allegedly gunned down three Pittsburgh police officers in an ambush at his Stanton Heights home, according to a police affidavit.
The hit list included a Pittsburgh police officer, a black, a Jew, his ex-girlfriend, her parents and neighbors' pets, the affidavit states.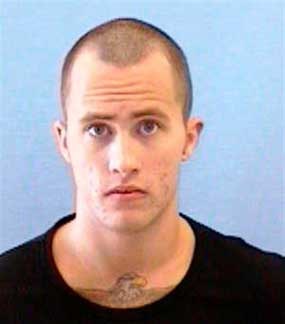 Homicide investigators relied on statements provided by Edward Perkovic, 23, of Lawrenceville and his estranged girlfriend, Jocelyn Moffitt, 22, to get permission to search computers used by Poplawski and Perkovic for their radio show, Eddie and Po. The documents were filed this week with Allegheny County Common Pleas Judge Jeffrey A. Manning, who is presiding over Poplawski's trial for the April 4 slayings.
The affidavits indicate Poplawski was more deeply involved in white supremacist activities than previously disclosed. He posted material on the Web site Stormfront.org and frequently e-mailed racist content to his radio co-host, Perkovic told police.
During one show, Moffitt told investigators, Poplawski said: "'When the (expletive) hits the fan,' and that he knew he was going to 'go down'; and that he has a hit list of which people he is going to take out."
The show was hosted on PirateRadio.com and linked through a MySpace account controlled by the hosts, the affidavit states.
The slayings of police Officers Eric G. Kelly, Stephen J. Mayhle and Paul J. Sciullo II prompted Perkovic to immediately begin deleting any on-line references to the Eddie and Po show, he told investigators. The officers died while responding to a call for help from Margaret Poplawski, the suspect's mother, after an argument with her son.
Perkovic told the media after the slayings that he believed Poplawski was motivated because he feared newly elected President Obama would confiscate his firearms.
Perkovic admitted to investigators that he had failed in April to give state police, who were assisting the investigation, an external computer hard drive that contained copies of the radio show. Perkovic told state police they used Poplawski's computer for their radio show, the affidavit states.
Perkovic turned over a computer that contained information about his rock band and consented to let police search it, the affidavit states.
Investigators only became aware of the recorded radio show in August after a domestic incident involving Perkovic and Moffitt. Perkovic is awaiting trial on charges of reckless endangerment, endangering children and other charges in connection with the incident.
Moffitt told police Perkovic played a clip of the radio show in early August, which he had saved on an external hard drive. He also admitted hiding the hard drive during the April interview with state police, Moffitt told investigators.
"Do you think that had anything to do with what happened in April?" she asked Perkovic.
Perkovic responded: "That's what I thought you would say." He then said, "More cops should of died. I'm gonna go out and shoot more cops."
Perkovic could not be reached for comment Friday night. Poplawski's attorney, Lisa Middleman, declined comment, citing a gag order.
Middleman has asked Manning to block the contents of Poplawski's hard drive from being used at trial. She says the warrants are invalid.
When confronted by homicide investigators in September, Perkovic said he was aware of what police wanted regarding the radio show. He acknowledged copies of the radio show were stored on an external hard drive, which he would surrender.
Perkovic also told police that he and Poplawski visited the Web site Stormfront.org several times. Poplawski posted articles and writings under the screen names BracedForFate, POP633, POP63 and Richylicious.
Poplawski also e-mailed Perkovic several times with links to Stormfront articles, Perkovic told investigators.
Copyright 2010 Tribune Review Publishing Company