GBI: No bodycam footage of Atlanta police training center shooting
Authorities allege that Manuel Teran opened fire on a trooper helping conduct "clearing operations" in the woods near a soon-to-be training site
---
By Tyler Estep and Asia Simone Burns
The Atlanta Journal-Constitution
ATLANTA — The Georgia Bureau of Investigation says there is no body camera footage of Wednesday's deadly encounter between a state trooper and an activist near the site of Atlanta's proposed public safety training center.
Authorities allege that the activist, since identified as 26-year-old Manuel Teran, opened fire on a trooper helping conduct "clearing operations" in the woods near the would-be training center site. The trooper was hit in the abdomen and his colleagues returned fire, killing Teran.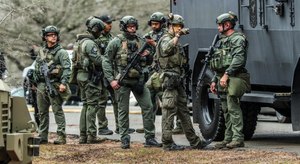 Members of the "stop cop city" movement and others have questioned the official account of events and, among other things, suggested footage from law enforcement officers' body-worn cameras might paint a more accurate picture.
GBI spokeswoman Nelly Miles told The Atlanta Journal-Constitution on Friday that such footage does not exist.
"This incident was not captured on bodycam," she wrote in an email.
The day-long operation that resulted in Teran's death — and the arrest of seven other activists on domestic terrorism charges — involved several jurisdictions.
But according to a GBI "face sheet," which offers an initial summary of that agency's investigation of the shooting, only troopers from the Georgia State Patrol were involved in the encounter with Teran.
And most GSP troopers are not issued body-worn cameras, according to an agency spokesman.
Lt. Michael Burns said troopers across the state have dashboard cameras in their patrol cars, but only troopers from GSP's Capitol Hill and Jekyll Island posts are issued body-worn cameras.
An annual survey by the Georgia Association of Chiefs of Police found that the majority of agencies across the state incorporate body-worn cameras into their policing. Of the 254 agencies that participated in the survey, 87.8% had issued body-worn cameras to their officers in 2021, the study said. The Georgia State Patrol was not included in the survey, as it is not required to provide data to GACP.
Butch Ayers, the executive director of GACP, said the use of body-worn cameras is more prevalent in larger agencies. He added that some of the agencies that haven't adopted body-worn cameras expressed concerns over how to maintain them and manage the ongoing cost of storing massive amounts of data.
"The big issue that most agencies have is not so much the cameras itself, but how to properly store video and have it in a way where it can be accessed for records retention," he said. "That's where the cost comes into play."
The AJC filed open records requests asking for any body camera footage from the forest around the time of the incident, not only from the state patrol but the Atlanta and DeKalb County police departments as well.
An Atlanta police spokesman said Friday that APD officers were not in the area of the shooting and that no other footage from Wednesday's operation would be released, citing the ongoing investigation.
The trooper and 'Tortuguita'
As of Thursday afternoon, the trooper wounded in the shooting was in stable condition. He has not been named, with authorities saying that doing so would "compromise security against criminal or terroristic acts due to retaliation."
The GBI face sheet did not list the wounded trooper's name or those of any others involved in the shooting.
As activists and others continued to question authorities' version of Wednesday's events — and call for an independent investigation — more details were also emerging about Teran.
On social media and elsewhere, activists described Teran — known to many as "Tortuguita" — as a kind person who split time between Atlanta and Florida, where they purportedly helped build housing in hurricane-impacted communities.
Teran, 26, was also featured prominently in a previous story about the "stop cop city" movement that was published in The Bitter Southerner. In a new piece published Thursday night, the author of that story conceded that he didn't know what happened Wednesday — but wrote that the events as described "would not square" with the person nicknamed Tortuguita that he got to know.
"The right kind of resistance is peaceful, because that's where we win," Teran is quoted as saying. "We're not going to beat them at violence. They're very, very good at violence. We're not. We win through nonviolence. That's really the only way we can win.
"We don't want more people to die. We don't want Atlanta to turn into a war zone."
PREVIOUS: Ga. trooper shot, wounded by 'Cop City' protester as LEOs attempt to clear training center sit
©2023 The Atlanta Journal-Constitution.
Visit at ajc.com.
Distributed by Tribune Content Agency, LLC.
McClatchy-Tribune News Service