Police chief: Mo. officer shot in the neck is paralyzed
Officer Michael Flamion, 31, was shot on July 8 after stopping a man for speeding
---
By Jim Salter
Associated Press
ST. LOUIS — A suburban St. Louis police officer shot in the neck during a traffic stop is paralyzed from the neck down due to "catastrophic damage to his spinal cord," Ballwin Police Chief Kevin Scott said Monday.
Officer Michael Flamion, 31, was shot on July 8 after stopping a man for speeding in Ballwin, a well-to-do St. Louis County town of about 30,000 residents. Police said Flamion was shot in the neck from behind.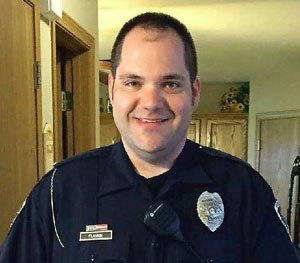 Antonio Taylor, 31, of St. Louis was arrested later that day following a foot chase in nearby Manchester, Missouri. He is jailed on $500,000 bond on several charges, including first-degree assault of a law enforcement officer. Taylor, who has an extensive criminal record, faces a court hearing on July 27 and does not yet have an attorney.
The shooting occurred one day after five police officers were killed in Dallas, but Missouri officials have not discussed a possible motive for Flamion's shooting. Flamion is white, and Taylor is black. Scott, speaking at a news conference, declined to discuss the investigation.
Scott said Flamion remains in intensive care. He is alert and able to recognize family, friends and co-workers, Scott said.
The chief said Flamion's life is forever changed, but he remains a part of the community and the police department.
"Although it's evident he will not be able to serve in the same capacity, I will assure that Officer Flamion is engrained in the Ballwin police family and will forever be a Ballwin police officer, no questions asked," Scott said.
The Ballwin department has been overwhelmed by support from the community, including people who have come to police headquarters to express their concern and others who have simply offered hugs to officers on the street, Scott said.
Flamion's injuries qualified him for financial assistance from the Catastrophic Injury Fund of the Backstoppers, a nonprofit that provides financial assistance to the families of slain first responders. He's also getting financial help from the community.
A GoFundMe page set up for Flamion, who is married, raised more than $193,000 by Monday afternoon. A children's lemonade stand raised $4,000, and several restaurants are banding together for a fundraiser in which proceeds from dinner will go to the family.
Copyright 2016 The Associated Press