7 investments worth every penny for law enforcement
Since the average cop's budget often comes down to pennies, what expenditures of our personal funds are truly worth the investment?
---
This article is being updated with suggestions from Police1 readers. Make sure to keep reading for more investments worth every penny and to submit your own suggestions at the end of the article.
As the Mega Millions jackpot nears $1 billion, the Police1 Editor-in-Chief and I were ruminating on the possibility of winning the lottery and what we would do with all that cash.
It was nice to dream for a minute, but we quickly settled back into the reality that we will likely still be counting our pennies after some other lucky citizen becomes the next mega-millionaire. The fact is you have more chance of being struck by lightning than winning the lottery. With a half-century of experience on this planet, I know which of those fates Karma would be more likely to bestow upon yours truly. Note to self: Buy some rubber-soled boots. 
Back to counting pennies. Since the average cop's budget often comes down to pennies, what expenditures of our personal funds are truly worth the investment? Here's my list: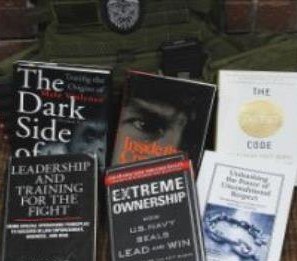 1. A bulletproof smartphone case
Maybe not actually NIJ-rated, but tough enough to handle the rigors of the job while protecting the phone from impacts, dust and water. Cops today use smartphones for much more than calling each other to plan a lunch break. Many departments use software for tracking officers' positions, silent dispatch and messaging, which can be accessed through smartphone apps. That makes us and our partners safer. Protect the device as well as it protects you. 
Police1 resource: Leveraging the power of smartphones in policing
2. Books
Your department cannot and will not educate and train you enough. It's not possible. The only way to become truly knowledgeable and competent is to absorb as much information as possible. Books are the most cost-effective way to do that. These are the ones I recommend to everyone:
"Inside the Criminal Mind" by Stanton Samenow
"Emotional Survival for Law Enforcement" by Kevin L. Gilmartin
"Fighting Smarter" by Tom Givens
"The Dark Side of Man" by Dr. Michael Ghigleiri
"The Newhall Shooting" by Mike Wood
"Left of Bang" by Patrick Van Horne and Jason A. Riley
"The Death of Expertise" by Tom Nichols
"Leadership and Training for the Fight" by Paul R. Howe
"Extreme Ownership" by Jocko Willink and Leif Babin
"The Talent Code" by Daniel Coyle
"Guns, Bullets, and Gunfights" by Jim Cirillo
"Unleashing the Power of Unconditional Respect" by Jack L. Colwell and Charles Huth
There are so many others but I believe these are the staples every cop should read. 
Police1 resource: Why a cop's ongoing education is a matter of job security
3. Own-time, Own-dime training
The best thing I ever did for my firearms skills was to attend a Rangemaster Training Services class with Tom Givens. I took Tom's Instructor Development class with the intent to immediately begin teaching handgun license courses for the state. I knew I could do a better job than most who were teaching the classes. That was, until, I actually took the class. I saw what "better" looks like and I found out that I wasn't there. 
Don't get me wrong, I did pretty well in the class, but was not even in the top three of the best shooters among the 20 or so folks who attended. If I recall correctly, all of the students who outshot me were not law enforcement. Pain and humiliation are our greatest mentors. 
Police1 resource: 3 things to consider when taking a private firearms class
4. Eye protection
A good pair of sunglasses is a must even if you work only the night shift. When I was working nights for about a year, I got called in at 1700 during an Oklahoma summer. The sun was unbearable that evening. Then, due to a staffing shortage, I ended up having to hold over and transport a prisoner across the state that next morning. Our easterly trip back in the early morning was quite the challenge. That cheap pair of gas station sunglasses I'd thrown in the glove compartment a few years early came in handy that day. 
It's also a good idea to keep a cheap pair of clear shooting glasses in the car for gun calls. There have been a few documented cases of officers saved by their sunglasses after being hit in the face with birdshot or bullet fragments.   
Police1 resource: Ballistic eyewear: See the need for safety
5. Water, a lot of it
I keep one of those metal gallon jugs of water in my car at all times. Occasionally, I crack open the wallet and spend 100 pennies to refill it with a fresh gallon of drinking water from the local convenience store. The worst thing you can be in a crisis is thirsty or dehydrated.     
Police1 resource: Staying hydrated on duty
6. Snack box
When will that call come in that will keep you occupied for the next several hours? At the worst possible time, of course. Having some food at the ready that is not temperature sensitive is a good thing. I suggest a big container of peanuts and beef jerky in an insulated soft cooler.
Police1 resource: 7 easy ways cops can eat healthier on duty
7. Hobbies
It doesn't matter what that hobby is. It could be hiking, drones, metal detecting, building ships in a bottle (is that still a thing?) amateur radio, reading, running, etc. I took up metal detecting a few years ago. I found an old horse or mule shoe on some farmland. It was both exciting and relaxing. I enjoy the hobby because it takes just enough of my attention that I can't obsess about work but not so much that it causes undue brain strain. It doesn't matter what you choose. Anything that takes your mind away from work and gives you some peace is perfect.    
Police1 resource: How hobbies can help officers maintain balance
That's my list. What's on yours?
Police1 Reader suggestions
A Mechanics tool kit. I Have several. This is the first one I bought. It helps out in a pinch, and there are many options available. I recommend ponying up and buying a decent one like this Dewalt one. Buy once, cry once. You may not use it often, but you will be glad when you have it.

A spring-activated center punch for breaking car windows efficiently. 

Israeli style trauma bandage, rifle-rated ballistic shield, gyro-stabilized binoculars, Fisher Space Police Pro ink pens and notepads that let you write in the rain.

Wear clothing under your uniform that will protect you in a fight such as knee, hip, tailbone and shoulder-padded clothing that skateboarders uses.  Preventing the injury is much better than trying to recover from one.

Training. Invest in yourself. Shooting, martial arts, investigation techniques, situational awareness, patrol tactics, working out, CrossFit, nutrition, etc., whatever you spend on these classes will pay you back 10-fold because you can buy all the fancy tools and equipment and gear but if you aren't in top shape then you can't properly use all of your resources when the time comes.

I hope you don't mind an LEO parent adding her thoughts, but I purchased Narcan for my son since his department does not provide it to its officers. Its high price was worth it for a little peace of mind for me. I pray it never has to be used on him, his fellow officers, or a citizen in trouble. 

A tactical flashlight with an extra battery because as an officer, we pursue people through empty houses, dark alleys and abandoned buildings and work at night. So, a good tactical flashlight is a must.

I recommend an officer survival course about every three to five years. I took the one Calibre Press did and it was a good reminder and well worth the money. Also, join your chapter of the PBA or FOP or both for legal representation for on-duty issues. It only takes one complaint to pay for these services. City county and state agency attorneys are looking out for the agencies. FOP/PBA are looking out for YOUR best interests. I know one officer who was a member of PBA for two months and got into a shooting, wounding the suspect and was indicted. Attorney fees were over $250,000 before everything was done. His costs were just the yearly membership dues.

Your own cell phone! Even if the agency provides you with a phone, that phone is THEIRS, and subject to examination or inspection. Caution what you use THEIR phone for. All of your personal business should be done on your own phone and NEVER use your phone for agency needs.

Add to your booklist, "Officer Down: Code Three." The cultural references are a bit dated, but the lessons are timeless (maintenance and proficiency with weapons, wait for backup, etc.).

Any law enforcement training. Membership in law enforcement associations (CNOA, CNCA, etc.) Attend conferences. Any defensive handgun course. The best I ever attended was the Street Survival seminars. All made me a better officer.

Membership, gear, training and tournaments in USA Boxing Master's Division ( 35 years and up – I'm still competing at age 62).

Colt firearms: I carry a Colt Lightweight Combat Commander .45 as my duty weapon and a Colt M4 223/5.56 as my patrol rifle – bought them both myself!

Eye protection in your vehicle for gun calls.
Membership to a Brazilian Jiu-Jitsu school. Keeps me fit, calm in the storm and relieves the stresses of both the job and home life.
A good pair of boots – if your feet are happy, the body will follow.
As a follow-up to good boots, a custom-fit insole for your boots – this will save your feet, knees and back for years to come!

Benchmade triage folding knife/belt cutter and Victorinox Swiss Champ Swiss Army Knife.

Level III security holster to protect against officers being killed with their own weapon.

Benchmade automatic knife. I have an Infidel model and it was expensive but worth every penny. You never know when you will only have one hand available and have the dire need to deploy a knife.
Complete the form below to list the investment you think is worth every penny. 
What police-related investments of your personal funds are worth every penny?