Trump vows to eliminate MS-13 gang
Trump has made cracking down on MS-13, or Mara Salvatrucha, a top priority of his administration
---
By David M. Schwartz and Andrew Smith
Newsday
BRENTWOOD, N.Y. — President Donald Trump came to the doorstep of Suffolk communities hard-hit by gang violence Friday and vowed to help police eradicate the MS-13 gang.
Trump shook hands with some officers as he took the stage at Suffolk Community College in Brentwood. He was greeted with chants of "USA! USA!"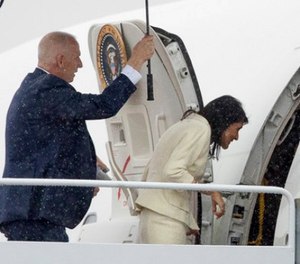 "I am the big, big admirer, and believer, in law enforcement, from day one," he said. "We are going to destroy the vile criminal cartel, MS-13, and many other criminal gangs."
Addressing gang members, Trump vowed: "We will find you, we will jail you and we will deport you."
"These are animals," he said of the gang, saying they liked their victims to "die slowly."
Trump told police officers in attendance, "We have your backs 100 percent, not like in the old days." Police cheered the remark.
"It's a whole new world," he said. "We have started nipping it in the bud."
Trump, who grew up in Queens, said he was surprised by the gang violence on Long Island.
"I grew up on Long Island," he said. "I didn't know about this. ... I never thought I'd be up here talking about liberating the towns of Long Island, where I grew up."
The president veered onto other topics, briefly touting what he said was a stronger economy and decrying the failure of his effort to repeal Obamacare.
"You can't have everything, boy oh boy," he said, adding that he would let the health care system "implode."
And the president said, "We will build the wall," referring to his proposal to prevent illegal immigration from Mexico. "The wall is vital as a tool for ending the humanitarian disaster."
Trump blamed former President Barack Obama's immigration policies for allowing a surge of criminals into the country.
Trump spoke for 37 minutes. He departed from MacArthur Airport about 3:20 p.m.
The president was introduced by Rep. Peter King (R-Seaford), who called the president a "great advocate" for law enforcement. "President Trump knows that blue lives do matter," he said. "MS-13 is going to be destroyed, and we're not going to worry about political correctness."
Among Trump's requests to Congress will be: 10,000 more Immigration and Customs Enforcement officers; a substantial increase in immigration judges; expedited removal of Central Americans; and legislation to punish sanctuary cities, a White House official said.
In his first visit to Long Island since taking office, Trump addressed hundreds of Long Island law enforcement personnel at Suffolk County Community College's Brentwood campus. Also attending was Evelyn Rodriguez, mother of MS-13 victim Kayla Cuevas. Police say she attended at the invitation of the White House.
Immigrant advocate groups, however, are protesting what they called his administration's harsh deportation policies that go beyond targeting criminals. Some also protested other Trump policies, such as his recent Twitter vow to bar transgender people from serving in the military.
Trump has touted his administration's effort to crack down on MS-13 in recent days as he deals with the unsuccessful effort to repeal Obamacare in Congress and a shake-up of his communications staff.
"We are throwing MS-13 the hell out of here so fast," Trump said at a Tuesday night rally in Youngstown, Ohio.
Federal law enforcement officials announced the indictments last week of 14 suspected MS-13 gang members on Long Island, including nine accused of bludgeoning and hacking four young men to death in a Central Islip park in April. And Friday, New York City police charged two men who they said were MS-13 members from Hempstead with a murder in Queens.
Suffolk Police Commissioner Timothy Sini said before the speech, "I expect to hear a thank you for the hard working men and women of the Suffolk County Police Department."
Asked to respond to immigrant advocates who say they're as afraid of immigration agents as they are of gang members, he said his officers don't ask for immigration status of victims or witnesses. "Of course we protect victims. That said, we're aggressively targeting MS-13. I'm not going to apologize for that," he said.
John Becker, president of Suffolk Sheriff's Department Police Benevolent Association, said, "For the first time in many years we feel we have a president who supports law enforcement." He said his own members supported Trump "overwhelmingly."
King and Rep. Lee Zeldin (R-Shirley) said they plan to fly from Washington, D.C., with Trump.
"The Trump administration will do everything possible to eliminate MS-13 and protect the good people living in communities such as Brentwood and Central Islip, who have been terrorized by MS-13 for too long," King said in a statement.
Immigrant rights groups held protests at Brentwood State Park at noon Friday.
"We say, loud and clear, that after months of vilifying our communities, he is not welcome here," said Walter Barrientos of Make The Road New York, an immigrant advocacy group, on Thursday.
SCCC vice chairman Jim Morgo said the college had "no choice" but to allow Trump to speak on campus, although he noted the college's diversity.
"Suffolk Community College epitomizes the American ideals of opportunity and inclusion," Morgo said. "When you think of President Trump, you don't think of these values."
The campus where Trump spoke at is near the Central Islip and Brentwood neighborhoods that have been the sites of brutal killings attributed by law enforcement to MS-13.
©2017 Newsday
McClatchy-Tribune News Service