Chicago police to add 200 officers to anti-violence team
The new officers will go to the Community Safety Team, formed in July to work in areas seeing spikes in violent crimes
---
By Jeremy Gorner
Chicago Tribune
CHICAGO — Chicago police Superintendent David Brown will be adding 200 more officers to a new unit dedicated to responding to crime hot spots in some of the city's most violent neighborhoods, officials said Monday morning.
The influx of new officers will go to the Community Safety Team, formed in July to work in areas seeing spikes in shootings and other violence. With the additional officers, the team will now be staffed with close to 500 cops, said police spokesman Howard Ludwig.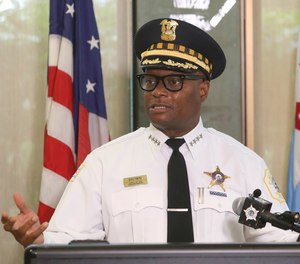 Monday's announcement of the new officers comes at a time when Chicago has seen an especially violent year amid the COVID-19 pandemic, as well as civil unrest across major U.S. cities prompted by the Memorial Day death of George Floyd at the hands of Minneapolis police.
Through Sept. 13, there had been about 2,300 shootings — incidents that left victims wounded fatally or injured — recorded in Chicago in 2020, the most the city has seen since 2016. Chicago had also recorded 544 homicides, a 49% jump from when 364 people were slain during the same time in 2019.
But in recent weeks, Brown has touted sudden, double-digit percentage reductions in shootings and homicides ever since the team and one other citywide unit started in July.
Unlike similar units that have come and gone in past years, the Community Safety Team also works at least one day a week on community service projects to get to know the residents in the areas they serve. Critics of the Chicago Police Department, however, worried the new team's style of enforcement could mirror what some considered to be overly aggressive tactics of units just like it that disbanded many years ago.
The Community Safety Team's primary responsibility is responding to crime hot spots on the South and West sides, areas of Chicago where much of its violence is concentrated. The other citywide unit that started in July, the Critical Incident Response Team, has about 270 officers and addresses the crime hot spots in the downtown area, but also focuses on protests or other large gatherings that form throughout the city.
In addition to the increased staffing on the Community Safety Team, Brown said earlier this month the summer mobile patrol unit would operate for another 90 days. That unit, which has about 200 cops, has the same function as the Community Safety Team but typically only operates during the warmer-weather months.
©2020 the Chicago Tribune
McClatchy-Tribune News Service