A family tradition: These LEOs have served and protected the same community for nearly 80 years
Sgt. Matt Karges is a fourth-generation officer whose family has served at the same department consecutively and with each new generation simultaneously
---
In kindergarten, Police Sergeant Matt Karges was asked to draw a picture of what he wanted to be when he grew up. For Karges, it was a no-brainer. Next to his picture, he wrote: I want to be a police officer like my grandpa.
Karges' grandfather, who joined the Evansville (Indiana) Police Department in 1962, retired with 39 years of service. And his father, Karges' great-grandfather, joined in 1943 and retired with 23 years of service.
The apple, as they say, has never fallen far from the tree.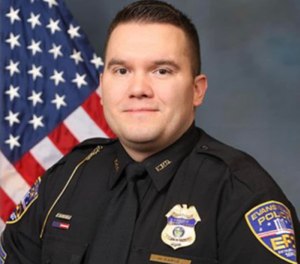 So much so that Karges' dad, a now-sergeant who joined in 1991, is still an active member of the department and currently serves alongside Karges, an 11-year veteran who joined in 2011.
Fast-forward to 2022 and the latest generation, Karges' son, first-grader Nolan, drew a similar picture of an officer standing on top of a squad car with a K-9 nearby, inscribing a familiar sentiment, but this time a bit more detailed given the generational tradition. Nolan wrote: "I want to be a police officer like my dad, grandpa, great-grandpa and great-great-grandpa."
The common thread between them all is that one never tried to convince the other to join the law enforcement profession. In fact, for a brief period, Karges almost went in a completely different career direction.
"When I was in fifth grade, I told my dad that I might want to be an engineer. I was afraid to tell him that," he recalled. "But all he said was, 'That's fine, bud. Anything you want to do, I'll support you.' He didn't try to change my mind or anything."
That change of heart, Karges joked, didn't last long: "After about two or three months, I was like, 'No, I definitely want to be a police officer.'"
When the time came to go all in, Karges did so for all the right reasons.
"It wasn't because that's what my dad did. It wasn't glorifying the uniform or the coolness of it anymore," he said. "For me, I wanted to be able to look back on my life and show that I did some good in the world. That I was able to help somebody. That I did something with my time here."
And for nearly 80 years, one could argue that the Karges family has done their fair share of good for both the department as well as the community of Evansville.
A brotherly calling
Before joining the Evansville Police Department, Karges, a father of four who was born and raised in Evansville, served with the Vanderburgh County Sheriff's Office.
"I was trying to get my foot in the door somewhere," Karges said. "I enjoyed the experience it gave me to be a police officer. You learn how to respect all types of people. It was the best job to prepare me to be a cop. When I did hit the street in training, nothing surprised me. The jail prepared for me that."
Karges' older brother, Ted, also a father of four who previously served as a member of the United States Air Force Security Forces, now works at the same sheriff's office.
"When I had graduated high school, the age to join the police department here was 21," Ted said. "So, I started looking into the military route and chose to get my feet wet as an Air Force MP."
He spent four years in the Air Force and was deployed twice – once to Kuwait and another to Iraq. After ending his time in the Air Force, Ted applied for and got hired by the Las Vegas Metro Police Department, but he injured his back and had to drop out of the academy.
"When I joined the sheriff's office, I had hopes of wanting to be a deputy sheriff, but I started working at the jail and just found my niche there," Ted continued. "I love every day of it. I get the same type of reward working there that I feel my dad and brother get on their journey."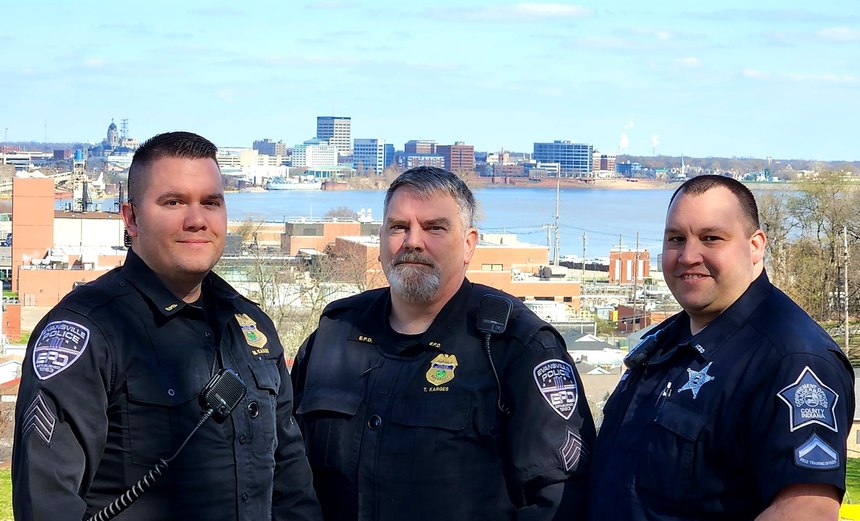 But the job, he said, isn't for everyone: "You have to be mentally strong. But you also need to have a lot of empathy and realize that not everyone is a bad person. Some people just make bad decisions."
However, he credits his military training for his mental and physical strength.
"I would recommend military service to anybody before hitting this type of career field," Ted said. "You find out what you're mentally and physically capable of doing. It helped build that discipline and drive."
The county jail, which is one of the largest jails in the state, houses over 600 inmates. Recent hires, Ted said, are young and often inexperienced. That mental strength – combined with an empathetic nature – is a vital component to succeeding in the role, he says.
"Some do get out and re-offend, but there are also a lot that I never see again. I like to hope that it is because of the conversations we had."
And when Matt or Ted needs a listening ear, their dad is the first one they call.
'He's like my own personal FTO'
Today, both Karges and his dad, Ted Sr., work on days at the department.
"He is in the crime prevention unit. He used to be a crime prevention officer (CPO). Now he's their sergeant. He's the unit commander for our CPOs, who deal with problems like ongoing issues or complaints within neighborhoods," Karges explained.
His path to policing, Ted Sr. said, was never a "maybe" – it was always a "must."
"It's the only thing I have ever wanted to do," he said. "I never entertained any idea to do anything other than this. I used to go on ridealongs with my dad. I went to work with him – both on and off duty. It was a passion from childhood. As soon as I was old enough, I started applying to get on."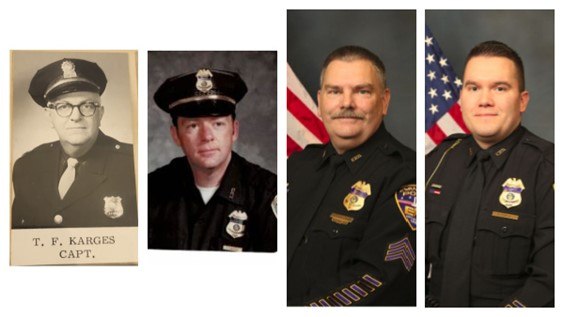 It's almost like a family business, he joked.
"I've been on for 31 years. I'm 56 now. I've been around this department – around this line of work – my entire life because of my dad. It's all I have ever known," Ted Sr. said. Each member of the Karges family, he said, has achieved rank: "My grandfather made it all the way up to assistant chief."
Working with his son, he said, feels similar to how he felt while working alongside his own father: "I had this talk with my dad, I said, 'I call you dad. I've called you dad my whole life. But if we're working – or if we're out on a run somewhere – I can't call you dad.' I started calling him Sergeant Karges and that just felt weird to me. I got used to it in time, but it was weird at the beginning."
Now, there are two Sergeant Karges at the department and that comes with mixed feelings, he said.
"I still think of Matt as my son … my little boy. It's hard to look at him as being a sergeant. We recently went to an in-service class together. We were sitting there and everybody kept calling us both sergeant. It's hard to explain, but I'm very proud of him. He's younger than me, but he keeps me going."
Their bond is undeniable, as both Matt and Ted Jr. commented on how thankful they are to have a dad who not only understands their profession but will also sit and listen when they need him.
"I talk to my dad three or four times a week. It's nice having a dad who has been doing it for so long and understands," Ted Jr. said.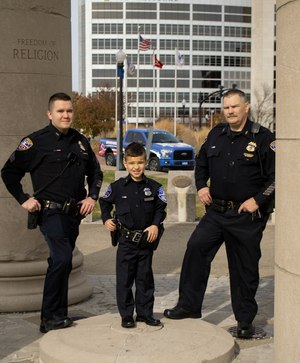 For Matt, he's grateful for his dad's advice: "He's like my own personal field training officer. I know I can talk to him about anything. Many officers can only ask their partner questions. I get to confide in and ask my dad for advice. I don't take that for granted."
But after three decades in law enforcement, Ted Sr. is preparing to pass on the torch to the possible fifth generation.
We've got your six
Much like his own dad, Karges strives to always support his kids' decisions – especially when it comes to their desired career paths. But Nolan, he said, is already preparing to grab the torch from his grandpa.
"We have never steered him toward the job. It's just what he's always wanted," Karges said.
Maybe – just maybe – Nolan will have a partner to join him: his 5-year-old cousin Tucker.
"I actually can't wear my uniform home with my belt because he's always trying to take my handcuffs and radio," Ted Jr. said. "We made him a little belt with his own handcuffs and radio instead. He's infatuated – even at such a young age."
Luckily for Nolan and Tucker, they'll have their dads and grandpa to guide them along the way. And even if there are some bumps in the road, they couldn't ask for better partners to have their six.
NEXT: Meet the beat cop who's been patrolling the same Indianapolis streets for more than four decades