Cop, EMT brothers team up to deliver baby in Times Square
It was by coincidence that the brothers responded to the same emergency call Friday afternoon
---
By Kerry Burke
New York Daily News
NEW YORK — It's all in the family.
It was a coincidence that two brothers — a cop and a paramedic — responded to the same emergency call at noon Friday and helped a Queens couple deliver a baby in Times Square, authorities said.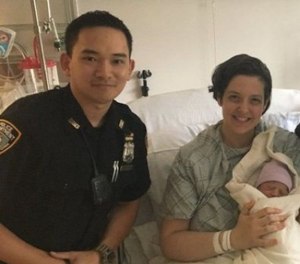 The newborn boy, named Jackson, is fine thanks to Officer Yan Kit Poon and his younger brother EMT Yan Hao Poon.
The siblings went to the rescue of the couple whose child was about to be born in a hotel room at the Westin New York.
Officer Yan Kit, 31, was at the outset too busy to notice his brother was also at the scene.
"It was chaotic at first," said Yan Kit. "She was in active labor."
"When I showed up, I realized it was my brother," said EMT Yan Hao, 23, who administered aid to the newborn.
The newborn baby boy was healthy, but needed some help. "The baby was pale, not pink," Yan Hao said. "It was not getting enough oxygen. After a minute it gained its color and became more active."
The very expectant mom Heather Smith, 35, and her wife Kristen knew the baby was due soon.
They went to Mount Sinai West Hospital when Heather Smith was in the earliest stages of labor around 2 a.m. Friday.
But docs told Smith she wasn't ready to give birth yet — so the couple checked into the Westin instead of returning home to Astoria.
When the time came at Friday noon, the couple was "very happy to see us," Officer Yan Kit said. "It was just her and her partner alone in the room."
The baby boy — the couple's first child — was came into the world at 12:50 p.m. and weighed in at 7 lbs., 4 ounces.
The Yans have been stationed at Times Square for about four years and just happened to be working the same shift on Friday.
"We talk about our jobs all the time," said Officer Yan Kit. "I think our family is getting tired of hearing all of the stories."
McClatchy-Tribune News Service