Injured cop struggling to pay bills gets free heating system thanks to filmmaker
Officer Palmer was living in a cold house and on reduced pay when a generous figure came to her aid
---
By Suzie Ziegler 
FREDERICK, Md. — Until recently, Officer Desiree Palmer was living in a cold house. The Maryland-based cop has been out of work for nearly 18 months due to a work-related injury and struggling to live on reduced pay. Things only got worse when Palmer discovered that her heating unit was broken. 
That's where filmmaker Conrad Weaver comes in. Weaver – who is producing a documentary about first responders and mental health – had met Palmer through filming. When he heard about Palmer's situation, he knew he had to help.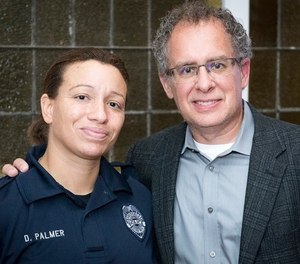 In an email to Police1, Weaver explained that he contacted Jerred Holtzople, the CEO of a company that makes heating and air conditioning units. Holtzople and Weaver had never met, but they shared a mutual friend. 
"When I sent him the email, I expected him to say they could install one for a reduced rate, or donate their time," Weaver said. 
Instead, Holtzople said he would install an HVAC unit free of charge. 
"I would just love to be able to help and bless her with a new system ASAP," Holtzople said in his email. 
Weaver said Officer Palmer couldn't believe it at first when he texted her the good news. 
"Is this real?" she said. "I've never had anyone do such a nice thing for me, I'm speechless." 
And Weaver didn't stop there. The filmmaker also held a fundraiser to help Palmer catch up on her bills. 
"Through the generosity of many individuals, we were able to give her a check for $2500 this week to help her catch up on her bills," Weaver told Police1. "This is such a huge stress reliever for her, especially with the upcoming surgery. We're so grateful for the spirit of generosity from everyone who donated. Officer Palmer is very grateful!"    
Weaver's documentary, PTSD911, aims to reduce the stigma of mental health struggles among first responders. To learn more about the movie you can visit https://ptsd911movie.com/. 
Watch a trailer for PTSD911 below: