NYPD: Off-duty cop witnesses fatal shooting, tackles gunman
Officer Jason Maharaj happened to be in the Queens deli when a homeless man shot a customer, police said
---
By Rocco Parascandola
New York Daily News
NEW YORK — A Queens deli customer has died after being shot by an angry homeless man who had just been kicked out of the store, police said Tuesday.
Mohmediyan Tarwala, 26, was rushed by medics to Jamaica Hospital after he was shot twice in the stomach early Tuesday evening but he could not be saved.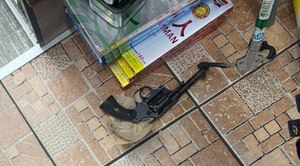 Accused shooter Steven Cohen, 63, took off but an off-duty cop, Officer Jason Maharaj, who happened to be in the Ozone Park store at the time, followed him outside, wrestled him to the ground and grabbed the murder weapon, police said.
The 6:15 p.m. shooting was set in motion when Tarwala helped a worker escort Cohen out of Cross Bay Express Deli at Cross Bay Blvd. and Pitkin Ave.
Cohen, who lives out of his blue Honda Odyssey parked nearby, was there to buy lottery tickets but was acting disorderly. He returned after getting kicked out, opening the door and firing his gun.
Tarwala was struck twice in the stomach. Cohen then turned the gun on the clerk but lowered it after seeing the Plexiglass barrier at the counter, sources said.
Moments before the shooting, Cohen walked into another store, Beer Town, across the street, and told the clerk to call 911.
"He seemed like he was in the middle of a medical emergency," said the Beer Town clerk, Chris Hanlon. "He then just walked away."
Cohen is charged with murder, attempted murder and criminal use of a firearm.
(c)2020 New York Daily News
McClatchy-Tribune News Service