Police Week 2016: Remembering those we have lost
Let's take this moment — this week — to redouble our efforts to protect our own
---
Say all you like about Washington DC being out of touch with the real world — this week the nation's capital is alive with pure and true feelings of American law enforcement. In the year 2015, we saw 128 line of duty deaths, and many (if not all) of those families are present in DC for the beginning of National Police Week. Friends and fellow officers are also here. It is a truly special event.
During the arrival of the Police Unity Tour — the 300-mile bicycle ride to raise money for the National Law Enforcement Officers Memorial — many people welcoming the intrepid riders wore t-shirts bearing the names of officers who made the ultimate sacrifice last year.
In an awful irony, those of us who cheered the riders through the finish line also were acutely aware that one man who set out on that journey four days prior would not ride through the memorial — retired lieutenant Joseph Franklin was critically injured and subsequently died during the Police Unity Tour. His name will not be added to the wall, but his sacrifice merits our remembering.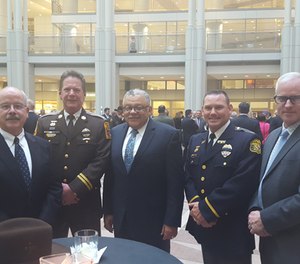 Training and Safety
Speaking of sacrifice and of remembering, let's focus for a moment on what this week is all about — those 128 heroes lost in 2015, and more than 20,000 officers whose names have been etched into the wall throughout U.S. history. In 2015 we lost six officers to 9/11 related illness — the aftermath of those attacks persist to this day. We had 27 officers taken from us in traffic collisions, and 39 were killed by gunfire in the line of duty.
Policing is a dangerous business. But there are ways we can mitigate the risks, and reduce the terrible toll we take in needless deaths. Dale Stockton wrote this week about the ways in which the five tenets of the Below 100 program can help us reduce line of duty deaths. Brian Willis focused his attention on the most important question — "What's Important Now?" — and how that question can keep cops safe.
Lowering LODDs is about increasing officer safety, and officer safety in many ways comes down to training. In many ways, training is what Police1 is all about. Almost every training article or video can be consumed in less than 10 minutes. Assuming you work a four-day week, and you do 10 minutes of training each day you work, you will have done 40 minutes of training per week. If you work 48 work weeks in a year, and you do the prescribed 10 daily minutes of self-guided training, you can achieve 1,920 minutes of training annually. That's 32 hours of training — for free.
There is no guarantee that training alone will protect an officer from harm, but without doubt training is one of the only things that we in the profession can control. We can seek to improve our training — driving, running, shooting, and first aid — and we can seek to reduce the number of LODDs next year.
Being Here
Attending Police Week ceremonies in Washington DC is emotionally challenging and yet remarkably rewarding — even uplifting. Visiting the Wall — with so many uniformed officers paying their respects to fallen brothers and sisters — and seeing all the keepsakes, mementos, and talismans left there is a powerful experience. During Police Week, DC is flooded with law enforcement officers from across the country — dress uniforms are everywhere, often escorting the family of a fallen hero.
As I've previously written, Police Week is a complicated confluence of emotions. It is a great measure of happiness to be among so many amazing brothers and sisters, combined with sadness, anger, and frustration with the reason we're all present. None of us wants to bury another LEO, and yet we all know that one day — maybe tomorrow — we all will. With a knowing nod, those of us who are here share that thought many times a day. We connect on a deeper level than the ordinary day-to-day meeting.
Being in Washington DC among the countless attendees at Police Week, a person can almost smell the feelings of pain and mourning filling the air — if it weren't for the overwhelming fragrance of the feelings of love, respect, and comradery acting as counterbalance.
Attending the Chairman's Dinner on Thursday evening, by random happenstance I had the good fortune to meet and befriend two cops — Steve Snow and Jason Keckler. We were joined briefly by retired Capitol Hill Police Chief Terry Gainer and retired Philadelphia Police Chief Chuck Ramsey. A person attending Police Week will encounter newfound friends — and reconnect with those of many years — at every turn.
Looking Ahead
Officially, Police Week this year is May 15-21, beginning with the Memorial Service on the steps of the U.S. Capitol Building this coming Sunday morning. All week thereafter, local departments will hold similar — albeit smaller — ceremonies honoring their officers killed in the line of duty. Everyone here at Police1 offers thoughts and prayers for the friends, family, and fellow officers who are grieving the loss of a brother or sister LEO.
Let's take this moment — this week — to redouble our efforts to protect our own. Let's refocus ourselves to improve our training. Let's look ahead to Police Week 2017 and promise ourselves we will have done everything in our power to ensure that we've done our very best to have every LEO go home safely at the end of their tour.