Video: Biden awards 9 police officers with Medals of Valor
The medal recipients were honored for their incredible bravery in the line of duty
---
By Suzie Ziegler and Leila Merill 
WASHINGTON — President Joe Biden awarded the Medal of Valor to 15 public safety officers, including nine police officers and six firefighters, on Monday. Two of the police honorees died in the line of duty. 
At a ceremony held in the White House's East Room, the president recognized the first responders for their acts of bravery in the line of duty.   
"We can never fully thank you for your service or for your sacrifice, but today is an important day for the nation to give thanks for all that you do for everyone," Biden said before giving the highest award a president can bestow on a public safety officer. "I know you don't do this work for recognition, but you reflect the best part of who we are as Americans. These medals reflect the profound gratitude of our nation."
The medal ceremony recognized bravery at incidents across two awards cycles and was the first such ceremony since the start of the pandemic. 
THE 2019-2020 POLICE HONOREES 
Officers Ryan Smith, Vincent Mendoza and Robert Paul III were engaged in a deadly shootout after a suspect fatally shot their colleague, Officer Andre Moye, Jr., during a traffic stop on August 12, 2019. The three Medal of Valor recipients "went to incredible lengths to protect each other" despite sustaining multiple gunshot wounds, according to a White House press release.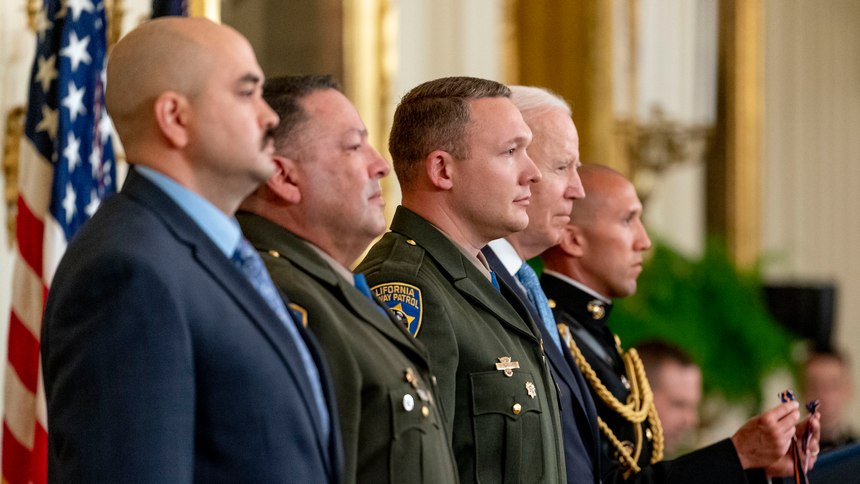 THE 2020-2021 POLICE HONOREES 
Officers Kyle Baker, Paul Stackenwalt and Kaleb Robinson, and slain Officer Jason Shuping of the Concord (N.C.) Police Department were involved in a deadly hostage situation on December 16, 2020. Officers were called to a busy retail location where a man opened fire on officers. The officers returned fire, "shielding each other with their own bodies" until they ended the threat. Shuping died in the shootout.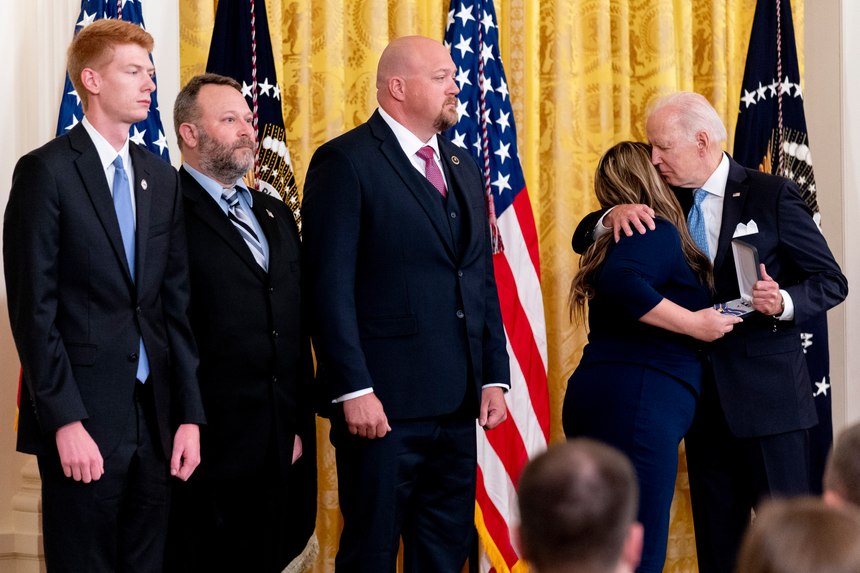 Deputy Dalton Rushing of the Perry County (Ohio) Sheriff's Office rescued a person who had fallen through a frozen lake in February. The victim was hypothermic and unable to grab onto Rushing, so the deputy jumped into the water with a rope until they both could be pulled to shore. The action demonstrated "courage and uncommon poise to save lives," according to the press briefing.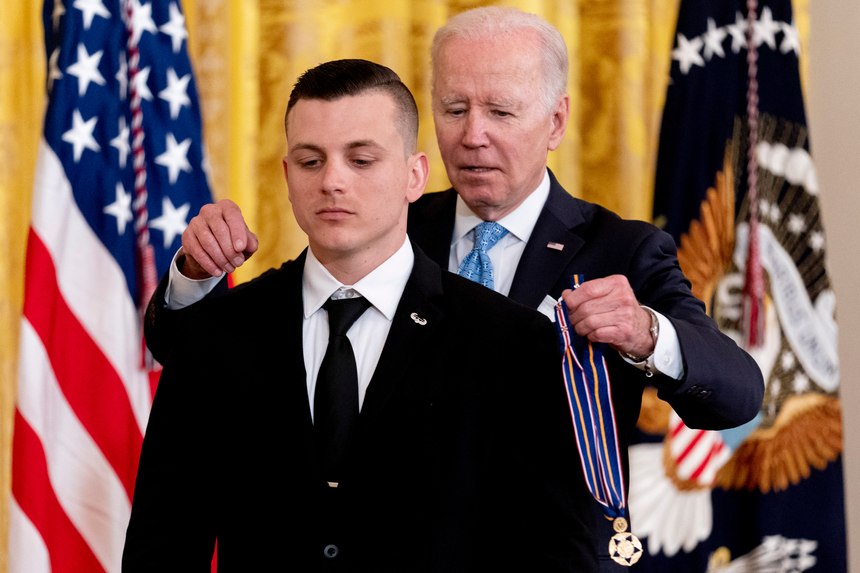 Officer Anthony Giorgio of the Pensacola (Fla.) Police Department saved multiple people from drowning on May 9, 2021. Giorgio was enjoying the beach with his family when he heard screams. Multiple people, including two children, were caught in a dangerous rip current. Giorgio made three separate trips out into the dangerous conditions, swimming a total of 300 yards, to save three distressed swimmers.