Police History: The evolution of women in American law enforcement
The story of women in law enforcement continues to evolve as police departments discover that female officers bring particular gifts and abilities to the profession
---
The story of women in American law enforcement is an evolving one. In many ways it parallels the tale of women in the general workforce, with some interesting twists. Today we are discovering the particular advantages of deploying both female and male officers, capitalizing on the synergy that develops when the gifts and talents of these crimefighters is combined. However, it took more than a century for this innovation to develop and evolve.
Women have served in organized law enforcement in our country almost from the beginning. The first police departments in America were established in the 1800s, and in 1845 women began working as matrons in New York City's jails. This "social work" type of involvement by females continued into the late 19th century as many police departments hired widows of police officers as way to give them a kind of "death benefit." 
Perhaps the first example of this occurred in 1891 when the Chicago Police Department assigned Marie Owens as a "patrolman" — Owens worked primarily with women and children however, and, her title notwithstanding, her duties did not include patrol.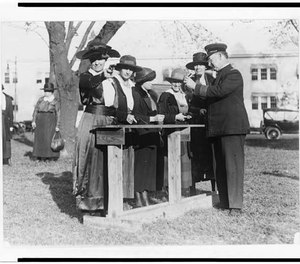 20th Century: From Firsts to Title VII
The new millennium ushered in the first sworn female police officer — Lola Baldwin — in Portland, Oregon. Baldwin's duties were primarily of a social work nature, beginning with protecting young women working at the Lewis and Clark Centennial Exposition in 1905. Her success in this assignment led to her swearing in as an officer — with the power to conduct arrests — in 1908. 
Los Angeles Police Department went a step further in 1910 and swore in Alice Wells as the country's first "policewoman" with badge number 1 — five years later Wells founded the International Association of Policewomen. The Los Angeles County Sheriff's Department swore in Margaret Adams as the nations' first female deputy sheriff in 1912, though Adams' duties primarily involved evidence processing.
Women continued to serve police departments in limited ways until the Great Depression and World War II in the 1930s and 1940s. These events increased competition for jobs in the United States, and the opportunity for women to compete with men for law enforcement roles was diminished. Women continued to serve increasingly in support roles, however, such as dispatch and other "desk-bound" duties.
The tide began to turn in the 1950s as women in law enforcement moved into more male-dominated roles and began to compete for promotion. In 1956 the International Association of Women Police was formed, further supporting advancement for female officers. In the 1960s, as police departments increasingly battled prostitution and illegal drug sales, agencies developed an expanded need for women crimefighters to serve undercover in vice squads. 
Finally, a major turning point occurred in 1968 when the Indianapolis Metropolitan Police Department assigned responsibility for Car 47 to the nation's first female patrol officers, Elizabeth Robinson and Betty Blankenship. 
During the 1970s the presence of female officers in police departments became increasingly accepted by the general public, as is evidenced by the popularity of TV programs such as Policewoman and Get Christie Love. In 1972, Title VII of the Civil Rights Act was implemented outlawing gender discrimination in public agencies — including police departments — and further expanding opportunities for women in law enforcement. In July of that year JoAnne Misko and Susan Malone became the first fully sworn FBI agents in the U.S. Finally, the women's movement in this country generally made female service in formerly male-dominated roles increasingly acceptable, and law enforcement was no exception to this trend. 
In the 1980s women began to break through police department "glass ceilings," with Penny Harrington stepping up as Chief of Portland Police Bureau. The trend continued in 1994 in Atlanta when Beverly Harvard became the first black female police chief. In 1995 the International Association of Chiefs of Police conducted a study which identified specific barriers to female advancement in law enforcement careers, in an attempt to reduce them, and today over 300 women serve as chiefs of police in departments across the nation.
The continued expansion of females in police work in the 1990s resulted in the establishment of several law enforcement associations devoted to women; these included the National Association of Women Law Enforcement Executives and the National Center for Women and Policing in 1995, and Women in Federal Law Enforcement in 1999. This growth has continued, albeit slowly, and according to the National Center for Women and Policing, women now account for approximately 15 percent of all law enforcement officers.
The 21st Century: We're Still Writing Our History
The story of women in law enforcement continues to evolve as police departments discover that female officers bring particular gifts and abilities to the profession. These advantages often include a less confrontational style than that of their male partners, a lower likelihood of use of excessive force, the ability to exercise empathy and effectively diffuse difficult situations —especially domestic calls, and a larger field of awareness in stressful situations. 
Female officers' abilities often complement those of male officers, resulting in a tactical as well as an investigative advantage when male-female teams are deployed. These advantages, if leveraged, can only advance the evolution of female service in law enforcement, and benefit the profession and those we serve and protect.
There are many stories of women who helped shape our profession — some are famous, others infamous, and still others are women whose stories are not widely known but are fascinating nonetheless. Further, there are countless stories right now being written by the women law enforcers patrolling the streets across this great nation. What will your story be? 
This article, originally published June 30, 2015, has been updated