In wake of 270 cops laid off, Camden, NJ reworks force
Officers would serve their last day at work by Dec. 31 as officials work to restructure the crime-ridden city
---
By Claudia Vargas and Darran Simon
The Philadelphia Inquirer

CAMDEN, N.J. — Forging ahead with plans for a new Camden County police force, local officials have chosen two retired state police executives — including one whose brief employment in Camden ended abruptly last year — for top jobs piloting the yet-to-be-established department.
Camden Mayor Dana L. Redd has asked Lanuel J. Ferguson, a former state police major, to work as Camden's public safety consultant while the city disbands its Police Department and makes the transition to the regionalized force.
Former state police Capt. Edward J. Fanelle has been hired as director of police services for the county force, a permanent post.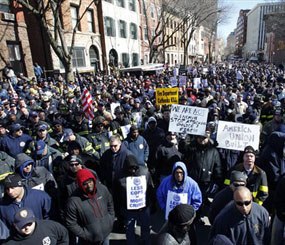 Redd announced this month that she was developing a state-required layoff plan under which the city's 270 officers would serve their last day at work by Dec. 31. Field training for the county force — which, as currently planned, would protect only Camden — could start as early as October, county officials have said.
If Ferguson's employment is approved by Camden City Council, his duties will include coordinating services such as emergency management, dispatch, crossing guards, and safety details for the city during the changeover, state officials said.
"We need to make sure the city's best interest is in place," city spokesman Robert Corrales said. "We believe [Ferguson] has the law enforcement experience and knowledge that will benefit us."

The state Department of Community Affairs has given "verbal approval" for the city to hire Ferguson, spokeswoman Lisa Ryan said.
His salary, which would be paid by the city, and the length of his contract have not been finalized, Corrales said. Council is expected to vote on those matters at a special meeting Monday.
However, it was Council that blocked Ferguson's position last year.
Redd appointed Ferguson as acting police director on July 11, 2011, and said he would be Camden's representative in police regionalization meetings.
The mayor failed to persuade City Council to approve the appointment of Ferguson, who already was drawing a $100,000-a-year salary. Her office started a petition to rally community support, but the police director resigned in mid-August.
Leading the criticism of Ferguson's hiring last year was Council President Frank Moran, who said the salary was exorbitant and the position created an unneeded layer of bureaucracy.
The Mayor's Office has been in contact with City Council leadership about Ferguson's return as a consultant, Corrales said.
"We are hopeful enough it will go through," he said Thursday.
Moran did not return phone calls from The Inquirer on Thursday.
Last week, the county Freeholder Board hired Fanelle to serve as director of police services for the county force. He started Aug. 6 and is temporarily working out of Camden City Hall, county spokesman Dan Keashen said. Fanelle, a Camden native, lives in Woolwich Township, Gloucester County. His $132,000 salary is part of the force's start-up costs, Keashen said.
"All costs for the director's position will be covered by the state for the foreseeable future," Keashen said in an e-mail.
The state has approved $60,000 to go toward Fanelle's salary, Ryan said.
During his 25 years with the state police, Fanelle supervised units that provided security for the governor, Legislature, and state employees. In 2009 and 2010, he was director of public safety for Camden County. Most recently, he served on the Casino Control Commission, a quasi-judicial panel that licenses casinos and their key employees and handles appeals of penalties and decisions imposed by the Division of Gaming Enforcement.
He resigned from the $125,000-a-year post on July 31, a commission spokesman said.
Fanelle's focus with the county force will be on hiring officers.
Camden Police Chief Scott Thomson, who is likely to be named chief of the county force's metro division, will answer to Fanelle, Keashen said.
Suburban towns have balked at joining the force, whose creation has been characterized by police unions as a union-busting maneuver that will neither keep Camden safer nor save taxpayers money.
Joe Cordero, a New York Police Department veteran and former director in the state Attorney General's Office specializing in gangs, guns, and violent crime, was hired by Camden County this year to get the regional force up and running. Among his duties is to set up its organizational structure.
Cordero's law enforcement consulting and police technology firm, based in Lyndhurst, N.J., is expected to be paid around $20,000 a month for about a year, officials said. County officials say $120,000 seized by the Camden County Prosecutor's Office during arrests will cover six months of that cost.
The regionalized force "is supposed to be a cost-saving measure, but with all the money that's being spent at the top, it doesn't look like there are any costs being saved," said John Williamson, president of Camden's Fraternal Order of Police, which represents rank-and-file officers.
With Fanelle's "background and credentials, what do you need Cordero for?" Williamson asked.
Countered Keashen, "There are a lot of nuances to the implementation of this plan. It's going to take two highly regarded law enforcement personnel to bring this to fruition and to make it effective."
Copyright 2012 Philadelphia Newspapers, LLC