PRESS RELEASE
Northwestern introduces a drone curriculum for traffic crash investigators and reconstructionists
---
EVANSTON, Ill. — Northwestern University Center for Public Safety is offering three new courses on the use of small unmanned aircraft systems (sUAS), better known as drones, for traffic crash investigation and reconstruction.
Small unmanned aircraft systems can play an important role in in the investigation of traffic crashes. Using a drone, investigators can obtain a comprehensive view of an entire crash scene, unavailable otherwise. Drones also enable crash scene documentation in a fraction of the time previously required. Measurements done laboriously by hand can be captured in minutes by a drone. Faster sUAS-supported investigations result in significantly shorter road closures and reduce the number of people required at the scene.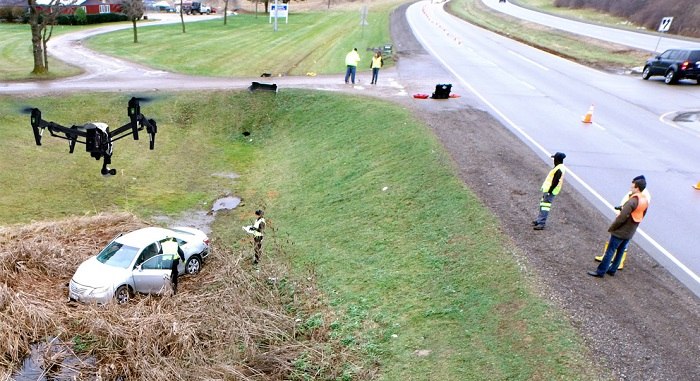 Aerial data capture means reconstructionists are no longer constrained by decisions made by investigators at the scene. Processed sUAS data make it possible to return to the scene repeatedly and to measure the distance between two points at any stage of the reconstruction. Data collected via sUAS can be downloaded into several systems for processing and then converted into detailed maps based on millions of data points. Reconstructionists trained in aerial photogrammetry, the science of obtaining measurements from photographs, can use these data to develop 2D and 3D models of the terrain.
In Spring 2017, the Center for Public Safety, in cooperation with Aerial Metrics, will begin running a series of courses to prepare law enforcement and forensic professionals for the use of sUAS in investigations.
sUAS FAA Knowledge Test Preparation. A two-day test prep program for anyone needing to pass the Federal Aviation Administration (FAA) commercial drone operator test. May 15-16, 2017. Evanston, IL. Tuition: $550.
sUAS Crash Investigation Remote Pilot A hands-on, two-day program that prepares participants to capture photo and video evidence at a crash scene. Aircraft will be provided. June 5-6, 2017. Evanston, IL. Tuition is $1,800.
Crash Investigation and Reconstruction Aerial Photogrammetrist Learn to develop 3D models and orthomosaics (geometrically corrected aerial photographs) from crash scene evidence captured using aerial and terrestrial photography. Learn to work with Pix4DMapper photogrammetry modelling software. June 7-9, 2017. Evanston, IL. Tuition: $700.
For more information on these classes, please visit our website at nucps.northwestern.edu
About Northwestern University Center for Public Safety
Northwestern University Center for Public Safety is an internationally recognized leader in public safety professional development. Founded in 1936 as the Traffic Institute, the center helped to create the field of traffic crash investigation and reconstruction. Today, NUCPS continues to provide cutting-edge programs for law enforcement and forensic traffic crash professionals. NUCPS is also known for its management, leadership, transportation engineering, forensics, and police motorcycle courses. It is a part of the School of Professional Studies at Northwestern University. For more information, please visit nucps.northwestern.edu.

Request more info from Northwestern Univ Center for Public Safety
Thank You!