Review: Propper's 4PV ballistic vest delivers a new level of comfort and coverage
Four individual panels move independently for a better fit, greater range of motion and full torso protection
---
Sponsored by Propper
By Sean Curtis for Police1 BrandFocus
You know that favorite T-shirt you don at the end of your shift when you pull off your ballistic vest when you get home or back to the locker room?
What if you could capture some of that real comfort during your tour of duty? You don't have to sacrifice comfort for protection. Propper has an answer that might change the way you think about ballistic vests.
Based in St. Charles, Missouri, Propper has been equipping those who serve for more than 50 years, all the while making improvements based on the feedback they've gotten from their customers.
One of their greatest evolutions is the 4PV concealable vest.
Different by Design 
I remember the first vest I got when I came on to patrol. A pale tan, the vest was thin and flat. It came in a package that was about as thin as a pizza box.
When the Propper 4PV (short for "four-panel vest") arrived in the mail, I knew it was different from the start. The box was 6 inches deep, making me wonder what had arrived in the mail. For whatever reason, I still envisioned flat panels of Kevlar cut into a vaguely human shape that would cover a torso.
That's where I was wrong. The 4PV is quite a bit different in its design. The idea behind the product is to achieve the same amount (if not better) ballistic coverage while far surpassing comfort levels commonly known to officers. I had worn a few vests under my uniform shirt over the span of 15 years, and I was keen to put this one to the test.
I recalled the various challenges of wearing those vests, from just the general level of discomfort to the annoyance of pulling up shoulders, tugging the vest down under my neck and sitting down and having my duty belt push my vest up. Granted, all my vests were rectangular back pieces with chest pieces that looked similar, but with wings at the bottom that folded back and covered my flanks.
As I opened the box, I saw that the 4PV varied drastically from this design.
4PV Features 
Propper's vest certainly includes a rectangular chest piece and a rectangular back piece, but instead of attached wings, there are two completely separate ballistic material panels to cover your flanks. Two straps connect the side panels to the rear, and two straps connect the side panels to the front. These straps are about 4 inches wide, secure the panels firmly and are easy to manage.
The four-panel system of a front panel, rear panel and side panels creates a far less rigid scheme of coverage that floats like tectonic plates, moored around your torso by the straps. The front and rear panels are generally contoured to you, while the side panels hug you more securely. None is constrained by the movements of the others, and the elastic in the straps serves as physical guidelines, allowing for great range of movement without binding or pinching.
The panels are covered with hook and loop so you can accessorize with tourniquets or your favorite backup holster, and the vest is available in coyote, navy, black and white.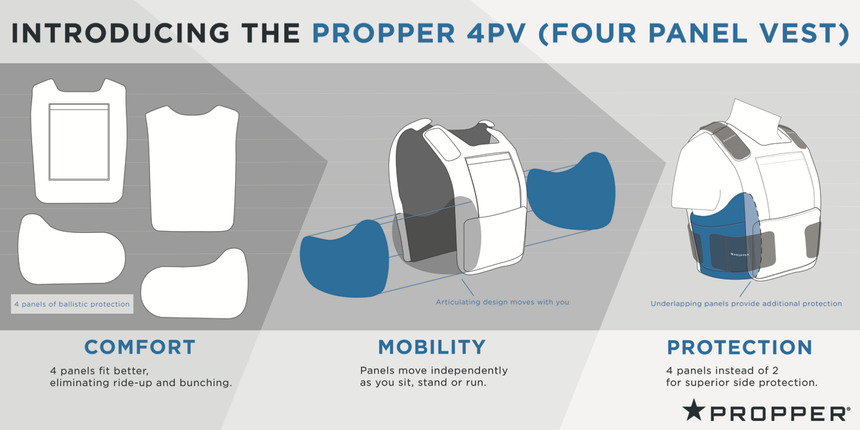 Testing the Vest 
I tested this vest for several weeks, wearing it during a series of activities representative of my days on patrol. First off, after putting the vest on I immediately noticed the fit was different. I didn't feel the need to start pulling and tugging the vest into place. With a few strap adjustments, it just stayed in position.
I sat for many hours wearing the vest. Whether in a car or typing up reports, cops endure long hours of sitting, so the vest has to accommodate this. I did not find that the vest pushed up by my belt, and I also did not feel it otherwise riding up. I can't even fathom how many times I've pulled a vest down as it crept up under my neck, and I did not have to do this with the Propper 4PV.
I worked out in the vest also, including pushups, stretching and running. Nothing short of full-blown crunches caused me to have any limitation on my range of mobility. I hiked and did not experience any issues with riding up or binding.
The same can be said for the many miles I drove while wearing the vest. I didn't even get the minor discomfort that sometimes comes from getting in and out of the vehicle (for tall people). Additionally, I was able to assume both Modified Weaver and Isosceles shooting positions without discomfort.
Protection Plus Comfort and Mobility 
I can say without a doubt this is the most comfortable ballistic vest I've even worn. Correct measurements are critical and cannot be understated for any vest, but the four-panel system of the 4PV truly provides a level of comfort and mobility I've not previously experienced while wearing body armor.
The constant shoulder twitching, neck straining and need to pull down the vest that I have experienced previously were completely unnecessary with this vest. The independent panels work in conjunction with the straps to stay in place while allowing me to move like I normally would in nearly any scenario. Most importantly, they do not create gaps in coverage while doing so.
About the Author
Sean Curtis is a law enforcement professional with nearly two decades of experience, serving with SWAT, diving and swift water rescue teams in Colorado. He has also served in wildland fire, search and rescue, EMS and emergency management.