Ringers Gloves: The Best Fitting Gloves Made for LE
---
Little did we know that three simple words would have such an effect on how we developed an entire glove line, but they did.  With the combination of our patented SuperCuff™ and F3 technology, Ringers Gloves has produced the best fitting gloves made for Law Enforcement; the Duty, Duty Plus and Leather Duty gloves.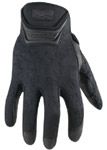 The Duty glove is the basic, yet effective, glove in our LE Line.  Designed with a SurLoc™ palm, the material throughout the palm and fingers increases tactility and grip, which are very pertinent when handling your weapon or fumbling with a handcuff key.  A breathable spandex top, smooth-tapered, unrestricted trigger finger and exclusive 3-D form-fitting design make this glove a must for your daily gear.
           
The sister glove to the Duty is the Duty Plus model.  The Duty Plus boasts many of the same key features of the Duty, but offers more protection in the palm area of the glove and a bit of a different look.
           
A stamped, digital camo textured pattern Neoprene creates a unique, but stealth look, for this tough glove.  A SurLoc™ Plus palm offers all the traditional benefits of the SurLoc™ palm, plus the added dual-layer, slip-resistant pistol grip palm and thumb area and the durability of our rugged RGX200 reinforcements; all of this without sacrificing dexterity, comfort and most importantly tactility.
           
We also offer a Leather Duty glove composed of a washable Pistol Whip Genuine (100% goatskin) Leather.  The Pistol Whip Leather is fully washable and will not shrink or harden when wet.
           
Like the Leather Duty glove, the Duty and Duty Plus gloves are either hand or machine-washable, however, all products should only air dry.  All gloves also posses a Velcro wrist closure, along with Ringers' patented SuperCuff™ technology which enables natural, full articulation of wrist movement in all directions.  This cuff is a non-binding, non-restricting cuff that "feels like no cuff at all."
           
All three models are available in sizes X-Small through XX-Large, with the Duty retailing for $19.99, Duty Plus $24.99 and Leather Duty $34.99.
Swing by your favorite uniform store today or to locate a dealer or distributor near you, call 1.800.421.8454.  You can always shop online at 24/7 at www.ringersgloves.com.

About Ringers Gloves
Ringers Gloves, an ISO 9001:2000 certified company, is a full-line manufacturer of high-end, task specific gloves in areas such as automotive/motorsports, fire/rescue, military/law enforcement and industrial safety; as well as a full line of accessories, including UnderX fire-resistant undergarments and performance gear, for every need. Isn't it time you bring in the Ringers?  Check us out at www.ringersgloves.com.