TAC-PACK Medical Kits That Improve Survival of Critical Victims Now Available at theEMSstore.com
---
theEMSstore.com, the fastest growing online source for EMS equipment and supplies, introduces Tactical Medical Packs that contain essential life-saving medical supplies. Through education and equipping first responders, Tactical Medical Packs can increase survival of critical patients and maximize precious minutes in the Golden Hour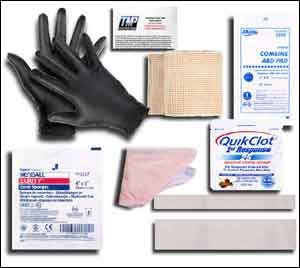 Coatesville, PA - theEMSstore.com and TMP (Tactical Medical Packs) have teamed up to help prevent trauma deaths in the field. As theEMSstore.com expands the ability to provide critical medical equipment they are proud to announce the addition of Tactical Medical Packs. These Emergency Medical Kits are designed to stop blood loss and buy valuable time for victims of trauma.

SHOTS FIRED! MAN DOWN! WHAT NEXT?

EMS response to active shooter incidents can be delayed as law enforcement clears the scene of additional threats. Valuable time can be lost and lives can be further endangered as the scene is secured. Tactical Medical Packs and their range of TAC-PACK Medical Kits equip first responders on-scene to address traumatic injuries in the field often during the event or as the scene is still being cleared. Every first responder needs to carry a vacuum sealed, pocket sized Trauma Pack – it may even be used to treat the person carrying the pack.

All of the essential items needed for the emergency response to bleeding due to open wounds, gunshot wounds, stab wounds, explosive trauma, certain biological agent exposure and smoke/dust conditions are included in the TAC-PACKs. Everything is secured in a lightweight, concealable, waterproof pack that is small enough to be worn in a suit pocket yet still capable of offering the essential items needed to treat various injuries. The trauma pack's unique design and packaging allow it to be used as an everyday carry item. Its size, cost, and shape is a must have for anyone at risk for injury.

Tactical Medical Packs offers different product lines to fill the unique needs of a particular task.

The Individual Battle Packs all contain a pair N-Dex latex-free gloves, Bolin Chest Seal, a TK 4 one-handed tourniquet, thin cinch compression bandage, two (4.5" X 4.1yards) primed gauze, scissors, and Combat medic tape. In addition each contains a form of QuikClot. QuikClot is an adsorbent hemostatic agent that controls moderate to severe blood loss by causing rapid localized coagulation and the formation of a stable blood clot in a variety of wounds. It does not absorb into the body, and is safe to leave in the wound until further medical care is available.

In addition, the Individual Battle Pack include 50grams of Quik-Clot 1st Response. The QuikClot 1st Response acts as a selective molecular sponge. It is biologically inert, inorganic, and traps water molecules by hydrogen bond formation in a molecular cage. The Individual Battle Pack Plus includes a 10 Gauge Angiocatheter and a Nasopharyngeal airway with lubricant. The Individual Battle Pack Plus With QuikClot Combat Gauze replaces the 50grams of Quik-Clot 1st Response with QuikClot Combat Gauze. All the Individual Battle Packs weigh approximately 14-ounces, measure 7"X12"X2" and are sold individually or in cases of three packs per case.

The Tac-Packs were developed for government purposes by a leading trauma surgeon involved in protective medicine. The Tac-Pack Standard includes Latex Free Nitrile Gloves, a Compression Bandage, an ABD Pad, Gauze 4x3 (1pkg/2), Tape, a N-95Mask and Written Instructions for Bleeding and CPR. The Tac-Pack Advanced (pictured) also includes a 25gram Quick-Clot 1st Response Sponge. The Tac-Pack Advanced with QuikClot Combat Gauze swaps the 25gram Quik-Clot 1st Response Sponge for Quick-Clot Combat Gauze. The Tac-Pack Advanced-T feature both a Quik-Clot 1st Response Sponge with a SWAT-T Tourniquet. The Tac-Pack Advanced-T With QuikClot Combat Gauze features Quick-Clot Combat Gauze along with a SWAT-T Tourniquet. All the Tac-Packs weigh approximately 5-ounces and are sold individually or in cases of six packs per case.

By the time you finish reading this press release, a dozen Americans will have died from a trauma death. Trauma is the leading killer of Americans from one to 44 years of age. There are 18 deaths per hour from traumatic injury. By deploying Tactical Medical Packs to all first responders, not just EMS personnel, each member will be equipped to provide initial care of penetrating and blunt trauma, stopping blood loss, and improving the survival of critical victims.

If you want to combat penetrating trauma or severe bleeding then you need to carry an Individual Battle Pack or Tac-Pack. Log onto theEMSstore.com today and prevent the loss of precious time in initial care of life-threatening trauma. Unless you have thought about how you are going to react and equipped yourself to respond properly, lives may remain at risk. Don't let this happen, get educated and equipped today from theEMSstore.com.  

About theEMSstore.com and Witmer Public Safety Group, Inc.
theEMSstore.com, a division of Witmer Public Safety Group, Inc., offers product lines from hundreds of manufacturers. Witmer Public Safety Group's motto is Equipping Heroes™ and this continues as they extend their commitment to provide the industry's best equipment and supplies to the professional men and women who serve to ensure the public's safety. For additional information, please call (800) 852-6088 or visit TheFireStore.com.