PRESS RELEASE
Flying Cross and Safariland launch breakthrough virtual sizing technology for body armor and uniforms
---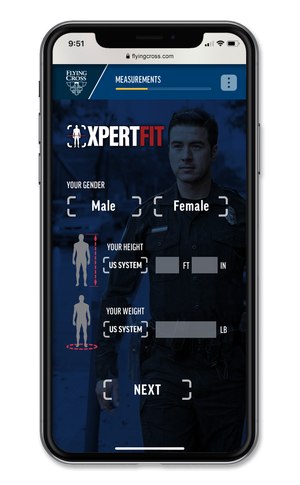 CINCINNATI — Flying Cross, a Fechheimer Brothers Company brand and global leader in public safety uniforms, along with Safariland, a brand of The Safariland Group, a leading global provider of safety products, announced today their collaborative launch of phase one of a new virtual sizing technology called XpertFit. This virtual sizing technology revolutionizes the process in which individual officers are sized for uniform apparel and body armor. XpertFit offers a touchless, self-measure method of capturing body measurements right from a mobile phone.
"This new sizing service really sets apart the level of innovation and depth of resources available to our customers as two leading industry brands," said Bob Getto, President/CEO of Fechheimer Brothers Company, the parent company of Flying Cross. "XpertFit will provide our dealers and end users value and efficiencies they have not previously experienced up until now. In addition, XpertFit is the perfect solution during this heightened time of social distancing."
XpertFit takes the guesswork out of onsite measuring by providing instant and accurate measurements from a smart device. The process takes less than 2 minutes to complete from initiating the technology until the time you are provided with product sizing.
Individuals will simply access the technology from a mobile device and choose their path to fit either uniforms or body armor. Next, the technology will gather general information and then take a front and side profile picture. This is then used to calculate measurements based on its uniquely developed algorithm, and determine a recommended size for Flying Cross uniform apparel, or Safariland body armor.
The new XpertFit technology will enter phase one of its release in early December to a select group of dealers and customers and will be ready for a full launch in Q2 of 2021. This first-to-market technology is an exclusive for Flying Cross and Safariland through their participating partnering dealers. Fechheimer and Safariland have partnered with 3DLOOK Technology — the industry leader in self-service, contactless body measuring solutions.
"The proper fit of armor and uniforms is essential to duty and safety, and our collaboration with 3DLOOK has allowed us to revolutionize the process." said Brad Williams, President of Safariland. "Convenience and accuracy of measurements is a growing concern. XpertFit will allow the reflection of this urgency and efficiency to change the procurement process in an effort to save time and increase consumer confidence."
"We've worked hard to bring this level of service to our customers," said Getto. "Every detail has been vetted from the algorithms, use in market, process flow and privacy of customer information. Being able to partner with Safariland to incorporate body armor makes this even more powerful. We are excited to deploy technology, improving service for our public safety and military customers."
"We've had the pleasure of working with the amazing teams at both Fechheimer and The Safariland Group to deliver this first of a kind simple and accurate fit and sizing solution that delivers a contactless and safe measuring experience. This is a major step in digital transformation for the whole global uniform manufacturing industry," said Vadim Rogovskiy, Co-founder and CEO at 3DLOOK.
About Flying Cross
Flying Cross is a global leader in the design and manufacture of high-quality, precision-crafted uniform apparel for the U.S. Military, federal, law enforcement, fire and other public safety markets. Flying Cross is a brand of Fechheimer Brothers Company, which is a subsidiary of the Berkshire Hathaway Company. Its sister brand, Vertx, offers low-profile apparel and gear for federal, law enforcement and prepared professionals across the world. Together, both brands offer the widest array of uniform solutions and deepest stock available worldwide. Flying Cross continues to redefine innovation through function and the use of the most advanced fabric technologies available today. For more information, visit www.fechheimer.com or www.flyingcross.com.

Request more info from Flying Cross
Thank You!